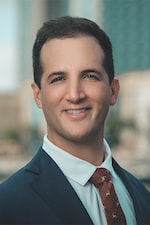 Brandon P. Volk
Attorney
A native of Florida, Brandon P. Volk was born and raised in Lake Worth, Florida. After graduating from Park Vista Community High School, he earned his B.A. in Political Science from the University of Central Florida, where he was a member of the Kappa Sigma Fraternity. From there, he ventured off to New Orleans, Louisiana, where he earned his J.D. from Tulane Law School, and achieved a Certificate in Admiralty and Maritime Law. In pursuing his passion for vessel-related legal matters, Mr. Volk completed nine courses in maritime law, and received awards for achieving the highest grade in Advanced Marine Insurance, and Towage, Bailment, and Offshore Services.
In addition to his academic achievements, Brandon has a range of practical experience in the personal injury and maritime litigation sphere. During law school, Mr. Volk gained additional experience working as a federal judicial extern to the Honorable Sarah S. Vance in the United States District Court for the Eastern District of Louisiana, a tenured federal judge with an extraordinary reputation for presiding over maritime and admiralty related lawsuits during her judicial career. Brandon also gained experience during law school for his clerkship positions with highly distinguished maritime defense law firms in both Louisiana and Florida, where he handled cases ranging from cargo disputes, vessel arrests, and the representation of major cruise liners.
As a licensed attorney in Florida, Mr. Volk has exclusively practiced personal injury and maritime law for the span of his legal career. For years, he defended shipowners and insurance companies - now, he represents victims that have been impacted by debilitating injuries onboard vessels. Given Mr. Volk's unique understanding of the industry, he has achieved numerous impactful court rulings in issues relating to personal injury and death on navigable waters, including those involving vessel passengers, yacht and tugboat crewmembers, longshoremen, and other types of workers specializing in a variety of areas in the maritime industry.
Brandon is licensed as an attorney and counselor at law and has been admitted to practice in state courts by the Supreme Court of Florida. In addition to Florida state courts, Mr. Volk is also admitted to federal courts in the Northern, Middle, and Southern Districts of Florida. He follows the longstanding principle that each individual is different, each injury is different, and the utmost attention to detail must be observed in each case. There are few injustices greater than an unnecessary, preventable injury or death caused by the negligent acts of others. In such cases, Mr. Volk is committed to obtaining full compensation for the devastating consequences of an injury on one's life.
In his free time, Brandon enjoys spending time with his family, faith, golf, fishing, hunting, the great outdoors, and reading about history and international affairs.
Education
J.D., Tulane Law School
B.A., University of Central Florida
Political Science
Jurisdictions Admitted to Practice
Florida