Raul G. Delgado, II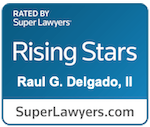 Raul G. Delgado II is personal injury attorney who is a lifelong resident of Miami, Florida. Mr. Delgado's practice focuses exclusively on the representation of injured passengers and crew members who were hurt on cruise ships around the world, in addition to those who are the victims of catastrophic injury or wrongful death involving auto, truck, motor vehicle accidents, recreational boating, negligent security, premises liability, and victims of crime. He is a member of the Florida Bar's Admiralty Law Committee which is responsible for studying developments in this niche area of the law and informing members of the Bar of recent developments and their practical implications. Before he began representing people that were injured on land or the high seas, Mr. Delgado represented most of the major international cruise lines, their on board contractors and concessionaires, marine insurance companies, boaters, department stores, supermarkets, and operators of trucks and automobiles, in both personal injury and wrongful death claims. Mr. Delgado brings his in depth knowledge of the cruise industry and insurance defense world to advocate on behalf of the injured and hold those at-fault corporations and individuals responsible for the harm they have caused to his clients.
Mr. Delgado is known within the legal community for his hard work, attention to detail, persistence, and passion for obtaining justice for the injured. Since he began representing injured Plaintiffs in 2018, he has secured over 4 million dollars in jury verdicts and settlements for his clients. He has been recognized for his achievements in the field by his peers and was named a Super Lawyers Rising Star in both 2018 and 2019.
Mr. Delgado earned his juris doctorate from the Florida International University College of Law. He graduated from Florida International University with a Bachelors of Art in History. Before Mr. Delgado embarked on his legal career, he played Division 1 baseball and was considered to be in the top 100 players in the country while attending high school at Miami's Gulliver Preparatory Academy and Killian Senior High School. He employs the work ethic, passion and team work skills he developed as an athlete to obtain the best possible results for clients. When not in the court room, he enjoys boating, fishing, traveling, attending Miami Hurricane football games, and spending time with his family, fiancé and puppy.
Education
J.D., Florida International University College of Law
B.A., Florida International University
History
Jurisdictions Admitted to Practice Florida

Professional & Bar Association Memberships
Florida State Bar
Florida Bar's Admiralty Law Committee