Cruise Ship Accident Lawyer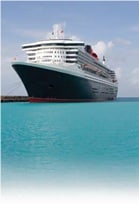 If you are a passenger or crew member injured on a cruise ship you need legal help from experienced cruise ship lawyers. Special laws including state, federal and international govern cruise ship accidents, injuries and death claims at sea. Statutes of limitations are shorter, sometimes just one year from the incident date. Injuries which occur on navigable waters either near U.S. or foreign shores present complex legal issues. Admiralty, maritime law, and even foreign state law may apply. Applicable laws both procedural and substantive may also differ significantly from usual state tort laws and frequently limit injured passenger's rights to recover money damages. So it's important to contact a qualified cruise ship lawyer if you or a loved one are injured at sea.
At Gerson & Schwartz, PA our cruise ship attorneys have over 46 years experience representing injury victims, including cruise ship passengers and crew members from the United States and abroad. Our lawyers routinely litigate serious injury and death claims against all the major cruise lines, including Carnival Cruise Lines, Royal Caribbean, Norwegian Cruise Lines, Princess Cruises, Disney Cruise Lines, Holland America, Celebrity, Costa, Seabourn, Regent, Crystal and many other foreign operated vessels. We know what to do.

Our law firm specializes representing passengers and crew members who suffer serious and catastrophic injuries. If you or a loved one were injured on a cruise ship then don't wait. Our Florida cruise ship lawyers will fight to enforce your legal rights. We also won't hesitate to bring your case to trial if a fair settlement offer is not made.
Complex State Laws and Shorter Statute of Limitations to File a Claim
Cruise ship accidents, injuries and deaths which occur at sea are different from on land personal injury cases. Many passengers do not realize that cruise line companies insert contractual provisions in passenger tickets shortening the time injured parties have to file a lawsuit. Injured passengers are usually required to give written notice of their intent to pursue a legal claim. Sometimes, they have just six months to do so. Depending on the passenger ticket contract, passengers usually have only one year from the date of the accident to file a lawsuit. This means cruise ship accident victims must act quickly to retain a qualified lawyer to investigate the case facts, gather evidence, and analyze all potential legal issues.
For a Free Case Consultation with a Cruise Ship Attorney in Florida
Call Us Toll Free at 1-877-475-2905 or Contact Us Online
Cruise ship injuries sustained on foreign soil can also trigger legal issues over jurisdiction and the correct forum in which to file a lawsuit. Injury victims also don't realize that many cruise ship operators require injured passengers to file lawsuits in federal court located in Miami, Florida. Cruise line operators also frequently make unknowing passengers sign waivers before participating in many shipboard activities. Dealing with unexpected catastrophes is a burden for anyone. Understanding your legal rights after a serious accident or injury on a cruise ship is crucial in such stressful times.
If you or a loved one were injured on a cruise and believe that the cruise line or ship employee's negligence resulted in a serious injury then don't wait. Time is working against you. Act before delay prejudices or bars your legal claim. Contact one of our experienced cruise ship accident lawyers in Miami, Florida by calling 1-877-475-2905, or email us for help at info@gslawusa.com.
Representing Cruise Ship Accident Victims
Our law firm represents cruise ship passengers and crew members who are seriously injured in every type of scenario. From slip, trip and fall accidents, missing persons, even violent crimes such as rape or sexual assault. Our cruise ship injury attorneys have also pursued legal claims for injuries due to ship mechanical failures, defective ship equipment, tripping hazards, slippery surfaces, dangerous ship endorsed activities and on private excursions.
As the cruise industry continues to grow, the number of serious accident and catastrophic injury cases seem to increase too. These floating cities bring maritime and resort risks to both passengers and crew. As cruise ship injury attorneys, our job is to help client's recover for their losses and to make cruise line operators accountable for their negligence and harms they cause.
At Gerson & Schwartz, PA our cruise ship attorneys have experience representing the injured in:
What To Do If You Are Injured On A Cruise Ship
Report the accident or incident immediately to the ship safety and security officer or other crew members.
Send written notice of your intent to file a claim in accordance with the time limitations stated in the cruise ticket.
Obtain any names of personnel who assisted you and request a copy of any documents they ask you to fill out. Be careful what you say and what you sign.
Take as many photos/video of the accident scene to document the conditions. Cruise lines are notorious for destroying evidence.
Get the names and contact information for passengers or crew who witnessed the accident or have knowledge about the circumstances.
Obtain written statements from any potential witnesses from a foreign land.
If a serious crime has been committed report it to the FBI.
Get immediate medical help in the ship infirmary and off the ship as soon as practical.
Contact an experienced cruise ship accident or maritime lawyer. Call us collect anytime for advice--even before you leave the ship.
The cruise ship accident attorneys at Gerson & Schwartz, PA are licensed to practice law in all of Florida's state and federal courts. Our personal injury law firm is also widely affiliated with many other lawyers in virtually all jurisdictions where we are not admitted to practice. Gerson & Schwartz, PA law offices are located in the heart of Miami, Florida near the port of Miami.
Our attorneys have over 100 years of collective experience handling serious and catastrophic injury claims and wrongful death lawsuits. All of our cases are handled on contingent fees so there are no attorney's fees unless we recover money on your behalf. There are also no upfront costs.

So don't wait and contact a cruise ship attorney in Florida today to find out how we can help. For a free case consultation call 1-877-475-2905. Or, you can contact a lawyer directly by sending an email to info@gslawusa.com. We strive to respond to all new case inquiries within 24 hours or less.