Personal Injury Practice
Miami Personal Injury Lawyers
Skill and experience are the hallmarks of good law firms. But the best law firms, the lawyers who take important cases, win significant jury verdicts, and obtain substantial court settlements must have other key characteristics: creativity and determination. At Gerson & Schwartz P.A., our Miami personal injury attorneys have been representing accident victims and their families throughout Miami, Fort Lauderdale and other parts of South Florida for more than 50 years.
We only represent clients who have sustained serious and catastrophic injuries or lost loved ones due to negligent, careless, or reckless conduct of others. Philip M. Gerson, Edward S. Schwartz and Nicholas I. Gerson, are dedicated to seeking justice and known for providing aggressive and effective legal representation. The firm has a well established reputation in the South Florida legal community as personal injury attorneys who fight until the very end and never settle a client's case unless it's a fair and just outcome in the best interests of the client and his or her family.
At Gerson & Schwartz P.A., we are committed to our clients and have a track record of obtaining substantial damages awards and negotiated settlements evidenced by our past case results. Often this requires extraordinary financial investment in case costs and limitless hours of hard work to make sure no client gets less then they deserve. We invest as many resources and as much time as necessary, working around the clock to ensure that each client receives fair compensation for their harms and losses.
What Does Personal Injury Law Cover?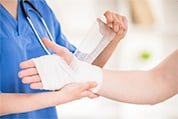 Personal injury laws provide legal recourse for accident and injury victims who sustain bodily harm caused by others. A personal injury claim or lawsuit may arise from a negligent, careless, reckless, or even intentional act. General principles of negligence state we owe a duty of care to others. Any person, corporation, or combination of parties can be negligent if they breach their duty of care. Negligence does not require intent. The conduct that caused the harm only has to fall below the level of care a reasonable person would use under like circumstances. The nature and extent of the duty owed depends on the circumstances.
Drivers breach their duty of care when they cause an accident because they are speeding, failing to pay attention to traffic lights, driving while intoxicated, or failing to yield the right of way. Liability can also arise when an employer negligently hires someone to perform a task that requires specialized training or experience. It may also be negligent, and thus possible for liability to arise, when an institution fails to perform routine maintenance, causing a slip, trip, or fall accident, when an organization produces a defective product that harms someone, or when someone is the victim of a serious crime on property.
The same negligence laws and legal theories apply when injuries occur due to accidents in stores, on private property, aboard cruise ships, from medical malpractice, or due to an unsafe condition due to the carelessness of another person, corporation, or organization. In all of these scenarios, negligent parties may be held legally liable and financially responsible for the injuries they cause.
The wrongdoer in a personal injury case may be an individual, a corporation, a small business, or a professional. Our personal injury attorneys have assisted numerous clients by thoroughly investigating the causes of their accidents and injuries, identifying all responsible parties, and seeking compensation from all wrongdoers and their insurers.
Advocates for Florida Accident Victims
Personal injury is a broad term that covers many legal issues. We have successfully represented clients in the full range of personal injury and wrongful death cases, including those related to:
Recovering Damages for Your Injuries
Personal injury cases in Florida are lawsuits based on common law and statutory principles of negligence. In all negligence cases, in order to recover compensation for economic or non-economic losses, the victim must show that the defendant owed a legal duty of care to him or her, that the wrongdoer breached of that duty, and that this breach caused the harm at issue. In other words, a negligence claim may arise from a defendant's failure to act with reasonable care in a way that injures the victim or even takes his or her life. Potential damages for such injuries can include coverage for amounts including:
Medical bills
Future medical care
Lost income
Loss of future earning capacity
Disability
Pain and suffering
Loss of society, companionship, and financial support
Scarring and disfigurement
Funeral expenses
Psychological harms
Inability to lead a normal life
Sometimes, punitive damages may be recovered in instances where there is gross negligence, reckless disregard for the life and safety of others, or intentional harmful wrongdoing. Situations where these damages may apply include cases involving motor vehicle accidents caused by drunk drivers, distracted drivers, and other intentional harms such as rape, sexual abuse, assault, battery, and even homicides.
The wrongdoer in a personal injury case may be an individual, a corporation, a small business, or a professional. Our experienced personal injury attorneys have assisted numerous clients by thoroughly investigating the causes of their accidents and injuries, identifying all responsible parties, and seeking compensation from all wrongdoers and their insurers.
Limitations on Recovery
Florida law has unique limitations that can bear on your ability to recover in a personal injury case, so the guidance of a knowledgeable lawyer that specializes in accident and injury claims is critical. For instance, under Florida law, vehicle owners are not required to carry bodily injury liability insurance when driving. Drivers are only required to carry car insurance to pay for their own medical bills and for property damage they inflict on another vehicle in a car crash. Additionally, business operators, property owners, and even doctors and other professionals are not required to maintain liability or malpractice insurance under Florida law.
Florida is also one of a very few states that exempt residential homes from judgment creditors. This is referred to as the "homestead" exemption. This legal rule can limit injured victim's remedies against certain real estate assets in cases when damages exceed the amount of insurance available.
This is where the creativity we believe is essential to effective lawyering comes in. For 50 years, "thinking outside the box" has helped us to uncover numerous alternative financial resources to compensate for our clients' losses, and help them get their lives back on track following a serious accident.
Dedicated to Recovering Compensation for You
Over 50 years of legal experience is a benchmark very few law firms can match. The creative and determined South Florida personal injury lawyers at Gerson & Schwartz P.A. are ready to listen to your story and fight for your rights today. We offer free consultations and can evaluate your case, your legal rights, and how much your claim may be worth based on your individual circumstances. We work on a contingency basis, which means that you do not pay us unless and until we recover damages for you. We proudly represent clients in communities all over South Florida including Miami-Dade, Coral Gables, Broward, Fort Lauderdale, and West Palm Beach. For more information on how we can help you, contact us online or call us toll free at (877) 475-2905 today. Se Habla Español.