Truck Accidents
Miami Truck Accident Attorneys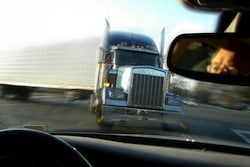 Over forty plus years of experience handling truck, and other serious injury cases involving truck and commercial vehicles gives us the type of familiarity with federal motor regulations and other laws and regulations needed to provide effective legal representation when making a claim for a serious, or catastrophic injury, or in some cases a claim for a wrongful death. Our Miami truck accident lawyers know how to properly investigate all potential theories of truck accident liability in order to provide high quality legal representation for our clients and ultimately, in a court of law. In many truck accident cases, corporations will send a team of investigators immediately to an accident scene. Our experience over the last four decades allows us to combat these types of tactics. The result is that we can provide quality legal representation to clients in need.
The Florida accident attorneys at Gerson & Schwartz, PA specialize handling trucking accident cases and are familiar with these various laws and safety regulations so we can effectively represent clients that are injured. In addition to fatigued truck drivers, several other issues frequently cause accidents involving large commercial vehicles such as:
Speeding
Improper driving for road, weather, or traffic conditions
Aggressive driving
Poor truck maintenance
Incorrectly secured loads/spilled loads
Text messaging
Cell Phone usage
Mechanical failure
Drugs and Alcohol Use
Trucks and other commercial vehicles are often powered by locomotives to which containers called trailers loaded with cargo are attached .A large commercial truck may weigh in excess of 40 tons and be as long as 75 feet in length. For this reason, it is no wonder that accidents involving large trucks usually involve serious damage and severe injuries. The result is tons of mass and energy dominating the roadways. Generally, truck accidents are attributable either to driver error, mechanical failure, or both. Even in cases where the truck driver may not be obviously apparent, there still may be accountability. As an example, if a truck's brakes fail, and the driver gets into an accident, it may be that the trucking company failed to train and educate its drivers properly regarding the correct procedures to employ in cases of a brake failure or perhaps the company failed to maintain its trucks in a safe manner. Special laws and regulations from the Interstate Commerce Commission and Federal Motor Carrier Safety Administration exist to provide motorists protection. Federal laws and other federal agencies establish regulations that truck drivers and their operating companies must follow.
Truck Accidents Facts And Statistics
Statistics regarding traffic accidents where a large commercial truck is involved portray a harsh image for victims of collisions. The U.S. Department of Transportation reveals that more than a half-million truck accidents occur each year. These accidents cause around 5,000 deaths annually, which represent 12 percent of all traffic-related deaths.
Florida's roads saw more than 4400 deadly traffic accidents annually in recent years, with an average of nearly 350 involving trucks. These studies also revealed an aspect that is even more startling: 77 percent of the people injured in truck accidents, and 86 percent of the people killed, are drivers of small passenger vehicles. In other words, most of the time trucking accidents injure other travelers-not the truck driver.
Personal injury cases involving truck accidents and other commercial vehicles are different from accidents that just involve car or ordinary passenger vehicles. These differences include the increased chance of death or severe injuries, the element of supervision (or lack thereof) of the driver by the company, the company's level of maintenance of the truck, the unique aspects of insurance coverage in trucking cases, the company's drug testing (or lack thereof) of the truck driver, and the existence and quality of the trucker's records and logs. In order for a trucking company to survive and succeed as a business, the company must prioritize getting its clients goods delivered quickly.
Truck Accident Safety
Unfortunately, some truck companies value speed over safety, which leaves the other motorists on the road with its drivers at an elevated risk of a devastating accident. However, speed should never result in sacrifices to safety. Sadly, sometimes the safety of travelers takes a back-seat-with deadly consequences. This may also lead some companies to hire under-qualified drivers, or to push their drivers to cut corners regarding safety measures.
Studies show that nearly one-third of all commercial truck accidents involved a truck driver who failed to take the required number and length of rest breaks and failed to get the required amount of sleep. On streets and highways motorists stand little chance of escaping serious injury or death in a truck accident or violent collision with a tractor trailer. Both truck drivers and the rest of the motoring public would benefit by shorter hours and other measures to cope with the effects of operator boredom and distraction by these motor vehicle operators. Violations of these rules can lead to serious accidents, injuries, and even death. These studies also revealed an aspect that is even more startling: 77 percent of the people injured in truck accidents, and 86 percent of the people killed, are drivers of small passenger vehicles. In other words, most of the time trucking accidents injure other travelers-not the truck driver
If you or a loved one has been hurt in an accident involving a commercial truck, contact our Florida Truck Accident Lawyers at Gerson & Schwartz, P.A. today to discuss your case. Were available toll free at 305-371-6000 or toll free 1-877-475-2905. Gerson & Schwartz, PA represents truck accident victims and their families throughout all parts of South Florida including Miami Dade, Homestead, West Palm Beach, Orlando, Monroe, Hollywood, Orange County, Boca Raton, and the Florida Keys.