Motorcycle Accidents
Miami Motorcycle Accident Attorneys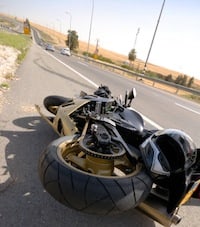 The Miami, Florida based personal injury law firm of Gerson & Schwartz, PA provides aggressive and effective legal representation for clients seriously injured in motorcycle accidents throughout Miami-Dade, Fort Lauderdale Broward, Palm Beach, and other areas of South Florida. Motorcycle accident cases often pose complex factual, legal and financial issues. Liability is often contested because many people tend to perceive that motorcycles are dangerous. However, most of these drivers are just as careful as other drivers on the road. In a motorcycle accident case, injuries vary from either serious to catastrophic and in some cases death. Therefore, a prompt investigation to preserve all evidence and uncover all sources of legal and financial responsibility is especially important. That's why you need experienced legal help to assist you.
Why Choose Us For Your Motorcycle Accident Case?
Over 44 years of legal experience is a benefit to the injury victims and the families we represent. All members of our legal team have worked collectively together for many years. We always work hard to uncover the case facts and to ensure our client's legal interests are adequately protected. Our motorcycle accident lawyers know the questions to ask and how to find the answers too.

If we are unable to to negotiate a fair settlement, we also won't hesitate to bring your case before a jury. When you retain our law firm, you are going to receive legal representation from experienced trial lawyers. Our mission is the same for all our client's cases. To present our client's cases in a court of law in a convincing and compelling fashion and to obtain justice for the client's we represent.

Representing Motorcycle Accident Victims In South Florida For 44 Years
Liability for many motorcycle accident cases is usually based under Florida common law negligence principles. Through creative lawyering our attorneys have also established legal and financial responsibility based on less obvious legal principles such as vicarious liability, respondeat /superior, employer/employee relationships, negligent entrustment claims, dram shop liability, and other business and contractual relationships such as joint ventures.
Generally speaking, motorcycle accidents are usually caused by some form of negligence, carelessness, or reckless conduct. Examples include inattentive drivers, distracted drivers such as text messaging, speeding, failing to obey traffic signals, or simply failing to yield the right of way. In some cases, businesses that rent motorcycles to tourists can be held liable as well.

Liability for motorcycle accidents can also be arise from less obvious parties. Some examples include construction companies where road design or maintenance of traffic may have contributed to the collision. Auto companies and certain motorcycle manufacturers can also be legally responsible under other legal theories such as a product liability claim, when the motorcycle accident may have occurred due to an auto manufacturing or design defect.

If hired to represent you, our Miami motorcycle accident lawyers will conduct a thorough investigation right away to determine the best course of action. At Gerson & Schwartz, PA, we employ experienced investigators and only utilize qualified experts such as in accident reconstruction and other relevant medical fields to help prove our clients cases in the court room.

If you or a loved on were seriously injured in a motorcycle accident in Miami, Fort Lauderdale, or another part of South Florida then don't wait. Contact us today to find out how we can help.
About Motorcycle Accident Laws In Florida
Motorcycles, mopeds, and scooters alike don't provide the same safety protections that cars and motor vehicles provide. Special laws, rules, and regulations govern motorcycle owners, drivers, and motorcycle operators in Florida. Under Florida Statutes, 316.211 "Equipment for motorcycle and moped riders" motorcycle operators and moped drivers under the age of 21 are required to wear a helmet. If you are over the age of 21, operators may avoid wearing a helmet if they carry a minimum of $10,000 in insurance protection.

We recommend that all Florida motorcycle operators and passengers use all available safety equipment available such as helmets and other protective gear available. Florida law also requires motorcycle operators to wear protective eye gear such as protective glasses and requires that motorcycles are equipped with safety equipment such as foot rests and handle bars. In addition, Florida law also requires motorcycle drivers to carry a valid motorcycle operator license.
At Gerson & Schwartz, PA our attorneys have handled numerous motorcycle crash cases throughout Miami Dade, Broward, Palm Beach and the Florida Keys due to:

Rear End Collisions
Failure to Yield Accidents
Distracted Driving
Drunk Driving Accidents
DUI/DWI Accidents
Hit and Run Accidents
Insurance Coverage/Bad Faith Claims
Poor Road Design
Mechanical Failure
Road Hazards
What To Do If Injured In A Motorcycle Crash?
If you are injured in any accident in Florida you should seek immediate medical care. We also recommend, if feasible to:
Preserve the motorcycle
Take video of the scene
Obtain the names of all witnesses and talk to them about their observations
Request a copy of a written statement from all witnesses
Take many photographs of both vehicles
Document and photo any skid marks and final resting places of both vehicles
No Attorneys Fees Unless We Collect
Our law firm only handles cases on a contingent fee. That means you only pay legal fees if we win and at the end of the case. There are no upfront costs. If you or someone you love has been seriously injured in a motorcycle accident then contact us for a free consultation. All case calls and appointments are kept confidential. Se Habla Español.