Fort Lauderdale Cruise Ship Lawyer
If you were injured on a cruise ship you should contact an experienced lawyer to evaluate what happened and who is responsible. Consulting a cruise ship injury attorney is the only way for you to know if the cruise line or some other person or company is legally responsible for your injury damages including medical bills, lost wages and compensation for pain and suffering.
Unless you are certain that your injury was 100% your fault, you owe it to yourself and your family to investigate the facts and the law. One call to our cruise ship accident lawyers will start the process to give you the answers you need.
Why You Need a Lawyer That Specializes in Cruise Ship Accidents
Injuries at sea are much different than land based cases. One crucial difference is that cruise ship personal injury claims can only be brought in courthouses picked by the cruise line as set forth in the ticket contract. Many people are surprised to learn that almost all cruise line "contract of carriage" tickets require injured passengers to file personal injury lawsuits in the United States District Court located in Miami, Florida. Cases filed elsewhere are summarily dismissed. The cruise line forum section clauses in the ticket contract are intended by the cruise line industry to make it convenient for them to defend from their Miami, Florida executive offices and burdensome for injured passengers who live far away. We know how to read and understand the "fine print" in the ticket contract—and what to do to protect your rights.
Because the U.S. maritime law as well as the laws of other nations are often involved out of state lawyers routinely refer clients to south Florida law firms which specialize in maritime cases. The maritime landscape is far different from what you may understand about land based injury cases.
The Differences Don't Stop Here: Read Your Passenger Ticket Contract
Time limits known as "statutes of limitation" for cruise passengers to file lawsuits are much shorter than for other types of cases. If a lawsuit in the correct courthouse isn't filed within the limit the claim is time barred and cannot be pursued. Almost always injured passengers have one year from the date of accident to file a lawsuit. There is more fine print which often says that passengers must provide written notice of their intent to file an injury claim six months from the date of accident. Failing to comply with these strict requirements can result in a valid defense by the cruise line.
The governing substantive law in a cruise ship maritime injury claim is also different based on historical precedents going back hundreds of years for maritime commerce. The United States laws known as "federal maritime" law and the law of admiralty often are different from what ordinary people expect based on their knowledge of land based legal rights. Foreign laws for the territorial waters of nation states, the laws of the vessel flag state nations, and international treaties also apply to cruise liner's liability for serious injuries at sea.
Ship Security Protects Shipowners not Passengers
Getting onboard a cruise ship, nobody thinks about getting sick or injured. When it happens the victim's instinct is to report it. And when that happens on land, we get law enforcement investigation which is neutral -- not biased in favor of the wrongdoer. The next step on land is usually emergency medical attention which is also unbiased and totally geared to objectively help the injured. Not so onboard a cruise ship. Instead of an independent and objective investigation the follow up is left to the so called ship "security officers" to look for evidence which helps the cruise operator defend against potential liability. This bias in investigation is reflected by what photographs are taken, what video is preserved, what physical evidence is collected and which witnesses are interviewed. The incident investigation results and reports are given immediately to the cruise line but almost never provided to the sick or injured passenger. Requests by passenger lawyers are routinely denied. Similarly, the onboard medical records are often influenced by how the patient's quoted statements can assist the defense of a claim brought later against the cruise operators and its crew. If the passenger's medical needs risk potential liability the cruise lines do all they can to get the guests off the ship even if it means leaving them behind in a third world nation where accessibility to first rate medical services is difficult or impossible. It is for these reasons that passengers should contact a lawyer as soon as possible. Too often seriously injured passengers wrongly assume the cruise line will make up their losses by voluntary payment. Many passengers lose precious investigative time waiting for the cruise line to do the right thing—and they almost never do. There is no harm in asking questions of a qualified lawyer. Delay never helps and often disadvantages the injured passenger.
Why Death Cases are Different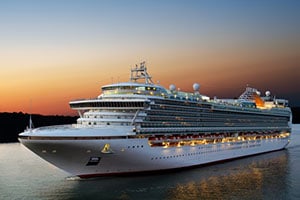 Recoverable damages for deaths which occur on the "high seas" are unrealistically limited by a 1920's federal statute known as the Death On High Seas Act (DOSHA). DOSHA blocks legal remedies recognized under Florida and other state laws around the nation. DOSHA prohibits family members from recovering non-economic damages, such as emotional pain and suffering, grief, and loss of love and affection if the incident causing the death occurs outside of U.S. territorial waters. Though economic losses can be recovered the human suffering losses are not recognized. Thus, claims for retired or even modest earners as well as children who die because of cruise line negligence are minimally valued by the DOSHA language. There are some strategies which can avoid the DOSHA limitations. Cruise line operators have highly experienced lawyers and so should you. So don't wait---contact a Miami and Fort Lauderdale cruise ship lawyer at Gerson & Schwartz, PA to find out what your rights are and how we can help you enforce them.
Why Choose Gerson & Schwartz, PA for Your Cruise Ship Injury
For more than 50 years, Gerson & Schwartz, PA has been widely recognized within the legal profession for our commitment to our clients and solid track record for success. With more than 350 jury trials in our rearview mirror, our firm has brought cases against every major cruise line operator. Our cruise ship attorneys have experience representing injured passengers and crew members from all over the world. We have been involved in virtually every type of injury mechanism that can occur at sea.
Our cruise attorneys challenge the cruise line industry outside of the courtroom too. From testifying before Congress and lobbying it to pass tougher safety and security measures we have joined forces with other lawyers from across the nation in collaborative efforts to achieve legal reform. Our firm is a leader in promoting cruise ship safety by educating others through presenting lecturers and seminars around the world. We have participated in meetings and conferences with the International Maritime Organization (IMO) a United Nations group located in London; the European Community (EC) based in Brussels, and others. We are proud of our United States leadership in fighting for crime victim rights groups and cruise ship safety as a board member of International Cruise Ship Victims Association. (ICV.org) and the National Center for Victims of Crime (NCVC) as board chairman. The Miami, Florida based law firm of Gerson & Schwartz, PA is committed to improving cruise ship safety and security.
Cruise ship litigation due to serious and catastrophic injuries is our core practice area. Our clients have sued Carnival, Royal Caribbean, Norwegian, Celebrity, Regent Seven Seas, MSC, Costa Cruise Lines, Disney Cruise Lines, Princess, Holland America, Seaborne, and others. We know what do. Just call us for a free consultation.
No Attorneys Fees Unless We Recover Money
You can call our cruise ship accident attorneys today toll free at (877) 475-2905 or at (305) 371-6000 for your free consultation. Or visit our personal injury offices located at 1980 Coral Way, Miami, FL 33145. You may also contact us online for a free consultation. All of our clients are represented under a contingent fee contract. That means you only pay us if we collect money on your behalf. We advance all case expenses. There is no upfront cost to any client at our firm.
Our cruise ship attorneys have experience representing clients injured due to:
More about Cruise Ship Accident Claims From Port Everglades in Fort Lauderdale, Florida
Cruise ships in Fort Lauderdale set sail from Port Everglades. Port Everglades is situated within unincorporated Broward County near three cities – Fort Lauderdale, Hollywood, and Dania Beach.
In 2015, more than 3.6 million passengers passed through the Port Everglades terminal alone. In 2013, it was named "World's Best Domestic Port" By Seatrade Magazine.
The cruise lines and ships that use Port Everglades are:
Cunard

Queen Elizabeth -- 2,092 passengers
Queen Victoria -- 1,970 passengers

Silversea

Silver Cloud -- 296 passengers
Silver Spirit -- 540 passengers
Silver Whisper -- 382 passengers

Carnival Cruise Lines

Carnival Conquest -- 2,974 passengers
Carnival Freedom -- 2,974 passengers

ISE (Semester at Sea)

MV Explorer -- 836 passengers

Holland America Line

MS Amsterdam -- 1,380 passengers
MS Eurodam -- 2,104 passengers
MS Maasdam -- 1,266 passengers
MS Niew Amsterdam -- 2,106 passengers
MS Noordam -- 1,918 passengers
MS Prinsendam -- 793 passengers
MS Veendam -- 1,350 passengers
MS Westerdam -- 1,848 passengers
MS Zaandam -- 1,432 passengers
MS Zuiderdam -- 1,848 passengers

Princess Cruises

Caribbean Princess -- 3,114 passengers
Coral Princess -- 1,992 passengers
Emerald Princess -- 3,114 passengers
Island Princess -- 1,950 passengers
Ocean Princess -- 826 passengers
Pacific Princess -- 670 passengers
Regal Princess -- 3,560 passengers
Royal Princess -- 3,560 passengers
Ruby Princess -- 3,070 passengers

Royal Caribbean International

Allure of the Seas -- 5,400 passengers
Independence of the Seas -- 3,648 passengers
Legend of the Seas -- 2,074 passengers
Liberty of the Seas -- 3,634 passengers
Oasis of the Seas -- 5,400 passengers
Vision of the Seas -- 1,998 passengers

Costa Cruises

Deliziosa -- 2,826 passengers

Celebrity Cruises

Constellation -- 2,038 passengers
Equinox -- 2,852 passengers
Infinity -- 2,050 passengers
Silhouette -- 2,886 passengers

Balearia Bahamas Express

Pinar del Rio -- 463 passengers

Seabourn

Seabourn Quest -- 450 passengers
Seabourn Shadow -- 382 passengers
Seabourn Sojourn -- 450 passengers
If you or a loved one were injured on any of these cruise ships, call us. We can make sure you understand your rights from a cruise ship injury.
Fort Lauderdale Cruise Ship Accidents
Our Fort Lauderdale Cruise Ship Accident Lawyers know how to help if you were seriously injured on a cruise ship. Our attorneys have years of experience filing injury claims and lawsuits for victims of cruise ship negligence. Our Fort Lauderdale cruise ship accident attorneys represent people injured on cruise ships that set sail from:
Miami, FL
Los Angeles, CA
Port Canaveral, FL
New York, NY
Fort Lauderdale, FL
Tampa, FL
Vancouver, BC, Canada
Seattle, WA
Jacksonville, FL
San Juan, Puerto Rico
Honolulu, HI
New Orleans, LA
Barbados
Charleston, SC
Norfolk, VA
Baltimore, MD
Galveston, TX
Our Fort Lauderdale cruise ship trial attorneys have had the privilege of representing people who were injured as a result of cruise ship negligence or intentional acts against cruise line companies including:
Disney Cruise Lines
Royal Caribbean
NCL (Bahamas)
Crystal
MSC
Norwegian
Costa
Carnival Cruise Lines
Seabourn Regent
Holland America
Celebrity
A Fort Lauderdale cruise ship lawyer should be ready to act as soon as you contact us. Remember, your cruise ship accident lawsuit is time sensitive and limited by law.
Representing Port Everglades Cruise Ship Accident Victims
Our Port Everglades injury attorneys represent cruise ship passengers and crew members injured in any form of a cruise ship accident including:
Slip and Fall Cruise Ship Accidents
Cruise Ship Sexual Assaults or Rapes
Trip and Fall Accidents on Cruise Ships
Medical Negligence on Cruise Ships
Missing Persons from Cruise Ships
Sexual Harassment on Cruise Ships
Norovirus Illnesses
Private Excursion Accidents
Cruise Ship Drowning and Wrongful Death
Negligent Cruise Ship Security
Shore Excursion Accidents
Injuries to Cruise Ship Crew Members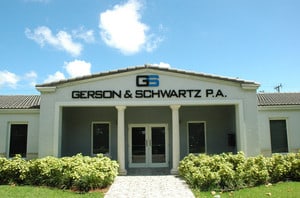 At Gerson & Schwartz, our Fort Lauderdale cruise ship lawyers are licensed to practice in all Florida state courts and federal courts. Our Miami cruise ship injury law offices are located in Miami, Florida close the Port of Miami and Port Everglades. Our lawyers have more than 80 years of collective experience in handling maritime claims, injury claims, and cruise ship accident injury cases. Let us put our experience to work for you.
All cruise ship injury clients are represented under a Florida Supreme Court approved contingent fee contract. This means there are no attorney fees unless and until we recover money for you. Contact us today at for a free consultation at (877) 475-2905.