Miami Slip & Fall Accident Lawyer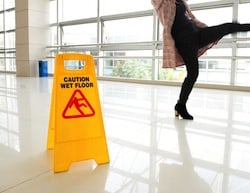 If you were injured in a slip and fall accident you need help from experienced lawyers. From supermarket spills to defective stair tread design, our firm assists slip and fall accident victims recover damages from negligent landlords, property owners, and business operators. At Gerson & Schwartz, PA our Miami slip and fall lawyers have sought and obtained justice for our clients in virtually every type of slip, trip and fall accident scenario. From department stores, grocery stores, malls, and other high traffic areas in public establishments. We have also helped clients who sustain serious injuries due to wet floors, foreign or transient substances, non-conforming stairs, inadequate lighting, loose or defective handrails and other safety hazards. A slip, trip or fall accident can also occur due to defective carpet runners, broken steps, and traffic worn stair edges in hotels, motels, restaurants, retail stores, private residences, government buildings, and even cruise ships. You can fall at a nightclub, or in a supermarket after an employee fails to clean up after a spilled drink on the floor. You could even lose your balance and fall at a shopping mall where the custodian has just mopped the floors but has failed to put up any warning signs.
At Gerson & Schwartz, PA our slip and fall attorneys in Miami have more than 50 years of experience representing clients in all types of slip and fall injury claims. We obtain the advice of experts who use special instruments to test and measure a floors slip resistance characteristics which may provide further evidence of a property owner's negligence under Florida law. Over the last four decades, our personal injury law firm has filed lawsuits on behalf of injury victims who slipped or tripped because of defects, dangerous surfaces and other hazardous conditions on real property. If you or a loved one has been injured in a slip, trip or fall accident in Miami, Fort Lauderdale, or another part of South Florida contact our personal injury law firm at (305) 371-6000 or toll free at (877) 475-2905. We will help you determine what legal rights and remedies are available to compensate you under Florida law.
More About Slip, Trip and Fall Accidents
According to the U.S. Department of Labor's Occupation Safety and Health Administration (OSHA) slip, trip, and falls account for nearly 15% of all serious injury and accidental deaths. According to OSHA, over 540,000 slip & fall injuries required medical attention occur in the United States and are also the most common causes of workplace accidents and occupational injuries. Floor surfaces and flooring materials are also a contributing factor to more than 2 million fall related injuries according to the Consumer Product Safety Commission (CSPC).
A slip occurs when there is not enough traction with a persons feet or footwear and a floor surface. This can result in a loss of balance and fall. Florida law and building codes provide for standardized dimensions for steps, stairways, thresholds, stair treads and risers. These requirements are designed to make surfaces safe and to prevent accidents. Non-slip treatments such as slip resistant paints, anti skid surfaces, carpets, and mats can also be applied to inherently slippery surfaces such as marble, vinyl, and other surfaces.
At Gerson and Schwartz, we specialize in slip and fall claims where there are serious bodily injuries sustained. Our attorneys will analyze the facts and applicable law to demonstrate whether a dangerous condition existed on the property of another. In order to do this, we thoroughly investigate the circumstances surrounding each client's case, gather all important evidence and prepare a sound legal argument. We consult with leading experts in engineering, human factors, occupational safety, and other medical specialties, as well as review applicable local, state, and federal building codes. All potential theories of legal liability are analyzed in every case. We employ investigators to help document conditions on a premises and to preserve important evidence such as accident scene photographs, video surveillance, and witness statements. If we are your lawyers, we won't hesitate to bring your case to trial if a fair settlement offer is not made. Your case will be presented in court quickly if we are hired to be your attorneys.
Did Negligence Cause Your Slip and Fall?
Many property owners and business operators routinely place blame the injury victim. The truth is the opposite. Most slip and fall accidents are foreseeable, preventable and due to the negligent business practices and careless acts of others. Under Florida premises liability laws, landowners owe the highest duty of care and to maintain their premises in a reasonably safe condition so that it is safe and secure for invited guests, customers, and the general public. This may include using wet floor or caution signs, or provide other written or verbal warnings. Property owners may also owe a further duty to children to take more precautions to ensure safety for children since some are unable to read warning signs or appreciate the danger of a particular situation.
Florida building code laws and uniform standards also require that all surfaces meet minimum thresholds for co-efficient of friction and have adequate "slip resistance". These requirements are designed to ensure that all surfaces under both wet and dry conditions are safe in order to prevent slip and falls from occurring.
Non-slip treatments can also be applied to surfaces to reduce and help prevent accidents too. Florida negligence laws are that an owner or operator of a premises is legally liable if it can be proven they created a dangerous condition on their premises, or if an unsafe condition existed long enough on their property but failed to make it safe. If a property owner has notice of a dangerous condition on their premises they owe a legal duty to warn, to correct, mark off, and to make the premises safe. Failure to adhere to these important safety regulations may be evidence of negligence.
Miami, Florida, Slip-and-Fall Accident Attorneys
Common types of slip and fall accident claims we handle are due to:
Negligent Housekeeping and Cleaning Practices
Spills
Dangerous Surfaces
Wet, Foreign, and Transitory Substances
Freshly Mopped or Wet Floors
Highly Polished Floors
Freshly Waxed Surfaces
Tripping Hazards and Uneven Transitioning from One Floor Surface to Another
Injuries due to Slip, Trip and Falls
Fractures and broken bones are common in slip and fall accident cases. Other common injuries include knee injuries, hand and wrist injuries, shoulder, hip, and head injuries. If you were injured in a slip and fall here are some things you should so immediately:

If you need prompt medical attention, first call 911 to alert the authorities
Fill out an incident report or report the accident and keep a copy. If they won't give you a copy then take a picture of it
Obtain the names of all employees or managers. Be sure not to get into a discussion with the manager about the facts or liability, as this may negatively affect your case
Safeguard and preserve your shoes and footwear
Take photographs and video footage of the accident scene and documents the condition of the premises
Obtain the name, address, or phone numbers of all potential witnesses and employees
Call, or email a slip and fall lawyer at Gerson & Schwartz by calling (305) 371-6000
Remember, property owners have a duty to maintain their premises reasonably safe, for customers, invited guests, business people and the general public like you. Failure to adhere to safety regulations means that you can get injured and the owner may be legally responsible for your injuries. These are some of the reasons why it is important to contact a slip and fall attorney in Miami, Florida if you are injured. Injuries by themselves are difficult to deal with. Don't deal with an insurance company representative on your own. Insurance companies have lawyers working for them and so should you.
By contacting our personal injury law offices you will be protecting your legal rights and can focus on what is most important, your health. When our injured client asks for a slip and fall lawyer near me, we are there. Our accident attorneys in Miami, Florida are here to assist you with financial recovery and all of our cases are handled under a contingent fee. For more information on how we can help contact our South Florida personal injury law offices at (305) 371-6000.
Gerson and Schwartz slip and fall lawyers also represent injury victims in Miami Beach, Brickell, Miami Springs, Hialeah-Miami Lakes, Coconut Grove, Aventura, Hallandale, Sunny Isles, North Miami Beach, Palm Beach, Delray Beach, Allapattah, Homestead, The Roads, North Miami, Kendal, Homestead, Westchester, Riverside, Tamarac, North Beach and other cities in incorporated and unincorporated areas of Miami-Dade County Florida.