Miami Slip & Fall Accident Lawyer
How We Do It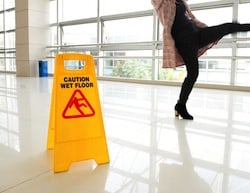 At Gerson & Schwartz, PA our Miami slip and fall lawyers have more than 48 years of successful experience representing clients seriously injured in slip, trip, & fall and other premises liability accident cases. We obtain the advice of experts who can use special instruments to test and measure floor slip resistance characteristics and provide further evidence of a property owner's negligence. Every latest technology is incorporated as soon as it becomes available. Our law firm thoroughly investigates the circumstances surrounding each client's case and will efficiently prepare a sound legal argument. We also consult with engineering, safety, and medical experts as well as review local, state and federal building codes. Each of our clients receive professional legal representation based on the highest ethical standards Florida trial lawyers can provide.
Miami, Florida Slip And Fall Attorneys
If a property owner has "actual" or constructive notice of a dangerous condition on their premises they owe a legal duty to warn to warn invitees and others who come on their premises. Notice may also require business operators not only to warn, but to correct, mark off, and take all precautions necessary to make the premises safe. Notice may impose a legal obligation to use wet floor signs, caution signs, or provide other written or verbal warnings.
Invariably, property owners may also owe a further duty to children to take more precautions to ensure safety for children since some are unable to read warning signs or appreciate the danger of a particular situation. However, in most circumstances property owners do not owe a legal duty to trespassers. Florida laws also provide for standardized dimensions for steps, stairways, thresholds, stair treads and risers. Failure to adhere to these important safety regulations may be evidence of negligence.
For a Free Consultation Call 305- 371-6000
Florida building codes, industry standards, and regulations require that all surfaces meet minimum thresholds for the co-efficient of friction and have adequate "slip resistance". These requirements are designed to ensure that all surfaces under both wet and dry conditions are safe in order to prevent slip and fall accidents from occurring. Property owners, landlords, and business operators almost uniformly insist in and out of court that when someone has an accident on their premises it is because they were not looking at where they were walking and were otherwise at fault. The truth is the opposite. Slip and fall accidents are preventable and are often due to negligently designed, negligently maintained and poorly maintained places.
From department stores, grocery stores, and other public establishments our Miami personal injury law office has sought and obtained justice for our clients in virtually every type of slip and fall accident claim. Wet floors, foreign substances, non-conforming stairs, inadequate lighting, loose or defective handrails, and others. From supermarket spills to defective stair tread design our personal injury lawyers helps accident victims in South Florida recover damages from landlords, property owners, and business operators. Our attorneys also have experience representing clients that are injured in accidents due to defective carpet runners, broken steps, and traffic worn stairs in hotels, restaurants, retail stores, private residences, government buildings, and even cruise ships.
Common Type Of Injuries
According to the U.S. Department of Labor's Occupation Safety and Health Administration (OSHA) trip and falls account for nearly 15% of all serious injury and accidental deaths. There are also reportedly over 540,000 of this type of accidents, which require medical attention occur in the United States annually. Fractures and broken bones are common in slip and fall accident cases. Other common injuries include leg, arm, wrist, shoulder, and knee injuries. If your accident occurred in a retail store, supermarket, or apartment complex here are some things you should do immediately.
Fill out an incident report or report the accident and keep a copy.
If they won't give you one take a picture of it.
Obtain the names of all employees or managers
Be sure not to get into a discussion with the manager about the facts or liability
Take photographs and video footage of the accident scene and condition of the premises
Obtain the name, address, or phone number of all potential witnesses
Seek immediate medical attention and document all potential injuries
Securing Financial Compensation For South Florida Negligence Victims
Remember, property owners have a duty to maintain their premises reasonably safe, for customers, invited guests, business people and the general public like you. Failure to adhere to safety regulations means that you can get injured and the owner may be legally responsible for your injuries. These are some of the reasons why it is important to contact a personal injury attorney in Miami, Florida if you are injured in a slip and fall. Contact our law firm today for a free consultation.