Bal Harbour Truck Accident
Experienced Bal Harbour Lawyers Representing Truck Accident Victims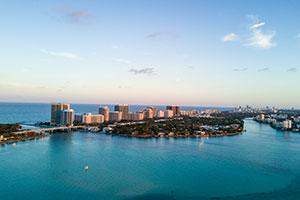 Bal Harbour is a popular tourist destination, but there are many year-round residents too. With a median resident age approximately 50 years old, Bal Harbour's population is under 3,000 people. Bal Harbour is a walkable village, with shopping, beaches, entertainment venues, and restaurants. The median home sales price approaches $1 million. Although tourism is an important part of the economy in the Bal Harbour area, in the greater Miami area, the banking industry and cargo transport and warehousing-related businesses reflect the increasing presence of import/export and international finance. A nice place to visit, Bal Harbour is also a nice place to work and live.
Unfortunately, accidents occur even in the most ideal locations, and while traveling to and from those destinations. Truck accidents are some of the most devastating of all accidents, often causing serious personal injuries and even death of drivers and passengers in cars and other vehicles that share the road with tractor trailers and trucks.
At Gerson & Schwartz, our Bal Harbour truck accident lawyers assist injury victims in the Miami area and throughout South Florida. To schedule a free consultation with one of our attorneys, call our office today at (877) 475-2905 or (305) 371-6000. You can also send us an email through our online contact form .
Has a Truck Accident Caused Injury to You or Family Member?
If a truck driver was at fault for the accident that caused your injuries, you may choose to file a lawsuit seeking damages and compensation for medical care, lost wages, and pain and suffering for example.
Truck accidents are often caused by truck driver negligence or equipment malfunctions, and sometimes are caused by both. The result of a truck driver getting inadequate sleep, driving carelessly or recklessly, speeding, eating, or using a cell phone while driving endangers other drivers that sharing the road.
The trucking industry is highly regulated due to the danger that large vehicles present on roadways. Truck drivers are required to take, and log, adequate rest breaks. Many trucks are now equipped with data recording "black boxes" that record speed, distance, and time spent driving that may hold important information about the driver, the truck, and the cause of the accident.
Our attorneys at Gerson & Schwartz have been representing our clients for 40 years, helping them to recover compensation for their injuries in difficult and varying circumstances.
Should You Call an Attorney if You are Injured in a Truck Accident?
When a truck is involved in a serious collision causing injuries or death, there is often an investigation. The truck driver and his or her company will often vigorously dispute fault and try to place some of the blame on the driver of the smaller vehicle. The company may also turn against the driver and try to deflect blame for the accident, for example, if there is evidence the driver was drunk driving.
In fact, there may be multiple causes for a truck accident, and thus more than one party may be liable for your injuries. The driver may have been speeding or tired because he failed to take rest breaks required by law. The trucking company may have failed to perform required or necessary maintenance on the truck. In some cases, a part is found to be defective, and the manufacturer may be liable.
Trucking companies and their drivers will take every possible action to dispute fault or liability. The Federal Motor Carrier Safety Administration recently launched a program designed to enable trucking companies to dispute certain truck crashes that were classified as "preventable" using a national data-correction system.
Our attorneys have the training and experience to counter trucking company's attempt to avoid liability and to pursue complicated personal injury truck accident claims, including filing a lawsuit in a Florida court.
It is advisable to contact a lawyer as soon as possible following a truck accident. Our experienced Bal Harbour truck accident attorneys at Gerson & Schwartz will take all necessary steps to determine who was at fault for the accident and resulting injuries and hold them accountable through settlement or through a lawsuit in court.
Contact a Lawyer in Bal Harbour for a Free Consultation
Individuals filing personal injury lawsuits in Florida are subject to strict time constraints within which to bring a lawsuit. The truck accident lawyers in Bal Harbour at Gerson & Schwartz are here to help. Our attorneys' experience in personal injury law makes us the first choice for many injured victims in South Florida, including Bal Harbour. We will start with a free consultation so that you can ask questions and find out more information about the services we offer. Reach out today by calling (877) 475-2905 or by filling out our contact sheet.