Bal Harbour Uber Car Accident Lawyer
Experienced Lawyers Representing Bal Harbour Personal Injury Victims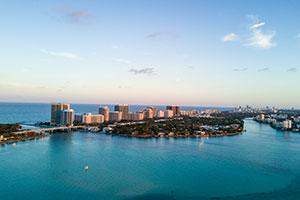 Bal Harbour is for art lovers, attracting Miami-area residents and tourists who come to experience many events throughout the year. Bal Harbour is home to "Unscripted," a public art program that helps the town define itself as a lively cultural destination by making art accessible to Miami area residents and guests. Bal Harbour's Art Access Program provides free admission to Miami art museums, as well as tours of private collections for residents and guests. With events, exhibitions, and tours, such as the Path Art Exhibit, Bal Harbour attracts art lovers from the Miami area and beyond.
It has become increasingly popular for people who are on vacation or taking a day trip to call a ridesharing service such as Uber or Lyft. But what happens if you are injured in an accident while a passenger in an Uber or Lyft vehicle?
At Gerson & Schwartz, our Bal Harbour Uber accident lawyers assist injury victims in the Miami area and throughout South Florida. To schedule a free consultation with one of our lawyers, call our office today at (305) 371-6000 or (877) 475-2905 or send us an email through our online contact form.
Were You Injured While Riding in an Uber or Lyft Vehicle?
Unfortunately, people sometimes suffer serious injuries in car accidents that occur while they are riding in Uber or Lyft vehicles. If the Uber or Lyft driver was at fault for the accident that caused your injuries, you might be entitled to damages in order to compensate you for medical expenses, lost wages, physical pain and suffering, and emotional distress.
When a car accident occurs, the drivers may disagree about whose fault the accident was or whether both were at fault, and insurance issues can arise. With accidents that occur involving a vehicle operated by an Uber or Lyft driver, the situation may quickly become much more complicated, especially as it relates to insurance and liability.
Uber and Lyft drivers are required to carry their own insurance to cover liability for accidents that injure their passengers. But what if that insurance is inadequate – or what if the Uber driver disappears? The good news is that ridesharing companies are required to carry insurance to compensate passengers in the event the driver has no insurance or inadequate insurance. The ridesharing company may be liable to pay your damages if you are injured.
Who is Responsible for the Uber or Lyft Accident That Caused Your Injuries?
Uber and Lyft drivers are largely unregulated. The individuals who drive for Uber and other ridesharing services are independent contractors, they are not employees. In order to become an Uber or Lyft driver, an individual is required to have only one year of driving experience, except drivers under 23 years old must have three years of driving experience. Some people question whether the experience required of drivers by Uber and Lyft is sufficient to ensure passenger safety.
In addition, Uber and Lyft have been under scrutiny for their limited background checks and driving record checks. The limits of these background checks and other hiring procedures, as well as the lack of supervision of drivers, often surface following an accident.
For example - Was the ridesharing company aware of a driver's recent DUI arrest? Did the background check reveal a driver's alias under which he had been issued many moving violations? Was the vehicle inspected recently? Having the knowledge and experience to ask the right questions is crucial to obtaining information about the potential liability of the driver as well as the ridesharing company for your injuries.
Our attorneys at Gerson & Schwartz have been representing our clients for 40 years, helping them to recover compensation for their injuries in difficult and varying circumstances.
Should You Call an Attorney if You are Injured in an Uber or Lyft Accident?
Complex issues may arise when you are injured in an accident involving an Uber or Lyft vehicle. The insurance issue alone is complicated and may be intertwined with other potential legal issues such as liability based on negligent hiring and training.
Pursuing personal injury claims, including filing a lawsuit in a Florida court, is a task that our attorneys have the training and experience to handle professionally with the best opportunity for a successful resolution.
It is advisable to reach out and speak with a lawyer as soon as possible following an accident. Our Bal Harbour Uber accident attorneys at Gerson & Schwartz can take all appropriate actions:
Thoroughly investigate the accident and identify the potentially responsible parties.
Obtain insurance information from the driver and ridesharing company. Contact the insurers. Review the insurance policies.
Obtain current driving records.
Attempt to settle the case without going to court through negotiation.
File a lawsuit against all appropriate parties.
Contact an Uber Accident Lawyer in Bal Harbour for a Free Consultation
Individuals filing personal injury lawsuits in Florida are subject to strict time constraints within which to bring a lawsuit. The Uber accident lawyers in Bal Harbour at Gerson & Schwartz are here to help. Our attorneys' experience in personal injury law makes us the first choice for many injured victims in Southern Florida, including Bal Harbour. We provide a free consultation during which you can ask questions and learn more about the services we offer. Reach out today by calling (305) 371-6000 or (877) 475-2905 or by filling out our contact sheet.