Brickell Slip & Fall Lawyer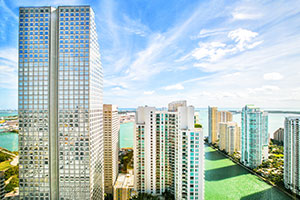 The Brickell slip and fall lawyers at Gerson & Schwartz, P.A have over 50 years of experience protecting the rights of injury victims in the Miami area. We offer free consultations to best determine how to represent your interests after a slip and fall accident.
Brickell, Florida is a booming neighborhood directly south of Miami's historic Central Business District. Formed on the economic strength of banking, finance and business development, Brickell has always been a dynamic area of growth. Housing developments, office buildings, restaurants, and nightlife abound, and the population is continually growing.
Of course, more people leads to more accidents. Like any densely populated city, Brickell is the site of many personal injuries. Consulting with an experienced Brickell slip and fall attorney can help protect your rights after you are injured caused by the negligence of another person.
How Do I Get Compensation for a Slip and Fall Accident?
In order to be compensated for a slip and fall accident, the victim must prove that someone was legally responsible ("liable") for causing his or her injuries. Generally, this will be accomplished through "premises liability". Premises liability imposes a legal duty on homeowners and shopkeepers to maintain their premises in safe condition. If they do not, the owner can be liable for any damages sustained by the victim, such as:
Medical expenses
Property damage (if, for example, a cell phone was crushed when the victim landed on it)
Pain and suffering
Lost wages
In general, store managers and other commercial property owners have a higher obligation for maintaining their premises than homeowners do. This is because they are inviting the public onto their premises for commercial purposes. Nonetheless, if you are injured in a slip and fall accident at a private home, the homeowner can be liable for your damages in certain circumstances.
Workers' Compensation
If you were performing work duties at the time of your slip and fall accident, you may also be eligible to file a claim with your employer's workers' compensation policy. This will depend on whether you were in the "scope of employment" at the time of the accident. This is a common area of dispute between a claimant and the workers' compensation claims adjuster. Workers' compensation benefits can also affect the amount of compensation you are able to recover from the landowner's premises liability policy. For these reasons, it is important that your attorney be experienced with workers' compensation coverage.
Children Injured in Slip and Fall Accidents
Slip and fall accident claims become even more complicated when the victim is a child. Some common complications:
Adults can easily calculate their lost wages, simply by multiplying the hours lost by their hourly rate. But what about a child who has to miss school after an accident? How can that time be valued? Should the child be compensated at all? If so, how much?
Children's bodies are usually more resilient than adults' bodies. As a result, children will often report less pain after an accident. What if a very young child cannot yet speak? Does this mean he does not experience pain? If he does, how can it be measured for purposes of compensating his pain and suffering?
Remember, insurance adjusters are tasked with paying as little compensation as possible. In the examples above, it is highly likely that the insurance company will claim they should not have to compensate a child for missing school, and that a child who cannot express pain is not feeling any. In these circumstances, it is especially important to hire an experienced slip and fall lawyer.
Call Gerson & Schwartz, P.A. Today to Speak With a Brickell Slip and Fall Lawyer
The experienced Brickell slip and fall attorneys of Gerson & Schwartz, P.A. have the skill required to protect the rights of slip and fall accident victims. Our staff provides the personal attention necessary to help you through this difficult process. Call our office today at (877) 475-2905 to schedule your free consultation with an attorney. You can also email our office through our online contact form.