Brickell Uber Car Accident Lawyer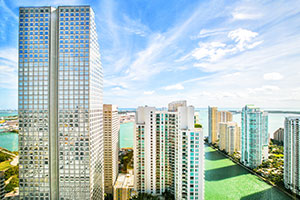 Both tourists and residents who spend time in Brickell, Florida have found that Uber is a convenient alternative mode of transportation when they want to head out for a night on the town, or simply don't feel like driving. While the use of this ride-sharing company is on the rise in Brickell, an Uber accident can occur before you have a chance to realize what has happened. At Gerson & Schwartz, our Brickell Uber accident lawyers can help you navigate the claims process. To schedule a free consultation, please call us at 305-371-6000 or (877) 475-2905. Alternately, you can send us an online message.
Attorneys in Brickell, Florida Representing Individuals Injured in Uber Accidents
Uber and other ride-sharing companies are increasingly popular options for those looking for safe and cheap transportation around Brickell. By logging into an app, you can have a car arrive at our door and whisk you off to Bistro Urbano, Vizcaya Café, or to downtown Miami in no time. Like taxis, however, Ubers get in their fair share of collisions, causing injuries to passengers and other drivers.
Our Brickell, Florida Uber Accident Attorneys Have Helped Clients in Many Types of Cases
At Gerson & Schwartz, our team has represented accident victims in a variety of cases in the Brickell area. We frequently work with those who have been injured due to:
Car accidents on Brickell
Distracted driving Brickell Accidents with Uber vehicles
Rear end collisions
Rollover accidents
Chain reaction accidents
Motorcycle crashes
Truck accidents
Auto & motor vehicle accidents
Bicycle accidents
DUI-related collisions
Pedestrian accidents
Injuries to children
Brain injuries
Spinal cord injuries
Catastrophic injuries
Uber Accidents and PIP
Every driver who registers a vehicle must carry personal injury protection benefits, called "PIP." Because Florida is a no-fault state, you contact your own insurer for benefits after an accident, regardless of who caused it. Typically, drivers carry the minimum in PIP benefits--$10,000. As anyone who has been injured recently knows, $10,000 can get eaten up very quickly with the cost of medical care. For that reason, you might exhaust your PIP benefits and still have unpaid medical expenses and uncompensated lost wages.
If you don't have PIP benefits, you might qualify if you live with a blood relative who has PIP benefits. If not, you will need to pursue PIP benefits from the driver at fault.
Unfortunately, most PIP policies have an exclusion when the car is used for business purposes. For this reason, the Uber driver's PIP benefits probably don't cover you. However, if another driver is at fault for the collision, you might obtain benefits from them.
Who to Sue
If your PIP benefits are inadequate to treat your injuries, then you will need to identify someone else to sue. Typically, you can make a claim on the driver who was at fault for the accident. The might be the Uber driver or someone else.
Had you suffered an injury in a taxi cab, then you could have easily made a demand for compensation to the taxi cab company had their driver been negligent. However, Uber drivers are not employees; instead, they are independent contractors. Generally, Florida law does not make companies vicariously liable for the injuries independent contractors cause. For that reason, you might have to pursue compensation from the Uber driver—whose pockets are not nearly as deep as Uber's.
Fortunately, Florida statute 627.748 requires that Uber drivers carry their own insurance, but the rules are complicated. Consider the following:
Drivers do not need any insurance if they are not logged into the Uber network.
If a driver is logged into the Uber network but does not pick up a prearranged ride, then they must carry at least $50,000 in death and bodily injury coverage per person, up to $100,000 per incident. They also must carry at least $25,000 in property damage coverage.
If the driver accepts prearranged rides while logged into the network, they must carry $1,000,000 in bodily injury insurance.
Uber drivers also carry $1,000,000 in uninsured/underinsured motorist coverage. However, after an accident, you must tap the driver's insurance before you can make a claim against Uber's insurance policy. If you do not understand which insurance company to contact, then speak with an Uber accident attorney in Brickell as soon as possible.
Act Fast and Don't Delay
Injured motorists have a short window of time for pursuing compensation in the courts. If you can't reach a voluntary settlement, you will need to sue, but Florida gives injured motorists only four years to bring suit. At first, this might seem like a lot of time, but investigating your case and negotiating with insurance companies takes time. To make sure you meet all deadlines, reach out to a Uber accident lawyer in Brickell as soon as possible.
You also want to act quickly so that you preserve evidence in your case. After the accident, write down what you remember and identify any witnesses. Store the witness' name and contact information on your phone or write it down on a slip of paper.
Also, remember to get the following information from both the Uber driver and any other driver involved in the crash:
Name
License number
Registration
Proof of insurance
License plate number
This information is helpful in determining who is responsible for the accident and whose insurance carrier to contact.
Call Us Today to Speak With an Uber Accident Lawyer in Brickell About Your Case
Injured victims need compensation to help cover the costs of their injuries; however, the new Florida law is confusing about how much compensation you can qualify for. Fortunately, the Brickell Uber accident lawyers at Gerson & Schwartz have developed experience in this field and are prepared to help you get the funds necessary for your recovery. To schedule a consultation please call us at 954-845-0535 or (877) 475-2905, or submit our online contact form.