Doral Crime Victim Lawyer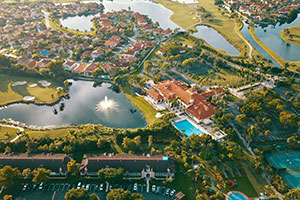 Doral, Florida is a small city in Miami-Dade County. It is only a 13-mile trip to Downtown Miami and even closer to the Miami International Airport. For this reason, it is often a commuter town; Home to many individuals who work in Miami. It is also home to a large number of businesses because of its proximity to a major airport. Overall, Doral is a diverse, happy, and safe community. However, like any city, it has its fair share of crime. In 2015, the Doral Police Department reported a crime rate of 2,829.5 offenses per 100,000 people. That year there was one reported murder, six rapes, nine robberies, and 50 aggravated assaults. In relation to property crimes, there were 160 burglaries, 1,465 thefts, and 131 motor vehicle thefts. This may seem like a high crime index; However, the Medley Police Department reported a rate of 28,004.8 crimes per 100,000 people.
If you or a loved one were the victim of a crime in Doral, and were injured during that crime, you should contact a Doral crime victim lawyer as soon as possible. Our attorneys will review your situation and advise you of your right to pursue compensation through a civil claim. Call us toll free at (877) 475-2905 for a free case evaluation.
Some of the common types of crime victim cases we have helped clients in Doral, Florida include:
Violent Crime Victims in Doral
Doral Parking Lot Shooting Victims
Victims of Rape and Sexual Assault in Doral
Doral Motel Crime Victims
Doral Shopping Center Crime Victims
Assault and Battery Victims in Doral
Aggravated Battery in Doral
Wrongful Death Victim in Doral
Drunk Driving Accidents in Doral
Vehicular Homicide in Doral
Distracted Driving Injury Victims in Doral
Catastrophic Crime Victims injured in Doral
Traumatic Brain Injury Due to Crime in Doral
Criminal v. Civil Proceedings After a Crime
When someone commits a crime, it may lead to criminal charges. The victim of the crime does not decide whether or not to press charges. Instead, it is up to the State of Florida's prosecutor whether or not an alleged offender is charged with a crime. It often depends on how much evidence there is. The more evidence against the individual, the greater the likelihood the prosecutor will file charges.
However, when you are the victim of a crime that resulted in your injuries, you do have some decisions to make. Whether or not prosecutors file charges against the perpetrator, and whether or not the perpetrator is found guilty, you may have the right to file a civil claim and pursue compensation. Civil personal injury claims may be filed anytime you are injured due to another person's carelessness (negligence), recklessness (gross negligence), or intentional misconduct. Your right to personal injury compensation is not dependent on criminal charges or a conviction.
To learn more about your civil legal rights after being hurt in a crime, call a crime victim lawyer for Doral at Gerson & Schwartz P.A.
However, the civil justice system is also available to help hold others responsible for the criminal acts of third parties even though they did not commit a crime. Through a personal injury lawsuit, crime victims can hold property owners, managers, and others who own, operate, and manage property legally responsible under principles of negligence for the harms and losses caused by criminal actions.
These types of claims are usually based on concepts of negligent security or inadequate security claims which are a form of premises liability. The legal theory is that property owners have a legal duty to make a premise safe for the protection of others that are lawfully on their premises.
Personal Injury Compensation
After you are injured in a crime, you may have the right to pursue compensation for your physical, psychological, and financial damages from the perpetrator. This requires filing a personal injury claim in court, outlining the harm the other person caused you, and requesting compensatory damages, which may include:
Your current and future medical expenses
Your lost wages
The value of your physical pain and suffering
The value of your mental distress and anguish
The value of permanent scarring or other disfigurement
The value of a permanent limitation (disability)
Your reduced earning potential
The loss of your normal life
Your reduced quality of life
It can be difficult to determine the value of your claim Some of these damages can be calculated based on your bills and previous pay. Others, however, must be translated from a non-economic factor into a monetary amount. This is why it is essential you work with an experienced crime victim attorney for Doral residents. Our attorneys at Gerson & Schwartz P.A. have years of experience in helping individuals obtain a fair value for their economic and non-economic injuries.
You may also have the right to obtain punitive damages. These are not meant to compensate you for your injuries. Instead, punitive damages are mean to punish and deter the defendant. In Florida, you may have the right to punitive damages if you can prove the defendant's conduct was wanton or malicious.
We Are Members of the National Crime Victim Bar Association
At Gerson & Schwartz P.A., we are dedicated to helping crime victims obtain the help they need. All of our attorneys are members of a national organization, which is committed to fighting for crime victims' rights. We also proudly sponsor the organization's annual conference. Previously, senior partner Philip M. Gerson was the president of the National Crime Victims Advisory Board.
Crime Victim Resources
While we can help crime victims pursue compensation through the civil court system, we also understand they may benefit from other community resources. If you or a loved one were the victim of a crime, you may benefit from resources provided by the Trauma Resolution Center, National Center for Victims of Crime, the National Organization for Victim Assistance, or the Office of Victims of Crime in the U.S. Department of Justice.
Contact a Doral Crime Victim Attorney Today
If you were injured in a crime, you should speak with an attorney from Gerson & Schwartz P.A. You may speak with the police and prosecutors, however, they are focused on the criminal element of your situation. They are focused on charging the offender with a crime and ensuring that person is convicted and punished. This is an important element of ensuring you receive justice. However, it is only one aspect your case. You may also have civil rights after being victimized. One of our experienced personal injury lawyers can explain your legal options, including whether you have the right to seek compensation.
To learn more, contact Gerson & Schwartz P.A. at our Miami-Dade County office at (305) 371-6000.