Doral Motorcycle Accident Lawyer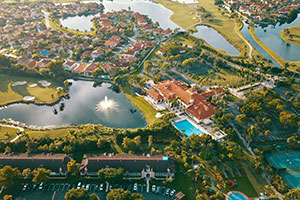 Just a quick look on the Doral map will give you several reasons to think that motorcycle accidents are common in Doral. The Ronald Reagan Turnpike is on its west border and intersects with NW 41st Street, NW 58th Street, and NW 74th Street. The SR 826 and the SR 836 intersect on its southwest. Both roads lead to the Miami International Airport, making for congested traffic and plenty of restlessness among drivers. Moreover, SR 836 and Florida Turnpike intersect just outside of Doral near its southwest border, where the Miami International Mall, Dolphin Mall, and a large IKEA store are located.
If you were injured in a motorcycle accident or a loved one has lost his life in one, the sooner you speak to a Doral motorcycle accident personal injury lawyer, the better for you. Traffic accident victims may be entitled to compensation recovery for the injuries suffered in a motorcycle accident. If you think that your accident happened due in part or in whole to someone's negligence, then you may be eligible to pursue compensation for your medical expenses, lost income, pain and suffering, disability, and other damages as your case entitles you to recover financially under the law.
Motorcycle accident liability is often contested. For over 50 years, our firm has helped victims recover compensation for motorcycle riders in Doral and other areas of Miami-Dade. Liability is usually based on some failure to operate a vehicle safely. However, determining who is responsible and why is not always clear. Responsibility for a crash can be based on a legal relationship between different parties such as a contractual relationship, employer-employee relationship, or some other actions on behalf of others.
To determine your options, call our Doral motorcycle accident lawyers at Gerson and Schwartz at (305) 371-6000. Our consultations are free. You'll pay nothing to learn about your chances to recover financially and the avenues available to you to pursue money damages for your Doral motorcycle accident. If you want us to represent you, you'll pay nothing until we recover for you.
Doral Motorcycle Accidents
Doral is a city in Miami-Dade County, located on its western outskirts. There is only the East Coast Buffer Water Preserve Area after its western border. On southwest, it borders with Tamiami, while Fontainebleau is on the south. The Town of Medley is on its northern limits. West Miami, Miami Springs, and Hialeah are on its east.
Doral has been incorporated in 2003 and is seeing a large growth in population ever since. It grew from the 3000 residents in the 1990's to 20,000 in 2000's. In the 2010's, it had over 45,000 residents, while nowadays it is estimated at more than 61,000 people. As the population of Doral grows, so does the number of accidents, including those with motorcycles involved. It is well-known that Miami leads the US with most motorcycle injuries and fatalities for many years now and Doral is not an exception.
As Doral personal injury attorneys, we regularly advise and represent people who are injured in motorcycle accidents in Doral as:
Personal Injury Lawyer for Doral Rear-end Collision with Motorcyclists
Doral Drunk Driving Motorcycle Accident Attorney
Accident Attorney for Wrongful Death Claims Due to Motorcycle Accidents in Doral
Doral Road Rage Motorcycle Accident Lawyer
Doral T-bone Motorcycle Injury Lawyer
Accident Lawyer for Head-on Collisions with Motorcycles in Doral
Doral Left Turn Motorcycle Accident Attorney
Lawyer for Doral Motorcycle Accidents with Uber Drivers
Motorcycle Pedestrian Injury Accident Lawyer in Doral
Injury Lawyer for Doral Motorcycle Accident with Lyft Drivers
Doral Severe Motorcycle Accident Attorney
Lawyer for Motorcycle Accidents Involving Buses or Taxis in Doral
Doral Sideswipe and Merging Motorcycle Accident Injury Attorney
Doral Motorcycle Accident Lawyers
If you are in a position to pursue financial compensation due to Doral motorcycle accident, make sure you get solid advice from an experienced Doral motorcycle accident lawyer. As a motorcycle rider, you know most people believe that motorcyclists are reckless people who create danger on the road for themselves and everyone else. You never get the respect that you deserve on the road. Therefore, there is no reason to expect it in your pursuit of full and complete compensation. Rest assured, you will need to fight for your justice and your fair resolution of your claim or lawsuit. Don't do it alone. Call our Doral motorcycle accident and injury lawyers to help you get the justice that you deserve.
Our bilingual Doral motorcycle accident lawyers at Gerson and Schwartz are ready to help you. We have served injury victims in Florida for nearly five decades and the Gerson family and their law firm will provide you with a free consultation at (305) 371-6000 and they don't charge fees before getting compensation for our clients. So, don't waste any time and call us today.