Doral Pedestrian Accident Lawyer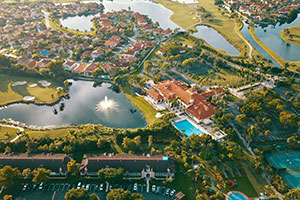 When you think of the beautiful city of Doral, injured pedestrians are not the first thing that comes to your mind. Nonetheless, pedestrian accidents happen in Doral. 10-20 people are involved in such accidents annually, and few of them lose their lives.
One of the reasons for this trend may be the design of the cities in the Miami metropolitan area. Another one could be the lack of attention by drivers. Whatever led to you being injured, you will likely need to talk to a Doral pedestrian injury attorney if you want to recover for your damages. The Doral personal injury attorneys at Gerson and Schwartz can help. You see, The Gerson family, Phil Gerson the father and Nick Gerson the son, along with partner Ed Schwartz have worked tirelessly while fighting for justice on behalf of personal injury clients in Florida for nearly five decades. Our bilingual Doral pedestrian accident attorneys are ready to assist you and your family as well. Just call us at (305) 371-6000. Our initial consultations are free.
You can ask us anything you want to learn about your case and how the Florida laws protect pedestrians in a situation like yours. We will answer to the best of our knowledge and will explain your options. By the end of the conversation, you'll understand whether you are entitled to damages compensation and what will be required to pursue your justice and compensation. Call us now about your Doral accident and let us help you as we have done with many clients before. We don't ask for fees unless we recover damages.
Doral Pedestrian Accidents
Doral is a city in Miami-Dade County, located on its western borders. Tamiami is on its southwest, Medley on north, and Fontainebleau on the south. On its eastern city limits are Miami Springs, West Miami, and Hialeah. Doral is a city that boomed in the new millennium after its incorporation in 2003. It is the fastest growing city in population. From the 3000 residents in 90's it grew up to 20,000 in early 2000's. Nowadays, more than an estimated 61,000 people call this city their home. They are served by several local media outlets, including Doral Community Wallpapers. CityPlace Doral and the Miami International Mall are the most popular shopping destinations. In the peak shopping times of the year, pedestrians at CityPlace and the International Mall are at a much greater risk to sustain personal injuries.
Having in mind what the most common pedestrian accidents in this city are, we are available to serve our clients as:
Crosswalk accidents lawyers in Doral
Lawyers for pedestrian accidents with cars in Doral
Doral lawyers for pedestrian accidents with bicyclists
Doral lawyers for pedestrian accidents with motorcycles
Attorneys for pedestrian accidents with Uber drivers in Doral
Doral attorneys for pedestrian accidents on parking lots
Lawyers for pedestrian accidents with cars at CityPlace Doral
Attorneys for pedestrian accidents with Doral Lyft drivers
Pedestrian injury attorneys for accidents in Doral with trucks
Lawyers for pedestrian accidents with buses in Doral
Doral attorneys for pedestrian accidents in parking lot at Miami International Mall
Pedestrian injury lawyers for accidents on sidewalks in Doral
If you and your Doral pedestrian accident attorney can prove that potential defendants were completely or even partially at fault for the accident that caused your severe injuries, then you may be entitled to collect legal damages. Recognized damages in negligence claims such as a Doral pedestrian accident include:
Lost wages
Loss of financial support
Medical treatment and medication costs
Scarring and disfigurement
Permanent or temporary disability
Pain and suffering
Funeral costs in case of a Doral pedestrian wrongful death
Additional damages depending on the facts of your loss
Doral Pedestrian Accident Lawyers
If you have been injured while walking around Doral, contact our Doral pedestrian accident attorneys for help. We at Gerson and Schwartz are available for free consultations at (305) 371-6000. Call us and explain your accident, and we will explain your options. We won't ask for any fees until you get the damage compensation that you deserve.