Doral Slip & Fall Lawyer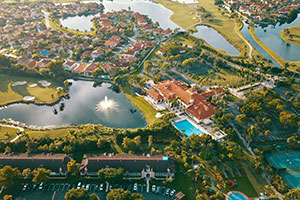 Doral, Florida is an incorporated suburb of Miami. At just one mile from Miami International Airport and only seven miles from downtown, it is a popular destination for tourists, the business industry, and professional and amateur golfers alike. When a slip, trip or fall occurs in Doral – or in the greater Miami area – you need an experienced Doral slip and fall attorney who will protect your legal right to be compensated by the person who caused your injuries. The attorneys at Gerson & Schwartz have over forty-six years of experience in protecting the rights of accident victims across the Miami area.
What Types of Slip and Fall Accidents Entitle a Victim to Compensation?
There are many types of slip and fall injuries which can occur in a city like Doral. Contrary to popular belief, the victim is not always to blame for such an accident. Landowners – including homeowners and business owners – have a legal obligation to maintain their property in safe condition. If they fail to meet this duty of care, they are legally obligated to compensate an accident victim for injuries which occurred as a result.
Golf Course Accidents
Doral is famous for its well-tended golf courses. But slip and fall accidents can occur there, just as anywhere else, and it is not necessarily the golfer's fault when they do. For example: a golf course which fails to fix a leaking sprinkler may be legally responsible ("liable") if a golfer later slips in the unexpected puddle. The golf course owners have the legal obligation to inspect their premises and make them safe for patrons. If they fail to do so (for example, by negligently failing to warn golfers of a dangerous mud hole, or failing to maintain clear sidewalks) the club itself is liable for injuries which occur as a result of the breach of this duty.
Water Related Injuries
There are many recreational facilities across the Miami area. Pools and water parks are fun for the whole family, but they carry the risk of slip and fall injuries. Wet pool decks, slippery sidewalks, slick slides and other surfaces can severely injure water park patrons. Like golf course owners, pool and water park owners have a duty to make their facilities safe for their customers. Boats, water skis, jet skis, wakeboards, and other water sports also involve slick surfaces and equipment which are common causes of injuries. When such injuries occur, there may be several different parties who are liable for the accident. Rental companies have a legal duty to inspect their equipment between rentals to ensure they are not renting unsafe or improperly maintained equipment. A boat owner may be liable for slick surfaces, or improperly stored flammable materials. Another boat owner may be liable for causing an accident with the boat the injury victim was riding. There are many water related personal injuries, and many parties who may be liable for causing them.
Stairwell Accidents
Stairwells are a common location of slip and fall injuries. When a slip, trip or fall occurs on a stairway, the owner of the property may be liable for the injuries which result. Improper lighting, slick surfaces, and other factors may contribute to the accident. A property owner has a legal obligation to identify such hazards on his or her land, and remedy them to prevent injuries from occurring.
Contact a Doral Slip and Fall Accident Attorney Today to Schedule a Free Consultation
The personal injury lawyers at Gerson & Schwartz have over forty-six years of experience protecting the rights of injury victims in Doral, Florida. We have negotiated and litigated countless personal injury claims, and we will fight hard to secure full and fair compensation for your losses. Contact our office today to schedule your free consultation. You can also call (305) 371-6000 or email info@gslawusa.com with any questions about your personal injury case. Our friendly, professional staff will ensure that you receive the personalized attention you deserve. Se Habla Español.