Doral Trip and Fall Accident Lawyers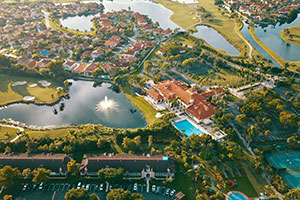 When you trip and fall, the first thing that comes to mind is "How could this happen to me!? I should've been more careful!" Well, it may be someone else's fault and you might be entitled to damages compensation. To determine that, call our Doral trip and fall accident lawyers at the personal injury law firm of Gerson & Schwartz for your free consultation at (305) 371-6000. We'll listen to your story and will present you with your options depending on the circumstances of your case. Then the choice is yours and best of all, you will be making an informed decision about what to do after your trip and fall accident in Doral.
No matter what the circumstances are, you should know about the Florida premises liability and negligence laws. You also need to understand how these laws can apply to your case. Every commercial business that invites visitors, guest and customers, such as mall, restaurant, store, gas station, and retail stores, owe visitors a duty of reasonable care. It means that they need to provide a reasonably safe environment for the visitors and guests. In many cases that means keeping the floors clean from garbage, debris, and other objects that could cause some innocent victim to trip, fall and be seriously injured.
While no landowner, tenant or property manager is responsible for every injury that happens on their property, they do have the duty to take all reasonable measures to protect people on their property for foreseeable and preventable accidents and hazards. While most owners and merchants do their best sometimes they fall short due to simple negligence. In those situations, they may be responsible to pay for the damages resulting from the personal injuries suffered due to their negligence. Call the Doral trip and fall attorneys at Gerson & Schwartz now and let us investigate the accident so we can advise you about your options We never charge fees unless we get financial recovery for our clients.
Doral Trip and Fall Accidents
We, as Doral trip and fall personal injury lawyers approach trip and fall accidents very seriously. After the initial free consultation with our client, we determine whether you are entitled to compensation or not. If you are not, we'll let you know for free of charge. But if we think that you should pursue compensation, we will explain your options, also for free of charge. Then, if you decide to hire us, we will start gathering all the necessary evidence to support your damages recovery claims. Collecting all the evidence prior to talking to the insurance company strengthens our and your negotiating position. Once we build the case, we approach the insurance company with a settlement demand package.
They often employ delaying tactics or refuse straight away. However, we are ready to file a lawsuit in such case. Insurance companies lose some of their leverage when a case is brought into court since all the parties are subject to court deadlines and demands. This includes bringing a case to trial where the insurance company has even less control since a jury of your peers will decide your case. In many cases, the insurance company will make much more reasonable offers just prior to trial. At Gerson & Schwartz, our Doral trip and fall litigation attorneys know this from more than four decades of serving our personal injury clients in Florida. As a result, we are always available to serve Doral trip and fall victims in the capacity of:
Gas stations trip and fall lawyers in Doral
Doral apartment complex trip and fall attorney
Shopping mall trip and fall attorney in Doral
Doral supermarket trip and fall lawyers
Hotel trip and fall attorneys in Doral
Trump Resort trip and fall accident lawyers
Doral motel trip and fall lawyers
Doral hospital trip and fall lawyers
Doral CityPlace trip and fall attorney in Doral
Retail store trip and fall attorney in Doral
Bar and restaurant trip and fall lawyers in Doral
International Mall trip and fall attorney in Doral
Doral premises liability trip and fall attorneys
Doral Trip and Fall Accident Lawyers
As a trip and fall victim, you should know that you may be entitled to financial compensation for your damages. Call us at Gerson and Schwartz for free consultations, and we will advise you on your legal options at no charge. Our Doral trip and fall accident lawyers are available at (305) 371-6000. We never ask for fees until we recover damages.