Doral Truck Accident Attorney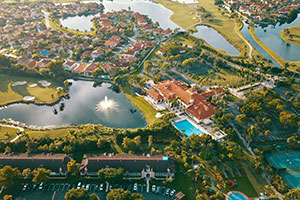 Due to Doral's proximity to Miami and the International Miami Airport, it has a very active business community. It has a significant number of businesses, including importers and exporters, for a city with a population just over 60,000 people. It has more than 3,000 logistics-related companies that support national and international trade, more than 250 company headquarters, more than 100 multi-national companies, and it is the No. 1 tile district in the U.S. All of this business, however, means a great deal of commercial traffic. Semi-trucks and 18-wheelers are common sights in Doral and nearby communities. While trucking is an integral part of national commerce, it does create a risk of trucking accidents.
If you or a loved one were injured in a truck accident, you should contact a Doral truck accident attorney from Gerson & Schwartz P.A. at (877) 475-2905. We are highly experienced in handling all types of motor vehicle accidents, including commercial trucking crashes. We will conduct an independent investigation into the crash, and then guide you through the process of pursuing compensation for your injuries.
Florida Truck Accident Statistics
In 2016, medium and heavy trucks, which weigh more than 10,000 pounds, were involved in 25 accidents that were fatal to the driver, according to Florida Highway Safety and Motor Vehicles. They were also involved in 133 crashes that led to incapacitating injuries and 379 crashes that led to non-incapacitating injuries for drivers. Additionally, these large trucks were involved in four accidents that were fatal to a passenger, 22 accidents that caused incapacitating injuries, and 77 that caused non-incapacitating injuries for passengers.
Types of Truck Accidents We Handle
Our experienced Doral trucking accident lawyers handle all types of crashes, including:
Head-on collisions in Doral
Distracted Driving Doral Truck Accidents
Read-end collisions in Doral
Truck Accidents with Pedestrians in Doral
Truck v. Motorcycle crashes in Doral
Doral Sideswipes Truck Accidents
Jackknife accidents in Doral
Left and right turn accidents in Doral
Wide turn accidents
Runaway trucks
Rollovers in Doral
Underride accidents in Doral
Bridge collisions
Cargo spills
No matter what type of truck accident you were in, you should contact an experienced truck accident attorney in Doral to investigate the accident and gather evidence of the truck driver or trucking company's liability.
Common Causes of Truck Accidents in Doral
At Gerson & Schwartz P.A., we have seen truck wrecks occur for all types of reasons. Some of the most common causes include:
Fatigue/drowsiness, which often occurs when truckers work beyond hours of service regulations
Distracted driving, which may occur when truckers have electronics in their cabs
Drug and alcohol use that leads to intoxication or reckless behavior
Truck driver negligence, including speeding and maneuvers the driver knows to be dangerous
Inadequate training and qualifications, including lacking a commercial driver's license (CDL) or an endorsement necessary for a specific truck
Negligent maintenance by the trucking company
Overloading and improperly secured loads
Defective trucks or truck parts, which may be the responsibility of a manufacturer
How a Truck Accident Lawyer in Doral Can Help
Many people mistakenly believe that truck accidents are similar to car crashes. However, these types of motor vehicle accidents are very different. If you were hurt in a truck accident, you need to work with an attorney who is experienced in handling these types of claims.
At Gerson & Schwartz P.A., we can help you by:
Explaining the Federal Motor Carrier Safety Regulations that apply to the other party in your case.
Conduct an independent and thorough truck accident investigation.
Take steps to preserve as much evidence as possible.
File a personal injury claim in state or federal court.
Utilize discovery to obtain additional evidence.
Hire expert witnesses, including accident reconstructionist, trucking experts, medical experts, and economic loss experts.
Determine an appropriate value for your economic and non-economic damages.
Negotiate with the trucking company's insurer to try and obtain a settlement.
If a settlement cannot be reached, prepare for trial.
We understand how intimidating a personal injury claim can be, particularly when the liable party is a major company. A national carrier will have a major insurer and possibly a team of their own lawyers. It hardly feels like an even playing field. That is why you need an experienced and tenacious Doral truck accident lawyer by your side.
Contact Gerson & Schwartz P.A. Today
If you were harmed in a truck accident case, the best thing you can do for yourself is to hire a highly experienced and skilled truck accident lawyer. Our team at Gerson & Schwartz P.A. will work tirelessly to obtain you the compensation you deserve. To schedule a free consultation, call our Miami-Dade County office at (305) 371-6000.