Doral Uber Car Accidents Lawyer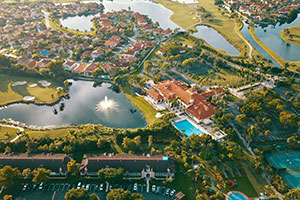 So, you or a loved one has been injured in an Uber accident in Doral. You've probably heard about their $1 million insurance coverage, and you think that getting compensated for your damages shouldn't be too difficult. But from our experience as Doral Uber personal injury attorneys, we know that it won't be as easy as you might think.
Uber drivers lose their ratings when involved in accidents. They might even lose their privileges to drive. They are reluctant to admit fault for the accident. If they have no other way to escape from responsibility, they may try to claim that they weren't on duty at the time of the accident. To recover damages from an Uber driver can be quite difficult.
That's why you need to contact our Doral Uber accident lawyers at Gerson and Schwartz for help. We have served other Uber victims in the past, and we know the tactics Uber drivers use to avoid responsibility and paying damages. Call us now at (305) 371-6000 for free consultations and tell us your story. We will see what we can investigate and how we can obtain the evidence you need to prove your Doral Uber personal injury claims.
If we think that you have no chance to recover damages, we'll tell you that right away - free of charge. If we think that you have a good chance to obtain financial compensation, we will present you with your options and an action plan. Then, as always, it will be your decision as to how you proceed. Call us now and let's get started.
Doral Uber Accidents
As a city in Miami metropolitan area located next to the Miami International Airport, the city of Doral experiences some heavy traffic, including traffic from Uber cars. The city borders are fixed on the Ronald Reagan Turnpike on the west, the Dolphin Expressway on the south, and the Palmetto Expressway on the east. Nevertheless, although dangerous, the most lethal streets in the city are Northwest 117th Avenue, Northwest 58th Street, and Northwest 41st Street. Due to Doral's proximity to the airport, Doral is a popular place for Uber drivers to "stage" or wait for calls at the airport. These airport runs are generally considered safer and more profitable for Uber and Lyft drivers. Hence the competition among drivers can be intense and that can lead to careless and reckless driving. With over 1000 accidents annually, you can be certain that Uber drivers have been involved in their fair share.
The Doral Uber injury lawyers at Gerson and Schwartz are standing by to help Uber injury victims in the capacity of:
Injury attorney for Doral Uber car accidents with pedestrians
Lawyer for Doral head-on collisions with Uber car driver
Attorney for Doral Uber car accidents with cyclists
Sideswipe and merging accidents with Uber drivers in Doral
Injury attorney for Doral lane change car accidents during Uber rides
Lawyer for car accident due to distracted driving by Uber driver in Doral
Doral Uber cyclist accident attorney
Doral Uber motorcycle accident attorney
Accident lawyer for construction zone Uber car crashes in Doral
Injury attorney for truck accidents with Uber drivers in Doral
Personal injury law firm for Doral rear-end car accidents and injuries with Uber drivers
Doral UberEATS accident attorney
Attorney for road rage car accidents with Uber cars in Doral
Doral Uber T-bone car accident and injury lawyer
Doral Uber Accident Lawyers
In case of an Uber accident, do not hesitate to contact our Doral Uber accident lawyers for help. We are available for free initial consultations at (305) 371-6000. This conversation helps our potential clients to determine whether they should pursue the recovery of damages. Furthermore, you'll get that advice at no cost.
We also handle cases on a contingency basis, which means that you won't incur any costs unless we get you compensated. We don't ask for any fees before that.