Doral Wrongful Death Lawyers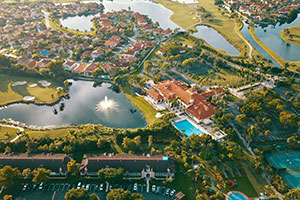 Deaths of loved ones are always a devastating experience, but when it happens it is natural at some point to consider who may have been responsible for that death. If one or more parties may be liable, then those individuals or corporations must be held accountable. It is true that nothing will bring the beloved one back, but the laws give you the opportunity to recover financially and ease the pain you're going through. In addition, you may impact the behavior of the defendants resulting in the saving of others lives in the future.
Depending on the case, survivors may be entitled to financial compensation for any or all the following:
Loss of financial support
Pain and suffering
Funeral costs
Medical costs for the deceased person occurred due to the fatal accident
Loss of parental guidance
Other types of damages may be recoverable depending on the facts of your case. To determine if you are eligible to pursue financial recovery for your losses, call our Doral wrongful death lawyers at Gerson and Schwartz. We are available for free initial consultations at (305) 371-6000. We can discuss your case, determine the options, and help you decide on the next steps. We won't charge you any fees until you are compensated.
Accidents Leading to Wrongful Deaths in Doral
Auto accidents are the most common cause for wrongful deaths in Doral. There are over 1000 crashes annually in the city. Over 200 of them result in injuries, while between 5 to 10 ends up with fatalities. The most dangerous streets are Northwest 58th Street, Northwest 41st Street, and the Florida Turnpike. In those cases, we as Doral auto accident attorneys can help survivors as:
Doral pedestrian wrongful death accident lawyer
Doral truck wrongful death accident attorney
T-bone wrongful death accident lawyer in Doral
Doral DUI wrongful death lawyer
Doral rollover wrongful death accident attorney
Wrongful death Lyft accident attorney in Doral
Doral wrongful death motorcycle accident attorney
Doral car accident wrongful death attorney
Wrongful death Lyft driver accident attorney in Doral
Drunk driving wrongful death accident lawyer in Doral
Doral wrongful death bicycle accident lawyer
Wrongful death Uber driver accident lawyer in Doral
Left turn wrongful death accident lawyer in Doral
Doral wrongful death head-on collision lawyer
Aside from auto accidents, people get killed in other types of accident. These may include criminal incidents, medical malpractice, slip and falls, trip and falls, and other. Our Doral wrongful death attorneys assist clients as:
Doral parking lot shootings wrongful death attorney
Apartment shooting wrongful death lawyers in Doral
Doral defective product wrongful death lawyer
Sexual assault personal injury lawyer in Doral
Rape personal injury lawyer in Doral
Doral armed robbery wrongful death attorney
Violent crime wrongful death lawyer in Doral
Doral negligent security wrongful death attorney
Doral premises liability wrongful death law firm
Doral medical malpractice wrongful death attorney
Doral slip and fall accident wrongful death lawyer
Doral Wrongful Death Lawyers
Doral is a city in Miami-Dade County. It is located 13 miles from Downtown Miami and only one mile from the Miami International Airport. Fontainebleau is on its southern limits, Tamiami is on the west, and the Town of Medley is on the north. The western border is divided between Hialeah, Miami Springs, and West Miami. Doral is one of the fastest growing cities in Miami metropolitan area. It was incorporated in 2003, after which the city boomed in development and population growth, leading to more than 60,000 residents as of today. Doral today is home to a significantly sized Venezuelan population. As a result, Doral and Weston in Broward County are now home to a majority of the Venezuelan exiles now living in the US.
If you have lost a loved one in an accident in Doral, you should speak to a Doral wrongful death lawyer as soon as you can. For help, call us at Gerson and Schwartz. We offer free consultations at (305) 371-6000. We don't ask for fees until we recover for you.