Florida Keys Wrongful Death Lawyer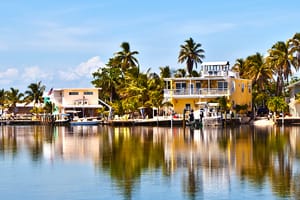 Was your loved one killed in an accident in the Florida Keys? If your parent, spouse, or child passed away because of an incident on Seven Mile Bridge or the Overseas Highway, or in Key West, Key Largo, or any other island in the archipelago, then it is time to call a Florida Keys wrongful death lawyer. Our bilingual attorneys at Gerson & Schwartz P.A. have years of experience in handling fatal accidents, whether it was a car crash, boating accident, slip and fall, or any other situation. We are here to advise you and your family regarding Florida's Wrongful Death Act and your right to pursue compensation through an insurance claim or lawsuit. If you have a valid claim, we can represent you through the insurance claim process or wrongful death lawsuit in Monroe County, FL.
To learn more about a potential wrongful death claim, contact Gerson & Schwartz P.A. through our online form or call (877) 475-2905. We offer free consultations, so there is no risk in speaking with an attorney.
The Florida Keys
Off the southern coast of Florida is a large archipelago—a group of islands known as the Florida Keys. The Keys begin about 15 miles from Miami, and the Keys closest to the mainland are known as the Upper Keys. They include Key Largo, which is one of the more populated islands and a frequent travel destination. The Keys sweep south-southwest, dividing the Gulf of Mexico and the Atlantic Ocean. The Upper Keys move down into the Middle Keys, which include Marathon Island. The Middle Keys are then connected to the Lows Keys by Seven Mile Bridge. The Lower Keys include Key West, which is the southern most point of the U.S.
To traverse the Florida Keys, residents and visitors must use the Overseas Highway, which is actually U.S. Highway 1. It stretches from the northern border of the U.S. all the way to Key West and goes through most of the inhabited islands. Part of the Overseas Highway is Seven Mile Bridge, which is one of the longest bridges every built in the world. While you can drive throughout the Keys, there are also public transportation buses, Ubers, Lyft, and taxis. Not to mention, many residents and visitors are often out on the water on boats and personal watercraft like jet skis.
Unfortunately, the Overseas Highway from the mainland to Key West is predominantly two lanes. With an inflex of hundreds of thousands of tourists each year, the highway and bridge are heavily trafficked. There are almost no alternative routes throughout the Keys, which means all drivers end up in the same place. Drivers who speed, making illegal passes, or who are intoxicated increase the risk of crashes. Monroe County has a very high fatal car crash rate. These wrecks are just one of the reasons why people call our wrongful death lawyers for the Florida Keys.
Common Causes of Wrongful Death Accidents in the Florida Keys
At Gerson & Schwartz P.A., our wrongful death attorneys in the Florida Keys handle all types of fatal accident claims, including:
Florida Keys Fatal Car Crash
Florida Keys DUI-Related Car Accident
Fatal Drunk Driving Accidents in the Florida Keys
Deadly Bicycle Accidents in the Florida Keys
Deadly Motorcycle Accidents in the Florida Keys
Fatal Pedestrian Accidents in the Florida Keys
Florida Keys Fatal Boating Accidents
Florida Keys Deadly Bus Accidents
Fatal Truck Wrecks in the Florida Keys
Fatal Medical Malpractice in the Florida Keys
Florida Keys Deadly Nursing Home Neglect and Abuse
Florida Keys Dangerous Property Accidents
Fatal Slip and Falls in the Florida Keys
Crime Victims in the Florida Keys
Florida Keys Shooting Victims
Florida Keys Negligent Security
Florida Keys Cruise Ship Accidents
Crimes on Cruise Ships in the Florida Keys
Florida Wrongful Death Law
Florida's Wrongful Death Act is found at FL. Statutes Sections 768.16 – 768.26. These laws define what a wrongful death action is and who may bring it. A wrongful death claim is allowed when a person is killed due to another party's wrongful act, negligence, breach, or default of contract or warranty. If the decedent—the deceased individual—had lived, they would have had the right to file a personal injury claim and seek damages for their physical, psychological, and financial injuries.
Section 768.20 specifically states that a wrongful death action must be brought be the decedent's personal representative. This is the individual responsible for handle the decedent's estate after their death. They also may be known as the executor of the estate. This person may be a family member, and often is, but does not have to be.
The personal representative of the decedent's estate may file a wrongful death lawsuit on behalf of the decedent's survivors. Under Section 768.18(1), survivors mean the decedent's spouse, children, parents, and when they are partly or entirely dependent on the decedent for support or services, siblings.
It can be a tough pill to swallow, but Florida's wrongful death law does not provide compensation for more distant family members, such as grandparents, aunts and uncles, and cousins. It also does not benefit romantic partners, including boyfriends and girlfriends and fiancés.
Call a Florida Keys Wrongful Death Attorney for Help
If you lost a parent, spouse, child, or sibling in an accident in the Florida Keys, do not hesitate to talk with a lawyer about your rights. Through a wrongful death claim, you may pursue compensation for your loved one's medical expenses that you paid, funeral and burial expenses you paid, the loss of your loved one's companionship, incomes, and services, and your emotional distress.
To learn more, contact us at Gerson & Schwartz P.A. at (305) 371-6000.