Fontainebleau Slip & Fall Lawyer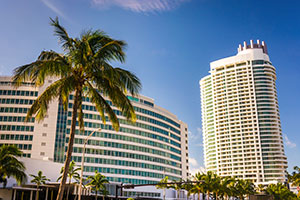 Were you or a loved one injured in a slip and fall accident in Fontainebleau? On an ordinary day, you or a relative could slip or trip. You may just stumble. But at Gerson & Schwartz P.A., we have seen many slip and falls that were not mere accidents beyond anyone's control. Many slip and fall incidents are the result of another person's careless or reckless conduct. For instance, if you slipped and fell in the grocery store, it may be after a clerk mopped the floor and failed to put up a warning sign. Or, you may have slipped on a cord that should have been put away. Whatever happened to call you to slip and fall, you should contact an experienced Fontainebleau slip and fall attorney from Gerson & Schwartz P.A. We will thoroughly investigate the incident, determine who was at fault for the dangerous condition, and analyze who is liable for compensating you for your injuries. To learn more, call us at (305) 371-6000 to schedule a free initial consultation.
Why Do Slip and Falls Happen?
Slip and fall accidents occur when there is too little traction between a person's footwear and the floor, or between a covering or object on the floor and the floor itself. Traction can be lost when wood, laminate, tile, and other types of flooring become wet due to water or spilled liquids. The floors may become slick due to greasy substances, oil, and wax. Highly waxed and shines wood floors can quickly become slippery. Another common reasons for slip and fall accidents are carpets or mats that are not placed on non-skid surfaces. A small area rug placed on wood floor without a rubber mat in between can easily slide out of place when someone steps on it.
Overall, our slip and fall attorneys in Fontainebleau have found the most common reasons for slip and fall accidents include:
Pooled water
Spilled liquids, beverages, and food
Waxed and polished surfaces
Recently mopped or cleaned surfaces
Loose carpet
Debris or garbage on the ground
What to Do After a Slip and Fall Accident
If you or a loved one are in a slip and fall incident, seek medical attention right away. If you appear to be injured, do not hesitate to call 911. This ensures you receive treatment right away and that you begin to document the accident. However, if you choose not to call 911 at that time, go to the emergency room or your physician as soon as possible. You should be checked over by a doctor.
Fill out an incident report with the business, if possible, and ask for a copy. If the establishment will not give you a copy, take a picture of it with your phone. If the business refuses to give you access to the document at all, tell your attorney right away.
With your phone, or a companion's phone, take photos and vide of the scene. If you slipped because of a specific condition, like a spill or loose rug, take plenty of pictures to document this hazard.
Get the names of employees or managers on duty at the time and involved in the incident. For a large store, you do not need every worker's name. However, you should ask for the names of workers who were responsible for that area. However, do not talk with the manager about who was responsible or at fault. This is not the time to argue. You are simply gathering information.
If witnesses have stopped to help, ask for their names, phone numbers, and addresses. Your attorney may need to contact them later for their account of the incident.
After receiving medical attention and going home, our slip and fall lawyers for Fontainebleau recommend you keep your footwear. Do not wear those shoes anymore but put them away where they will be safe.
Florida Law Regarding Spilled Substances
Florida slip and fall law is predominantly based on premises liability. However, Florida has one specific statute regarding how cases should be handled when you claim to have slipped and fell due to a transitory foreign substance. Under Florida Statute 768.0755, If you fell on a transitory foreign substance in a business establishment, then you must prove that the business had actual or constructive knowledge of the dangerous condition and that it should have acted to remedy it. This means, if you fell because of spilled milk at the grocery store, you must prove the store either actually knew the milk was spilled or that it had constructive knowledge.
Your attorney may be able to prove the business had constructive knowledge based on:
The length of time the dangerous condition existed, and
The regularity that the condition occurred.
Call a Fontainebleau Slip and Fall Lawyer for Help
If you or a relative slipped and fell in another person's home, at a business, or on county property, then you should contact us at Gerson & Schwartz P.A. at (877) 475-2905. We are here to thoroughly investigate your claim. We will find out what happened and why, and we will gather the evidence necessary to prove the property owner's liability. We want to help you obtain compensation for your medical expenses, lost wages, pain and suffering, emotional distress, and more.
To talk more about how we can help you after a slip and fall, contact us to schedule a free case consultation.