Fort Myers Negligent Security Attorney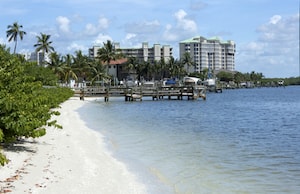 So, you have decided to go to a bar, a restaurant, or a shopping mall in Fort Myers, but you never thought that you might get injured while being there. Most of the time, accidents don't happen in such places. But sometimes, their owners and managers make mistakes, and people end up injured or even killed as a result. If that happened to you or a loved one, then you should seek the advice and counsel of the best Fort Myers negligent security lawyer that you can call.
For immediate help, call the Fort Myers negligent security lawyers at the Gerson & Schwartz law firm for help and advice. Our consultations are free. Our Fort Myers negligent security attorneys will listen to your story carefully and will help you determine whether you can claim damages compensation and how to get the financial recovery that you deserve.
You can also ask anything else related to your case that is of your interest. We will answer all your questions free of charge. Then, if we think that your case qualifies for compensation and you choose us to represent you, we will start building a compelling case for you. Call us now at (305) 371-6000 and let's get to work as soon as possible.
Fort Myers
Fort Myers is a city of less than 80,000 residents in Southwest Florida. Even though neighboring Cape Coral and Lehigh Acres have outgrown Fort Myers in population, it is still considered the commercial center of the region. It lays on the southern side of the mouth of Caloosahatchee River, overseeing Cape Coral on the north. On its south, it borders with several small suburbs, including Gateway, Page Park, Whiskey Creek, and Villas.
Fort Myers is a fast-growing city. Its population grows in double-digit percentage every decade. It had only 36,000 residents in 1980, and now less than four decades later, it has almost 80,000, and it's still growing.
Negligent Security and Premises Liability
In negligent security cases, it is important to be familiar with the negligence and premises liability laws. These laws may hold businesses responsible for accidents and incidents that take place at their premises. The issues are whether the premises owner and business operator knew that other crimes took place. This is called "notice" that a dangerous situation exists, and it can be argued that future crimes would be easy to predict or be foreseeable.
Our negligent security attorneys in Fort Myers can assist you in these capacities:
Fort Myers inadequate security attorney
Fort Myers negligent security parking lot lawyer
Negligent and inadequate security hotel injury attorneys in Fort Myers
Fort Myers negligent security motel crime victim lawyer
Fort Myers negligent security and wrongful death lawyer
Fort Myers inadequate security parking lot lawyer
Fort Myers bar fight assault lawyer
Fort Myers negligent security shooting victim lawyer
Negligent security convenience store injury lawyer
Fort Myers negligent security shooting injury lawyer
We have also represented Fort Myers clients for serious, catastrophic injury and wrongful death claims based on negligent security in connection with:
Fort Myers Strip Malls
Night clubs in Fort Myers
Rape and sexual assault in Fort Myers
Fort Myers Shootings
Negligent security resulting in wrongful death in Fort Myers
Fort Myers Homicide
Fort Myers Hotel and Motel Assaults
Public Event Security Negligence in Fort Myers
Fort Myers Shopping Malls
Fort Myers Apartment complexes
Fort Myers Motel Break Ins
Bar Fights in Fort Myers
Other venues and business operators in Fort Myers
Who is Responsible for Negligent Security?
Another issue is whether the potential defendant owed the crime victim a duty of care. In one sentence, it means that the business that owns and operates the premises is obliged to take all reasonable steps to prevent all the foreseeable criminal incidents that could happen there and injure guests. When they fail in doing so due to negligence, they may be liable.
Negligent security often goes unnoticed. When there are no tragic consequences, no one notices that the security is not at the highest level. But, when someone takes advantage of it and commits a criminal attack or another type of incident, then the negligent security may become obvious. But by then, but it's too late. In these accidents, people end up with serious wounds and injuries, and sometimes even lose their lives. That is where our Fort Myers negligent security lawyers can help.
We can conduct an in-depth investigation of the crime and what led to it happening in Fort Myers. Our inadequate security attorneys serving Fort Myers will identify all potential defendants who may be responsible for your injuries, damages and losses.
Fort Myers Negligent Security Lawyers
If you or a loved one has been injured in any kind of accident caused by negligent security in Fort Myers, Bonita Springs, Lehigh Acres, or Cape Coral, call our Fort Myers negligent security lawyers for assistance. We at the Gerson & Schwartz law firm have fought for victims of negligent security for more than forty years and we are ready to fight for you and your loved ones too. We are available for free consultations at (305) 371-6000 or toll free at (877) 475-2905. We don't ask for fees unless we recover for you.