Hit and Run Car Accidents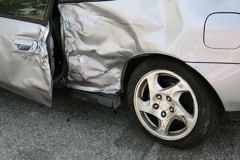 We dread them every time we get behind the wheel: car accidents. Not only do these incidents cause harm and create additional expense, but they are time consuming. Filing police reports, claims, collecting information, and contacting insurance companies takes up time that we will never get back. There is only one factor that is more annoying than the time spent behind an accident and that is when the driver who is at fault leaves right after the wreck. As if it is not bad enough that your day has been ruined by someone else's negligence, now you have no idea who that person is.
Individuals tends to leave the scene of an accident because they do not have car insurance, are intoxicated, or are guilty of committing some other crime. Some at-fault drivers are guilty of hitting a pedestrian or cyclist. Other drivers hit a car in a parking lot and do not wait for the driver to return to the damaged car. In fear of law enforcement, that person feels that it is better to leave than to deal with the consequences. Now you are stuck with all of the bills, however. Bills you should not be responsible for. If this happens to you, then there a few steps you should take to make sure that the negligent party is held responsible.
Responsibility for a Hit and Run Accident
Unfortunately, hit and run accidents happen frequently despite the legal consequences. At-fault drivers do not fear prosecution because they figure that they will not get caught. This is why it is important for victims and witnesses to participate in witness identification and to assist in the preservation of evidence. If you are a victim or witness of a hit and run accident, then you should report what you saw to the police. Reporting the accident to the police can start the investigation and help catch the perpetrator.
Such an investigation can reveal other parties who could have contributed to the accident. A local bartender could have negligently served the at-fault driver too many drinks. A mechanic could have negligently failed to tell the at-fault driver that his brakes were not working properly. Whatever the situation may be, if someone else contributed to the cause behind the accident, then that party can be held liable.
Contact a Personal Injury Lawyer
As a victim, you may want to contact an experienced Car Accident Lawyer in Miami personal injury lawyer after reporting the accident to the police. Gerson & Schwartz PA can help you find compensation in places that you did not know could be held liable for the loss. At the very least, if you have uninsured motorist liability insurance coverage, then you can receive financial compensation from your insurance company as long as the at-fault driver is not identified. If the at-fault driver is identified and does not have insurance coverage at all, then you may be able to recover from your own insurance company as well. Do not let the accident that occurred in Miami Dade, Fort Lauderdale, Hialeah, Broward, Palm Beach, Boca, or another part of South Florida get to you, call us at (305) 371-6000 or fill out this contact form so that we help you get the compensation you deserve.