Rear End Car Collisions
Miami Rear End Collision Lawyers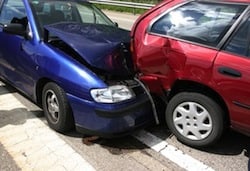 Rear end collisions are not only dangerous but are among the most common types of motor vehicle accidents. According to the National Safety Council, there are more than 250 million rear end collisions reported each year. Most times the party who rear ended the other is cited by police for causing the accident or given a ticket since the party was speeding, driving recklessly, following a car too closely, or simply driving inattentively.
Rear end collisions can cause serious injury to the entire human body including cervical and lumbar spine injuries. Car accidents such as these can be attributed to 35 percent of all spinal cord injuries. Approximately 20 percent of people in these types of accidents have a whiplash injury. Injuries to the neck and back are painful and sometimes require surgical repair. More serious injuries can include fractured vertebrae, a traumatic brain injury and even death.
Rear end collisions are dangerous mainly because motorists are caught off guard when the accident occurs. Our bodies are not capable of withstanding the sudden force and unexpected nature from the impact that a rear end collision can generate. Often victims do not realize they are injured until months or years after the accident at a time when it is too late to properly document the injuries sustained due to the accident. This lack of documentation can make it difficult to recover for the medical expenses incurred. Therefore, as with any motor vehicle accident it is important to seek prompt medical attention and document all injuries right away.
Things To Do If Injured In A Rear End Collision
Insurance companies typically will attempt to use any delay in documenting or reporting your medical condition or delay in seeking medical treatment to their advantage. Even in auto accidents where the negligence of another driver is obvious such as in a rear end or head on collision case, one must document all injuries, take photographs of both vehicles, obtain the names of witnesses, and even ask for a written statement. Sometimes witnesses don't remember what they observed or it can be difficult down the road to locate them. So getting all witness accounts of how the accident occurred can be critical.
Negligence is the failure to exercise the degree of care that the law requires for the protection of other persons, or those interests of other persons, that may be affected by the want of such care. Drivers are often found to be negligent but will try to avoid liability at any cost. Automobile accident characteristics like time and speed may be used against the injured party in car, auto, and motor vehicle crashes accidents to try and make up for obvious negligence of another. Insurance companies, lawyers, and adjustors may try to suggest low impact or that the injuries sustained are pre-existing in nature and unrelated to the collision.
A professional advocate on the victim's side can help to ensure that the victim is not taken advantage of by these parties. If a driver is negligent, he will be legally responsible to cover all of the victim's expenses associated with the accident.
Miami Injury Lawyers Representing Auto, Car, And Motor Vehicle Accident Victims For Over 40 Years
Our Miami injury law firm has represented numerous car accident victims involved in rear end collisions. Whether the accident involves an uninsured motorist or underinsured motorist our Miami car accident lawyers understand the facts that you will need to prove at trial and win your case. Our experienced attorneys will help you show the other parties that you will fight to be fairly compensated for the unexpected injuries that you now have to deal with.
As with many personal injury law firms Gerson & Schwartz, PA always offers free case consultations. We drive on the local roads and highways in Florida just like you, and we recognize the desire to have your life back to normal after you have been injured in a car crash. If you or a loved one has been injured in a rear end collision, motorcycle accident, or other type of motor vehicle accident contact us by calling 305-371-6000 or email info@gslawusa.com
Serving Miami Dade, Broward, And Palm Beach County Accident Victims
The Miami law offices of Gerson & Schwartz, PA handle all types of car accident and injury cases including rear end collisions throughout Miami-Dade, Broward, Palm Beach, Monroe, and other areas of South Florida.