How to Find the Best Personal Injury Law Firm in Miami Dade County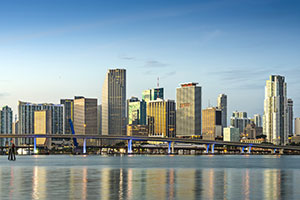 If you are injured in any kind of accident in Miami Dade County, you are may be eligible to receive compensation for your injury-related harms and losses. However, understand that you will need to prove that it was someone else's fault and that negligence caused you damages. But, do you know how to prove that?
What if the other side has hired an experienced Miami accident lawyer who claims that it was you who caused the accident? What if an insurance defense attorney threatens to sue you for damages and says the accident was due to your negligence? How about if the insurance company simply "delays, denies and never pays"?
In most cases, you'll need an attorney yourself. Our Miami personal injury lawyers at the Gerson & Schwartz Law Firm have helped clients from Miami Dade recover damages for the last 40 plus years and we are here to help you as well. Just call us at (305) 371-6000 for your free consultation.
If you haven't made up your mind as to who you will choose to represent you yet, here are few ideas on how to choose the best personal injury law firm in Miami-Dade County to help you with your personal injury case:
Don't trust advertising. Anyone can pay for advertising. Lawyers are not being put on a billboard or TV commercials when they win cases, but rather when they pay for it. Being present in commercials is a totally irrelevant criterion for choosing the best Miami Dade personal injury law firm.
Check out online reviews. Online reviews are not being paid. People leave reviews whether they are satisfied with the lawyer or not. They are not motivated by money; hence their reviews can be regarded as more reliable.
Call lawyers and schedule a meeting. From the first call, you'll see how quickly they respond to client's inquiries. That should give you an idea of how available they are for their clients. See how interested the lawyers are about your case and how they want to work on it. The best personal injury law firms offer free initial consultations, where they inform you about your options. If they ask for fees for the consultations, you may want to avoid them.
Ask them for their experience with cases like yours. You don't want to let your personal injury lawyers learning how to practice personal injury law with your case. Would you go to a doctor or surgeon on their first day at work? The same goes for lawyers. They assist in situations that can change the course of your life, so you need someone serious with experience and a team behind them. Make sure you ask about their previous cases like yours. Together with the online reviews, this will give you a better and more complete feeling for the lawyers and their personal injury law firm.
Take your time to think about, but not for too long. Let all the information you gathered about lawyers settle in your mind. That will help you make the best decision. However, don't let indecision cripples you because you'll have to meet certain deadlines in claims for damages recovery. The sooner you hire a lawyer, the more time they have build your case and assist you in the resolution of your claim or lawsuit.
Miami Personal Injury Law Firm
At the Gerson & Schwartz Law Firm, we have served personal injury victims from Miami Dade County for more than 50 years and have the necessary experience to help people like you find justice through the recovery of damages as your case deserves. Call us now for a free consultation at (305) 371-6000. We ask for fees only when we recover compensation for you. Call us now and let us help you.