Jackson Memorial Accident Lawyer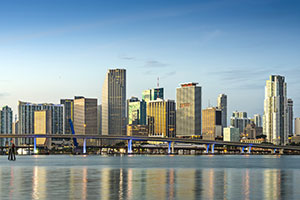 At Gerson & Schwartz P.A., our personal injury and wrongful death lawyers often represent individuals treated at Jackson Memorial Hospital in Miami, Florida. If you were injured in any type of incident in which you believe another party was at fault, you should call us right away.
We represent individuals injured in all types of motor vehicle accidents, maritime and cruise ship accidents, dangerous property claims, and more. We are happy to work with your medical providers at Jackson Memorial to ensure you receive excellent care, you have the documentation necessary to prove your injuries, and your medical bills are never sent to collections while you wait for a settlement or court ruling in your favor.
If your loved one passed away from their injuries at Jackson Memorial, we will work with your relative's medical providers to obtain medical proof of their injuries and cause of death. We will use your relative's medical records to pursue fair compensation in a Florida wrongful death lawsuit for your family.
Additionally, our Miami medical malpractice attorneys are here to help if you believe you were harmed by negligent care at Jackson Memorial Hospital. Do not hesitate to call us to discuss your right to pursue compensation from the negligent physician or hospital.
To learn more about how we can help you after being hurt or a losing a loved one, contact Gerson & Schwartz P.A. at (877) 475-2905 or send us your information through our online form. A Jackson Memorial accident lawyer in Miami will get back to you as soon as possible and schedule an appointment that is convenient for you.
Jackson Memorial Hospital
Jackson Memorial Hospital, also known as JMH or Jackson, is a nonprofit, tertiary care, teaching hospital. It is located in the Civic Center neighborhood and is owned and operated by Miami-Dade County through its Public Health Trust. It is located at 1611 N.W. 12th Avenue, Miami, Florida 33136.
The hospital has 1,550 licensed beds and is the major teaching hospital for the University of Miami Leonard M. Miller School of Medicine. It is the third-largest public hospital in the U.S. as well as the third-largest teaching hospital.
Jackson offers emergency medical services in their 24/7 emergency room as well as many specialty medical services. Many patients are referred for specialty care at Jackson by their primary care providers. Importantly, Jackson is home to the Ryder Trauma Center, which is the only adult and pediatric Level 1 trauma center in Miami-Dade County.
U.S. News ranks Jackson Memorial as one of the best hospitals in one children's specialty: pediatric diabetes and endocrinology, and as high performing in two adult procedures/conditions: colon cancer surgery and heart failure. However, U.S. News ranks Jackson as having only two of five starts for patient experience.
In 2018, Jackson received two additional recognitions. It was named a Human Rights Campaign Foundation Leader in LGBTQ Healthcare Quality and it received the Gold Plus Award and Target: Stroke Honor Roll Elite Plus Award from the American Heart Association and the American Stroke Association.
If you have any questions regarding JMH and the type of care it provides, do not hesitate to call our Jackson Memorial accidents lawyers at Gerson & Schwarz P.A.
Were You Treated at Jackson Memorial After an Accident?
Because JMH has a Level 1 trauma center and highly skilled and experienced staff, you may be treated at Jackson after an accident. You may be taken to Jackson in an ambulance after a:
Miami Car Crash
Miami Motorcycle Accident
Pedestrian Accident in Miami
Bicycle Accident in Miami
Miami Truck Wreck
Miami Railroad or Train Accident
Other Motor Vehicle Accidents in Miami
Cruise Ship Accident in Miami
Uber or Lyft Car Accident in Miami
Motel or Hotel Accident in Miami
Bar or Night Club Crime in Miami
Casino Accident or Crime in Miami
Negligent Security Accident in Miami
Miami Slip and Fall Accident
Premises Liability Accidents in Miami
Dog Bite or Animal Attack in Miami
Miami Construction Accident
Workplace Accident in Miami
Child Injury in Miami
Whatever type of accident you or a relative were involved in, if you or a loved one were treated at Jackson Memorial Hospital afterwards, call our Jackson Memorial accident attorneys as soon as possible.
Medical Malpractice at Jackson Memorial Hospital
Another type of legal claim we handle at Gerson & Schwartz P.A. is medical negligence. If you were injured due to inadequate medical care at JMH, do not hesitate to call us. We are here to help you obtain the maximum financial recovery possible after suffering due to:
Diagnostic Errors at Jackson Memorial
Emergency Room Errors at JMH
Physician Errors at Jackson Memorial
Medication or Prescription Errors at JMH
Surgical Errors at Jackson
Anesthesia Errors at Jackson
Radiology Malpractice at JMH
Jackson Memorial Hospital Birth Injuries
Hospital-Acquired Infections at Jackson
Let Us Fight for Your Compensation
Whether you were injured in an accident, suffered due to medical malpractice, or lost a loved one in an unexpected accident, we are here to help. A Jackson Memorial accident attorney from Gerson & Schwartz P.A. will thoroughly investigate your circumstances. We will determine whether another person or business's negligence, gross negligence, or intentional misconduct is to blame for your injuries or loss. If so, we may recommend pursuing compensation through a personal injury, wrongful death, or medical malpractice lawsuit.
After filing suit, we will likely communicate with the other party's insurer, and we may enter into settlement negotiations. If we can come to an agreement in regard to fair compensation for your physical, psychological, and financial injuries, then we may be able to resolve your case without going to trial.
If you have questions about your rights and options after an accident or what you suspect to be medical malpractice, contact Gerson & Schwartz P.A. at (305) 371-6000 or use our online form to request a free consultation.