Kendall, Florida Motorcycle Accident Attorneys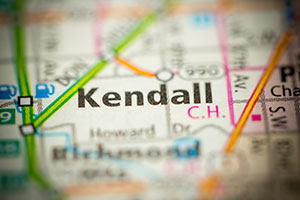 In 2016, about 5,000 people were killed in motorcycle accidents in the United States, which accounted for 13% of all motor vehicle collision deaths. According to Florida Highway Safety and Motor Vehicles, out of 10,331 crashes, 515 of those fatalities happened in Florida. Additionally, another 8,256 people were injured in motorcycle accidents. If you or a loved one has suffered a collision while riding a motorcycle on Southwest 72nd Street, South Dixie Highway, or another road in Kendall, Florida, you may be eligible to receive financial compensation.
Collectively, the Kendall motorcycle accident attorneys at Gerson & Schwartz have over 100 years of combined experience working with clients who have been injured an accident. If you have recently experienced an injury due to a motorcycle accident, contact an accident attorney at Gerson & Schwartz for a free consultation today. We will closely review the details of your case and do what we can to resolve it as favorably as possible. You can also call us at (305) 371-6000 or toll free at (877) 475-2905.
Motorcycle Accident Injuries
Unlike the occupants of a passenger car, motorcyclists typically suffer more serious injuries. This should not be surprising, since motorcyclists much are less well protected in a collision, often suffering a direct impact with a vehicle. Common motorcycle accident injuries include:
Broken bones, particularly in the arms and legs
Scrapes, cuts, lacerations, and abrasions
Pinched nerves
Dislocated joints, such as the knee or hip
Traumatic brain injuries
Spinal cord injuries
Amputations
Paralysis
After any motorcycle accident in Kendall, seek immediate medical treatment such as at Kendall Regional, Baptist Hospital of Miami or another nearby hospital. Prompt medical care and treatment can often make the difference between life and death and gives you the best chance of fully recovering from the collision.
Available Compensation for Your Motorcycle Accident Injury Claim
If you can prove that the other driver was legally responsible for the crash, you might receive financial compensation for your injuries. At Gerson & Schwartz, our clients have received money damages for the following:
Medical expenses, including transportation to the hospital, surgery, hospital overnights, doctor's visits, prescription and over-the-counter drugs, and assistive devices
Future medical expenses, if your injury requires ongoing treatment
Lost wages, if you could not work while you recovered from your injuries
Lost future wages, if your injury keeps you from returning to your job or from working at all
In addition, our clients have received compensation for non-economic injuries. Although you probably want your old body back, the best a court can do is give you money for the following:
Physical pain and suffering
Emotional distress - including depression, anxiety, fear, anger, and irritability
To find out how much your injuries are worth, schedule a free consultation with a Kendall, Florida motorcycle accident lawyer today. Generally, the amount of damages our clients receive will depend on the severity of their injuries as well as how well-documented they are. For example, clients who carefully document their pain and emotional distress by keeping daily diary entries are better positioned to prove their non-economic damages than other clients. Clients who keep copies of medical records and bills also will strengthen their cases.
Kendall Wrongful Death Motorcycle Accident Claims
When a loved one dies, the estate's personal representative can bring a lawsuit for money damages, which will go to family members. You can receive compensation in a wrongful death lawsuit for:
Burial and funeral expenses
The value of support and services the deceased provided
Loss of guidance, protection, and companionship
Emotional distress due to the loss
Lost wages and benefits
Any medical expenses paid for your loved one
These damages are somewhat speculative, so it is difficult to forecast how much you might receive in a wrongful death action. Nevertheless, many of our clients have been successful in these types of claims, with one recent case settling for $2.5 million dollars.
Avoid Delay: Why Your Motorcycle Accident Claim Can be Time Barred
Florida law does not give accident victims an unlimited amount of time to file a personal injury lawsuit for their injuries or wrongful death. Most legal claims in Florida are subject to statutes of limitations. Most motorcycle accident are subject to a four year window from the date of the crash. If you wait too long, then your claim can be time barred which will mean you cannot file a lawsuit and will not be entitled to receive financial compensation or hold the negligent driver legally accountable in court.
Wrongful death lawsuits including those based on a motorcycle accident have a shorter deadline. In Florida, the personal representative only has two years from the date of death to bring a lawsuit. If you are worried about these important deadlines, contact one of our Kendall, Florida motorcycle accident attorneys as soon as possible. Don't wait and contact us at (305) 371-6000 or toll free at (877) 475-2905.
Contact a Kendall, Florida Motorcycle Accident Lawyer Today
To find out more about the services our Kendall motorcycle accident lawyers offer, contact us for a free consultation. Gerson & Schwartz PA injury attorneys have over 50 years of experience and we have negotiated with some of the state's largest insurers. Gerson & Schwartz PA legal specialists work to protect the interests of our clients. We understand that a motorcycle claim can become a complicated process that requires extensive understanding of the legal system in Kendall, Florida.
All case calls are kept confidential. There are also no attorney's fees unless we win your case. There are no upfront costs. To learn more contact our personal injury law office by calling (305) 371-6000, or toll free at (877) 475-2905 or send an online message.