Kendall, Florida Slip and Fall Lawyers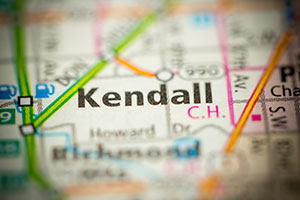 Many people associate Kendall, Florida with sunny days and easy access to beautiful beaches. After all, Kendall does average 250 days of sunshine each year. Not only does Kendall boast great weather, its nearly 76,000 residents and thousands of visitors each year enjoy world-class shopping, dining, and easy access to beaches.
Unfortunately, not every day is perfect, especially when a slip and fall injury happens. Florida According to the National Floor Safety Institute, over one million people visit the emergency room each year after slipping and falling. And, according to the Center for Disease Control, older Americans are at particular risk of falling, with about one in five suffering a serious injury, such as a head injury or broken bones. Many Kendall residents have their lives completely upended after a fall and find it difficult to support themselves.
The event of a slip or fall can result in a serious injury. If you or a loved one has slipped and fallen, you might be able to hold the property owner liable for your injuries. The experienced Kendall slip and fall attorneys at Gerson & Schwartz are ready to review the details of your case. Contact the personal injury law offices of Gerson & Schwartz today at (305) 371-6000 or call us toll free at (877) 475-2905 for a free consultation and case evaluation. We have a thorough understanding of the premises laws in Florida and will work aggressively to collect compensation on your behalf. Our primary priority is to meet the needs of our clients.
Dedicated Premises Liability Attorneys in Kendall, Florida
Premises liability is the area of law that identifies what duties property owners owe visitors. In Florida, property owners have a duty to keep their property reasonably safe for visitors. This does not mean that they guarantee a visitor's safety, but they must take reasonable steps to ensure the property is safe.
Premises liability law applies to private homeowners as well as to many other businesses, such as:
Property managed for commercial properties like Dadeland Mall
Town and Country Mall
Kendall Mall
Gyms like UFC Gym
Restaurants, such as Devon Seafood and Grill
Grocery stores, like The Fresh Market or Teavana
Dunkin Donuts
CVS Pharmacy
Outback Steakhouse
Whenever you step into these or other Kendall establishments, you do so with the expectation that you won't slip or trip over something. Generally, you must prove the following elements to prevail in a slip and fall lawsuit:
The property owner knew of a dangerous hazard or should have known of it
The property owner did not fix the hazard or warn you about it
You suffered an injury because of the hazard
This is a fact-intensive inquiry in particular the case looks for any claim that the property owner "should have known" about a hazard. For that reason, you will want to work with an experienced Kendall slip and fall attorney who can begin investigating your case quickly and amassing favorable evidence.
Follow Your Doctor's Orders
Seek prompt medical treatment after your fall. Doing so will increase the likelihood that you can fully recover from your injuries. Prompt medical intervention will also improve your chances of receiving a full and fair financial recovery if you decide to sue the owner of the property where you fell.
In Florida, all injured victims have a duty to mitigate their damages, meaning that you should take reasonable steps to make sure your injuries do not become worse. In many cases, "reasonable steps" include seeking medical attention. If you don't seek prompt medical care, then the defendant in a lawsuit can claim that your own actions caused your injuries to worsen, reducing their legal liability.
Once you seek treatment, remember to follow your doctor's orders to the letter. If you do not think you are improving, then seek out a second doctor's opinion, but never simply ignore a doctor's advice unless a second doctor has prescribed a different treatment.
Why You Need an Attorney on Your Side
Many premises owners have insurance, either business liability insurance or if they are private citizens, homeowners' or renter's insurance. After slipping and falling, insurance carriers might contact you, promising fast money for your injuries. Although you might be tempted to quickly settle, you should resist.
The simple fact is that insurers do not have your best interests at heart. Instead, they want to settle claims quickly and for pennies on the dollar. Many of our clients are scared as they watch mounting medical bills eat away at their income. Many clients are also too injured to work, so the temptation to settle is strong.
However, by signing a settlement, you essentially give up your ability to sue in the future for your injuries. This means that you can't receive compensation for future medical care or future lost wages, even if your injuries don't heal for years. Before agreeing to a settlement, meet with a Kendall slip and fall lawyer who can assess your situation and identify the full value of your injuries. Many of our clients have received the following:
Reimbursement of past, present, and future medical care
Replacement of past, present, and future lost wages
Compensation for non-economic harms like pain, suffering, and emotional distress
Each case is unique, but before you can settle with an insurer, you must understand how much your injuries are worth.
Schedule a Free Consultation With a Kendall, Florida Slip and Fall Lawyer Today
When you've been injured in an accident, dealing with medical bills and insurance companies can feel overwhelming. Working with an experienced Kendall, Florida slip and fall attorney can help reduce the burden of stress. The Kendall slip and fall lawyers at Gerson & Schwartz have gone up against some of the state's largest insurers and businesses on behalf of our clients. We have over four decades working with Kendall, Florida slip and fall accident victims, and you only pay for our services if we collect. For a free consultation and case evaluation, contact us online today or call us at (305) 371-6000 or toll free at (877) 475-2905.