Kendall Regional Accident Lawyer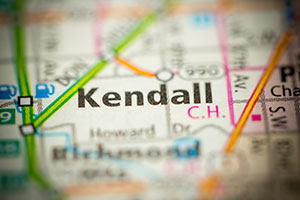 Were you or a loved one injured in an accident and treated at Kendall Regional Medical Center in Miami, Florida? If another person or business was at fault for the accident and for puting you in the hospital, we recommend giving us a call at Gerson & Schwartz P.A. Our Miami personal injury lawyers routinely represent individuals treated at Kendall Regional, and we are prepared to work with your medical providers and the administration at that hospital. Whatever type of accident you were you in, from a car crash to a slip and fall, we are prepared to gather evidence of your behalf, document your physical, psychological, and financial injuries, and fight hard for you to receive full and fair compensation.
Kendall Regional Medical Center has a strong reputation, but it is not above reproach. Any hospital can hire and retain a physician or other medical professional who does not always uphold the required standard of care. If you encounter and are injured by a negligence doctor, pharmacist, or other medical provider at Kendall Regional, call our Miami medical malpractice lawyers as soon as possible. We are not afraid to hold the negligent practitioner and Kendall Regional responsible for harmful medical negligence.
To talk with a bilingual Kendal Regional accident attorney at Gerson & Schwartz P.A., contact us through our online form or call (877) 475-2905 to schedule a free consultation.
Kendall Regional Medical Center
Kendal Regional Medical Center is located in Miami, Florida. It is a general medical and surgical hospital, which offers 24-hour emergency, diagnostic, surgical, and behavior health services and has 417 beds. It is located at 11750 SW 40 Street, Miami, Florida 33175.
U.S. News rates it as high performing in two adult procedures/conditions: heart failure and chronic obstructive pulmonary disease (COPD). The hospital also has been included in Thomas Reuters 100 Top Hospitals, received certification as a Primary Stroke Center, and received the Stroke Gold Award.
Kendall Regional Medical Center is a part of HCA Healthcare, which owns and operates 179 hospitals, 120 surgical centers, and other health care facilities. In 2018, it was rated by Ethisphere Institute as one of the World's Most Ethical Companies for the ninth consecutive year.
HCA is affiliated with many other hospitals and medical centers in Florida, including Highlands Regional Medical Center; JFK Medical Center - Main Campus; JFK Medical Center - North Campus; Lawnwood Regional Medical Center; Mercy Hospital; Palms West Hospital; Plantation General Hospital; Raulerson Hospital; St. Lucie Medical Center; University Hospital & Medical Center; Westside Regional Medical Center; HCA East Florida; and Aventura Hospital and Medical Center.
The Types of Accidents Our Kendall Regional Accident Lawyers Handle
At Gerson & Schwartz P.A., our team is made up of highly experienced and skilled personal injury and wrongful death lawyers. We accept cases for south Florida residents, including those living Miami-Dade, Broward, and Monroe Counties, as well as from tourists who were injured in the state. Whether you live here full time, spend part of the year in Florida, or were here on vacation when you got here, we can address your situation.
We also handle injury and fatality claims arising from a broad range of accidents, such as a:
Car Crash in Miami
Bicycle Accident in Miami
Pedestrian Accident in Miami
Miami Motorcycle Accident
Miami Truck Accident
Miami Train Accident
Uber or Lyft Car Accident in Miami
Other Motor Vehicle Accidents in Miami
Hotel or Motel Accident in Miami
Bar or Night Club Crime in Miami
Casino Accident in Miami
Negligent Security Accident in Miami
Crime Victim in Miami
Premises Liability Accidents in Miami
Miami Slip and Fall Accident
Dog Bite or Animal Attack in Miami
Miami Construction Accident
Workplace Accident in Miami
Child Injury in Miami
Cruise Ship Accident in Miami
Miami Maritime Accident
Were You Injured by Medical Malpractice at Kendall Regional Medical Center?
Unfortunately, medical negligence can happen anywhere—at your general practitioner's office, immediate care, or an established hospital like Kendall Regional. At Gerson & Schwartz P.A., our attorneys for Kendall Regional have represented individuals injured due to:
Emergency Room Errors at Kendall Regional
Diagnostic Errors at Kendall Regional
Physician Errors at Kendall Regional
Surgical Errors at Kendall Regional
Anesthesia Errors at Kendall Regional
Medication or Prescription Errors at Kendall Regional
Radiology Malpractice at Kendall Regional
Kendall Regional Birth Injuries
Hospital-Acquired Infections at Kendall Regional
Whenever you believe you were injured due to medical malpractice, it is important to speak with a lawyer as soon as possible. Before you can file a lawsuit, you need an objective party to investigate, including reviewing your medical records and obtaining an additional opinion by a medical expert. Medical care often has difficult side effects and outcomes, however this does not prove negligence. There must be evidence that your physician or medical provider failed to uphold the standard of care, which led to your injuries. If we obtain this evidence, we will fight hard for you to receive full and fair compensation for your injuries.
Our Kendall Regional Accident Attorneys are Here for You
Whether you were hurt in an accident and treated at Kendall Regional Medical Center, or your injuries arose at Kendall Regional, our team at Gerson & Schwartz P.A. is here to help. We will thoroughly investigate your claim, pursue compensation, handle communications with the insurance claim, and when it comes time, negotiation a settlement or fight for your rights in court. We will pursue the maximum compensation possible for your medical expenses, lost income, pain, emotional distress, disfigurement, disability, and more.
To talk with us about how we can help, contact us at (305) 371-6000 or submit your information through our online form.