Kendall Uber Accidents
Uber Accident Lawyers in Kendall Representing the Rights of Passengers, DRivers, and Third Parties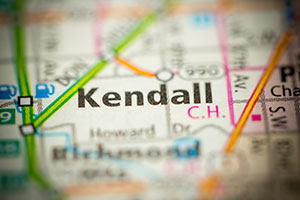 Were you seriously injured in a collision with an Uber vehicle or when you were a passenger in an Uber car? Uber accidents can cause devastating damage and injuries, and the legal process can be complicated for victims to navigate. Uber operates in over 500 cities, including Miami Beach, gives over 40 million rides monthly and employs over 160,000 drivers. It's safe to say that Uber is everywhere. Unfortunately, with all this growth and progress, the legal territory surrounding Uber lawsuits is still a murky area. Getting into a car accident is stressful enough without finding out that the person you were in a crash with was, in fact, an Uber driver.
If you were injured in an Uber accident, you might be entitled to seek compensation. It is essential to seek help from an knowledgeable legal professional who has experience going up against Uber and their insurers. If you find yourself in collision dispute with Uber, call an Uber legal specialist at the Law offices of Gerson & Schwartz to discuss your case. All case calls are confidential, and there are no costs to you to get started.
Overview: Protection for Passengers, Drivers, and Third Parties
Passenger Protection
In Florida only $10,000 PIP insurance is required by the state, in particular, Miami-Dade County residents by large don't have insurance whatsoever or think they are covered when they only buy the PIP minimum. Luckily, if the accident occurs during your trip and your ride-sharing driver is driving, you are covered under a $1 million liability policy through James River Insurance. Below is the minimum coverage you should expect as a passenger of an Uber vehicle:
Carrying Passenger
Liability coverage: $1,000,000 for death, bodily injury, and property damage
PIP and UIM coverage as required by existing law
Not Carrying Passengers
Liability coverage: $50,000 per person for death and bodily injury
Liability coverage: $100,000 per incident for death and bodily injury
PDL coverage: $25,000 per incident
PIP and uninsured/underinsured motorist coverage as required by existing law
Third Party's Protection
Being a third party injured by an Uber driver can be an upward hill battle that is full of complicated issues making it difficult to litigate. Under the current rule, if an Uber driver has yet to accept a passenger, they have no coverage for property damage if an accident occurs and their liability coverage for injured persons drops to $50,000. Furthermore, in other instances, where you are unable to seek compensation from Uber, your ability to receive payment from the individual driver is also significantly decreased because of the limitations placed on personal insurance policies. It is important that you seek legal counsel immediately following your collision to assure that you receive the best representation for your case.
Uber Driver Protection
Uber's insurance policy is at it most useful when drivers are picking up a passenger or already in route with the passenger. When they are waiting to pick up a passenger their insurance coverage is greatly diminished. Under the current rule, if an Uber driver has yet to accept a passenger, they have no coverage for property damage if an accident occurs. Also, their liability coverage for injured persons drops to only $50,000. Furthermore, an Uber driver is usually not covered by their individual car insurance policy while they are driving for Uber because this activity is considered to be a business activity. As a result, if your TNC insurance with Uber is diminished and you are not covered by your insurance company you are susceptible to liability in the wake of a collision while waiting for another rider. If you find yourself in a collision, call Gerson & Schwartz at 877-475-2905 to discuss your case.
Why You Should Contact A Kendall Uber Accident Attorney At Our Firm
To ensure that the evidence is preserved, your lawyer will send preservation of evidence letter, also known as a spoliation letter to both your driver and Uber. Then they will gather your medical records and proof of your lost wages. The following step will be to make a demand for settlement of your Uber accident claim. If the Insurance company fails to make a reasonable settlement offer, Gerson & Schwartz will prepare and file a lawsuit on your behalf. Once the suit is filed, our Uber lawsuit lawyers will seek the earliest possible trial date so that your case gets resolved by settlement or jury verdict as quickly as possible.
Discuss Your Case With An Uber Car Accident Attorney In Kendall
The personal injury attorneys at Gerson & Schwartz, P.A. has extensive experience working with clients who have been injured while riding in an Uber or other ridesharing service in Kendall, Florida. If you or a family member has been injured, please call Gerson & Schwartz, P.A. a Kendall Uber accident attorney at 877-475-2905 or contact us online to schedule your free consultation.