Liberty City Personal Injury Lawyer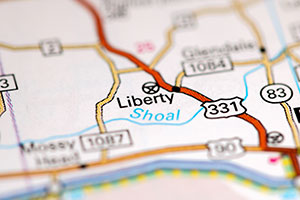 If you have sustained a personal injury in Liberty City – whether from a car accident, slip and fall accident, medical malpractice, or other injury – you need the representation of an aggressive personal injury attorney who is familiar with the Miami area. The Liberty City personal injury attorneys at Gerson & Schwartz have been protecting the rights of personal injury victims in Liberty City for over forty-six years.
Liberty City is a neighborhood on the north side of Miami proper. It has received national media attention, both in popular television programs such as "Miami Vice" and as the proud home of many National College Football Champions on University of Miami football team. Of course, even the most prominent neighborhoods experience a wide variety of personal injuries.
What Types of Personal Injuries Entitle a Victim to Legal Compensation?
Whenever an injury is caused by someone else's negligence, the victim is entitled to be compensated for his or her injuries by the negligent party. There are many different ways in which an injury can be caused by the negligence of another person.
Liberty City Car Accident Lawyers
After an auto accident, the insurance companies for all drivers involved will conduct investigations to determine who was at fault for causing the accident. The person who was legally responsible ("liable") for causing the accident is deemed to have been driving negligently. The negligent driver or drivers are legally obligated to compensate all injured parties for their injuries. This can include other drivers, passengers, pedestrians, bicyclists, motorcyclists, or bystanders. These injuries can be sustained in accidents involving single cars, multiple cars, trucks, or other vehicles. If a driver's negligence resulted in your injuries, that driver has a legal obligation to compensate you for your injuries and losses. This compensation covers more than just your medical bills: lost wages, pain and suffering, decreased future earning potential, and other demonstrable losses are all subject to compensation.
Medical Malpractice
Medical malpractice is another form of personal injury which can cause pain and suffering, increased medical bills, lost wages, and a decrease in the quality of life – or even life expectancy. Doctors and the companies which employ them are responsible for compensating these losses. When the negligence of an employee (such as a nurse, dental assistant, or veterinary technician) causes personal injuries, the employing doctor or company is still responsible for compensating the patient's losses.
Accidents Caused by Defective Consumer Products
Thousands of Floridians are injured by defective products every year. A manufacturer can be responsible for negligently designing, manufacturing, labeling, or packaging an unsafe product. Other individuals and businesses can be negligent for their part in making the product unsafe. If, for example, a trucking company damaged the product in shipping and this caused it to become unsafe, the driver and the company could both be legally obligated to compensate injury victims for damage caused by the product. Similarly, a retailer may be liable for failing to comply with a recall imposed by the manufacturer if that failure led to an injury that could otherwise have been avoided by returning the recalled product. When a consumer is injured by an unsafe product, there are many individuals and business entities which may be obligated to compensate the victim for his or her losses.
Call a Liberty City, Personal Injury Law Firm Today to Schedule a Free Consultation
The Liberty City personal injury lawyers at Gerson & Schwartz represent victims of all injuries in Liberty City. Our attorneys have litigated numerous personal injury claims due to the negligence of another. Whether you have been injured in a car accident, pedestrian accident, truck accident, medical malpractice, or by a defective product, our law firm will fight hard to enforce your legal rights. Call (305) 371-6000 to schedule your free consultation today. You can also email us directly at info@gslawusa.com. We will answer all your legal questions and ensure that you receive the personalized service you deserve. Se Habla Español.