Magic City Casino Accident Lawyer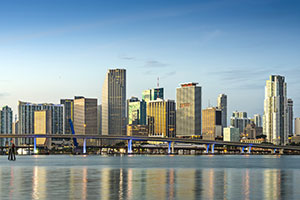 Magic City Casino brings a little bit of Las Vegas to Miami. The casino boasts the only Roulette wheels and Craps tables in Miami, along with Las Vegas-style slot machines. In addition to a variety of games, the casino offers multiple dining options, live entertainment, and America's only burger museum. The casino is also unique by hosting Jai-Alai, known as the fastest game in the world. Magic City Casino offers state-of-the-art courts, local and international athletes, and the opportunity to wager on the games.
While coming to the Magic City Casino may offer you something special on vacation, or make you feel like you are on vacation without driving too far from home, there are risks in frequenting casinos. They are large, busy establishments, and safety may not be the proprietor's top priority. If you are injured in an accident or crime at a Miami casino, you should contact a Magic City Casino accident lawyer from Gerson & Schwartz P.A. You can reach out Miami-Dade County office at (305) 371-6000 to schedule a free consultation.
Crime & Accidents at Magic City Casino
Magic City Casino and other local casinos are no strangers to crime and accidents. Theft, robbery, and burglary can occur in connection with casino winnings. In 2014, two separate jackpot winners from Magic City Casino were robbed. A 27-year-old local man targeted the two winners as they left the casino. The robber took $8,000 from an elderly man and $10,000 from an elderly woman, who also suffered a head injury during the offense.
Violence can also break out at casinos, particularly after some patrons imbibe too much alcohol or other drugs. While at a casino, you may be the direct victim of a violent crime, or you could be injured as a nearby onlooker. In 2016, a patron at Magic City Casino refused to leave the facility after becoming belligerent. A uniformed, yet off-duty officer was called to help, and the patron did not cooperate. It is reported he threw money at the officer, wrestled him, and cut his face. The officer was forced to defend himself and shot the patron.
Traffic accidents are also common issues in front of casinos and in their parking lots. In 2017, a 25-year-old man was struck by a vehicle in front of Magic City Casino. The driver did not stop, making it a criminal hit-and-run. While the pedestrian was reported to be conscious when he was taken to the hospital, not all car wrecks have a happy ending. Many crashes result in serious injuries and fatalities. If you are injured in a car accident or other crime at Magic City Casino, it is best to contact an accident lawyer for Magic City Casino right away.
Additionally, you may be hurt in an accident that does not amount to a crime. Common accidents that could cause you to be injured at a casino include slip and falls, unsafe property conditions, contaminated food and drinks, and excessive force by security.
Casino Owners may be Responsible for Your Injuries
If you were injured at a casino, and you believe the casino owners are responsible for what happened, you should call us at Gerson & Schwartz P.A. as soon as possible. When you are lawfully in a business establishment in Miami, the business owners and operators have a legal duty to keep you safe. This is known as premises liability. They must keep the property safe for you and other visitors. There should be no chance of you slipping on a wet floor or being struck in the head by a falling object. Casino owners must adhere to all federal and state food and safety regulations. Everything you eat and drink at a casino should be clean and safe. Additionally, because casinos are at risk for violence, the proprietors must provide an appropriate amount of security to attempt to prevent the crimes they know could occur, such as robbery, assault, and sexual assault. To learn more about casino owner's legal responsibilities toward you when you are a paying customer, call our accident attorneys for Magic City Casino today.
Pursuing Compensation After You are Hurt in a Casino
When you are hurt on a casino's property, and the casino management or owner is responsible, you may have the right to pursue compensation. An experienced lawyer can guide you through seeking compensation through an insurance claim, or if necessary, a personal injury lawsuit. Through this claim, you may ask for compensation for your:
Current and future medical costs
Lost wages
Physical pain and suffering
Mental anguish
Scarring or disfigurement
Physical limitation (disability)
Reduced earning potential
Loss of normal life
Call Gerson & Schwartz P.A. for Help
At Gerson & Schwartz P.A., we will thoroughly investigate the accident or crime that led to your injuries. We will gather and analyze evidence to determine who is at fault and liable for compensating you. If we find the casino was at fault, we will guide you through the insurance claim and/or legal process. We will also work with you, your health care providers, and medical and economic experts to properly value your case. If your injuries are serious, and if they permanently alter your life, then you case may be worth a considerable amount. An experienced and aggressive Magic City Casino accident lawyer will fight for you to receive the maximum amount of compensation possible.
Call us at (877) 475-2905 to schedule your free consultation.