Miami-Dade County Motorcycle Accident Attorneys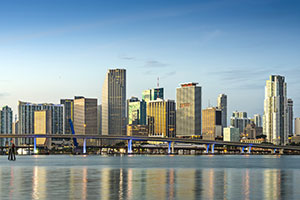 If you or a loved one were injured in a motorcycle crash in Miami-Dade County you need experienced lawyers. It's no secret residents of Miami-Dade County frequently enjoy a motorcycle ride on a sunny day. Whether it's a route along Biscayne Boulevard, Ocean Driver, or simply along the coast from Black Point to Old Cutler Bay, the scenery and the roads are ideal for motorcycle enthusiasts. US-1 and I-95 are also common roadways where motorcycle operators in Miami Dade ride and where accidents happen. If you were seriously injured in a crash, or a loved one was the victim of a wrongful death then contact a Miami-Dade County motorcycle accident lawyer at Gerson & Schwartz, PA by calling (305) 371-6000 or toll free at (877) 475-2905.
Founded by Philip M. Gerson in 1970, our personal injury law firm has helped clients injured in motorcycle accidents from all areas of Miami-Dade. Gerson & Schwartz law firm is widely known for providing aggressive representation for accident victims and their families. All cases are handled under contingent fee agreements and consultations are always free. Contact us to discuss your case. Test us to see if we have handled a claim similar to yours. While there are lots of lawyers to choose from not all accident attorneys in Miami-Dade County are the same. Experience can't be overlooked and a law firm's reputation should be considered when you choose an attorney upon whom you will be depending on for justice. So contact a motorcycle accident attorney in Miami-Dade at Gerson & Schwartz, PA.
Motorcycle Accident and Personal Injury Liability Claims
Motorcycle accident liability is based on concepts of negligence. Negligence is a failure to act safely. Examples of motorcycle accident liability may be due to improper turns, speeding, or failing to yield. Over the last 50 years, Gerson & Schwartz PA lawyers have helped clients seriously injured in nearly every type of motorcycle accident scenario. From head on collisions to T-bone accidents, accidents due to drunk driving, texting, even dram shop liability claims. Our Miami Dade motorcycle accident attorneys have the skills, reputation, and resources to help clients recover for serious harms and losses. Legal liability and financial responsibility of negligent drivers, operators, and all other potential responsible parties are carefully analyzed in every case. Sometimes, legal responsibility in a motorcycle crash in Miami-Dade can be found based on a special relationship between drivers, vehicle operators or some other contractual agreement such as an employer/employee relationship. When an accident happens, you need an experienced attorney by your side to help determine who is responsible and why and to fight for the compensation to which you are entitled. If we are your lawyers, we won't hesitate to bring your case to court if a fair settlement offer is not made. At Gerson & Schwartz, our Miami-Dade County motorcycle accident lawyers represent serious and catastrophic accident victims injured in motorcycle collisions, so please reach out to us today by calling (305) 371-6000 or (877) 475-2905 or contact us online.
Common types of motorcycle accidents in Miami Dade County, our lawyers have experience include representing clients injured due to:
Speeding
Reckless or Careless Driving
Distracted Driving
Drunk Drivers
Driving Under the Influence
Improper Turns
Failing to Keep a Proper Lookout
Badly-Needed Compensation
Motorcycle accidents can cause severe injuries that require months to heal with devastating financial consequences. Our clients often find themselves home, unable to work, as they watch medical bills from Baptist Hospital or Jackson Memorial Hospital pile up in their mailboxes without any hope of paying for them. For example, you might have suffered any of the following
Head Injuries
Traumatic Brain Injury
Wrongful Death
Amputation
Scarring or Disfigurement
Spinal Cord Injuries
Cuts or lacerations
Broken bones
Pinched nerves
Dislocated joints
Victims need compensation to help them heal and continue to pay their bills. Fortunately, if your accident was caused by someone else's negligence, you can likely receive monetary damages for the following:
Medical expenses: Victims often obtain compensation for the medical expenses associated with your injuries, such as transportation costs to and from the hospital, doctor's visits, surgery, painkillers or other prescription drugs, and equipment like crutches or wheelchairs.
Lost wages: Some injuries are so severe you cannot return to work while you heal. You can receive a sum of money to replace those lost wages, as well as any lost wages in the future if your injury prevents you from returning to work.
Property damage: The collision probably damaged your motorcycle. You can receive money to repair or replace it.
Pain and suffering: You can often obtain compensation for the physical pain and inconvenience you experience because of your injuries. The amount you receive will depend on the severity of your injuries and how well you have documented your pain.
Emotional distress or mental anguish: If you suffered a physical injury, you can also receive compensation for the emotional effects. For example, you can receive damages for embarrassment, anger, grief, anxiety, depression, or fright.
Your spouse and children might also bring lawsuits for loss of consortium. Your children can receive compensation for the loss of care, guidance, and instruction. Your spouse can receive compensation for loss of companionship, assistance, and sexual intimacy.
Try a Risk-Free Consultation
Who you hire as a lawyer is the most critical decision you will make in your case. A qualified attorney knows how to gather the evidence necessary to achieve a favorable verdict and what legal facts you need to establish in court.
To help you better understand the services we provide, Miami Dade County motorcycle accident attorneys at Gerson & Schwartz offer all potential clients a free consultation and case evaluation. The process is entirely risk-free, with no strings attached. You can ask any questions that you want and explain your situation so we have a better handle on the facts. We will make sure you fully understand our contingency fee agreement, which requires no payment of attorney fees unless we win your case. At the end of the consultation, we can give you our opinion about whether you have a valid legal claim or whether we need more facts.
If, after meeting with us, you want to go ahead, we can formalize the attorney-client relationship. By contrast, if you want to meet with other Miami-Dade car accident attorneys, that is perfectly fine with us as well.
Avoid Delay
Florida law gives accident victims a short window of time to bring a lawsuit. In particular, you can only sue within four years of the accident. If you miss this deadline, you can wave goodbye to any compensation because the judge will throw your case out of court. Although the law has an exception if you could not uncover your injuries within four years, you should not rely on this exception.
Fortunately, there is no reason to delay, as injured motorcyclists are better served by starting their claim as soon as possible. Our motorcycle accident attorneys are here to advise you and are anxious to begin investigating your case.
Call a Miami-Dade County Motorcycle Accident Attorney
The Miami based personal injury law offices of Gerson & Schwartz has over 100 years combined experience fighting for injured clients in Miami Dade County Florida. Our Miami Dade County motorcycle accident lawyers are proud of the professional reputation we have build for offering knowledgeable service to Miami-Dade County motorcycle accident victims. If you have been injured in a motorcycle crash, contact us for a free consultation at (305) 371-6000 or toll free (877) 475-2905, or send a message to us online.