Miami-Dade County Slip and Fall Accident Attorneys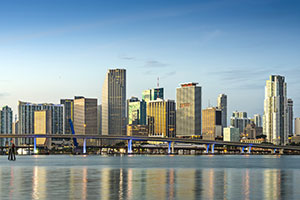 In 2015, the Miami Herald newspaper reported that Miami-Dade County had over 15 million visitors. Tourism is great for the economy in Southern Florida, and people come from many different places to enjoy the beautiful weather, popular beaches, and unique culinary scene. Some of the main attractions enjoyed by residents and visitors include Miami Beach, South Beach, the Art Deco Historic District, Everglades National Park, Little Havana, Bayside Marketplace, and the Vizcaya Museum and Gardens, just to name a few.
In an area as lively as Miami-Dade County, slip and fall accidents are bound to happen including serious, injury –causing slip and falls. Property owner and operators have a legal duty to keep their premises reasonably safe for all guests that are lawfully on their premises. At Gerson & Schwartz, a slip and fall accident lawyer in Miami Dade County, have decades of experience helping accident victims in Miami-Dade County to get the compensation they deserve. We take pride in building strong relationships with our clients, and appreciate the positive words they have to say about us. We are here to help so contact us today at (305) 371-6000, or toll free at (877) 475-2905.
Common Slip and Fall Injuries in Miami Dade County
Most injuries are not caused when victims slip but when they fall. In particular, victims suffer injuries when they hit their heads or another body part against the ground or another object, like a sidewalk or fire hydrant. Falls down stairs are particularly serious, with victims suffering blunt trauma each time they hit a step.
Some of the more common injuries our clients have suffered include:
Fractures and Broken bones
Cuts or lacerations
Back injuries
Head injuries
Neck injuries
Traumatic brain injuries
Spinal cord injuries
Pinched nerves
Knee injury
After falling, you should seek immediate medical treatment by calling emergency services or having a family member take you to Jackson Memorial, University of Miami, or another local hospital. Prompt treatment affords you the best chance of making a speedy recovery and returning to your old life. Prompt medical treatment allows you to properly document the severity of your injuries, which might be in dispute later if you decide to sue the property owner for your injuries. A slip and fall accident lawyer in Dade County can help you work through your legal options and remedies.
Who You Can Sue for a Slip and Fall in Miami Dade
Generally, all property owners must keep their property in a reasonably safe condition. This includes fixing any hazards or warning guess about known dangers. Some examples of legal claims that businesses that operate locally and could possibly be held liable for a slip and fall accident:
Slip and Fall Attorneys Protecting Your Legal Rights in Miami-Dade
At Gerson and Schwartz, PA our slip and fall accident attorneys can file a personal injury lawsuit against a private property owner, or operator anywhere in Miami-Dade County. Property owners and others in control of a premise must also keep their property in reasonably safe condition for guests. If they don't and you are injured as a result, a lawsuit can be filed for negligently failing to maintain the premises reasonably safe.
You should know that under Florida law, filing a claim or suing a state agency, local government, public school or another even the police for a slip or trip on government property require more steps. In particular, you must send statutory notice within six months of the accident. Only after these legal procedures are met can you file a personal injury lawsuit.
You Might be Entitled to Compensation
If the property owner is responsible for your injuries, you can sue them for compensation. In Miami-Dade, slip-and-fall victims may be entitled to recover money damages for their economic and non-economic losses.
Money damages for a slip and fall accident in Miami-Dade County may include:
Medical treatment, including transportation to the hospital, hospital stays, surgery, doctor's visits, prescription drugs, and assistive devices like wheelchairs
Lost wages, if your injury kept you out of work
Lost future wages, if your injuries are so severe that you cannot return to your old job or to any job at all
Property damage, if you broke something when you fell (like your glasses or smartphone)
You can also receive compensation for non-economic losses, which are harder to measure in dollars and cents. Nevertheless, if you have suffered a serious injury that warrants compensation, such as:
Physical pain and suffering
Emotional distress, such as depression, anger, grief, anxiety, or irritability
Depending on your injury, your spouse might be able to sue for loss of consortium for negative changes to your marriage, such as a loss of intimacy or care.
At Gerson & Schwartz, our Miami-Dade slip and fall injury lawyers have helped a substantial number of injury victims get the compensation they need. Based on our experience, we can assess your injuries and help you resolve your case as favorably as possible. The amount you can receive depends on a variety of factors, including how much insurance the defendant has and the seriousness of your prognosis.
Contact a Miami-Dade Slip and Fall Accident Attorney Today
If you or a loved one has been injured after a fall in the Miami-Dade County area, contact Gerson & Schwartz right away. Our team of premises liability attorneys will carefully review the circumstances surrounding your injury and identify who may be liable for your injuries. Don't delay. In Florida, injured victims are given only four years to bring a lawsuit for their personal injuries, so call (305) 371-6000 or toll free at (877) 475-2905 or send a message online to schedule a free consultation.