Miami Dade Truck Accident Attorney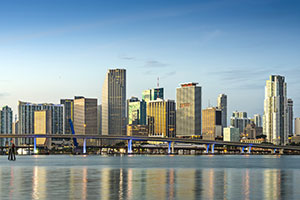 The Insurance Institute for Highway Safety reports that each day in the United States, more than 10 people are killed in large truck crashes. While accidents between similarly-sized vehicles often result in similar damage to both, when large trucks collide with passenger vehicles, it is often only the smaller vehicle that is seriously damaged. Victims who have been impacted by truck accidents in Miami Dade should reach out to an experienced attorney for help right away.
At Gerson & Schwartz, PA, we have experience fighting for the compensation that the victims of truck accidents deserve. We can help you obtain compensation for your medical bills, lost wages, pain and suffering, and even loss of enjoyment of life. Contact us today toll free at (877) 475-2905 to schedule your free case evaluation.
Trucking Companies Cause Deadly Accidents
Various trucking companies operate in Miami Dade. The more trucks on the roads, the greater the risk of being injured in trucking accidents. Some of the trucking companies that operate in the area include the following:
Allied Truck
American Freight Incorporated
Apollo Transportation Services
Delta Trucking Service
DGD Transport
Express International Freight
Heavy Haulers
LFS
Nationwide Transport Services
Pro Transport USA
Common Causes of Truck Accidents
Truck accidents in Miami Dade can occur suddenly and end up changing the lives of those involved forever. Some of the most common causes of truck accidents in Florida include the following:
Trucking companies often urge drivers to complete long hauls in the shortest times possible, which leads to truck drivers operating vehicles without adequate sleep. Despite federal trucking regulations designed to prevent fatigued driving, truck drivers do not always follow these laws.
Federal trucking regulations limit the way in which truck drivers can use cell phones behind the wheel, but not all truck drivers follow these rules. As a result, truck accidents due to distracted driving are common.
Reckless driving including speeding, tailgating, changing lanes suddenly, and other dangerous driving tactics that are known to cause deadly truck accidents.
Trucking accidents involving drivers who consume alcohol are rare. Trucking accidents, however, are more common when drivers attempt to use amphetamines or cocaine in an attempt to stay alert and focused on driving.
Many truck accidents occur because vehicles have mechanical defects. Of all the various types of defects, brakes and lighting system defects are the most common.
If truck cargo is not adequately loaded or secured, it can come loose and fall onto the road, creating dangerous debris that other motorists might strike. Shifting cargo can also result in trucks rolling over while traveling at high speeds.
Statute of Limitations for Truck Accident Victims
It is important to act promptly if you are the victim of a truck accident in Miami Dade. Under Florida's statute of limitations, a person has four years from the date of an accident in which to file a personal injury claim. If you lost a loved one in the accident, you have a shorter amount of time and must initiate a claim within two years from the date of the loved one's death.
Common Mistakes Might Jeopardize Your Claim
If you are the victim of a truck accident, the aftermath can be overwhelming. You are likely unsure of how best to proceed. Unfortunately, there are several mistakes that truck accident victims often make in the process of obtaining compensation, such as:
Speaking with the other party's insurance carrier. These companies will try to convince you to make statements that will end up weakening your case.
Failing to get medical attention after a truck accident. Not only does this create a serious risk that your injuries will worsen, insurance carriers will also assume that your accident was not serious enough to require medical attention.
Accepting the first offer by an insurance carrier. These offers are often made quickly because the company knows the victim could obtain more but is likely desperate to settle for cash in hand as soon as possible.
Not calling emergency workers to the scene of the accident. Even if a truck accident in Miami Dade does not seem severe, you should call emergency services to the scene so a police report can be written about the accident. These reports can later be used as evidence in a court of law.
Speak with an Experienced Attorney Today
If you were injured or a loved one was killed in a truck accident in Miami Dade, an experienced attorney can help you fight for the results you deserve. If you want to make sure you receive the maximum amount of compensation possible, one of the best steps that you can take is promptly retain the assistance of a skilled attorney. Contact Gerson & Schwartz, PA today to schedule a free case evaluation.