Miami Dade Truck Accident Attorney
Truck Accident Attorney in Miami Dade Representing the Rights of Drivers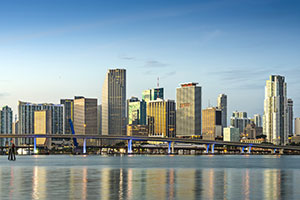 Trucks accidents can prove devastating to the lives of those who are injured in them. Trucks on average weigh 10,000 lbs, approximately 20-30 times more than passenger cars. As a result, they are more likely to cause serious injuries and fatalities in an accident. As reported by the Federal Motor Carrier Safety Administration (FMCSA) 480,000 large commercial vehicles were involved in accidents in a single year in the United States. Reports further showed that 97,000 of these crashes resulted in serious injuries and 3,838 accidents caused fatalities. In Florida alone there are on average 4,400 traffic related deaths yearly, 350 of these are truck related.
With the high numbers of traffic accidents and injuries across the United States, including Florida, it is important that victims of truck driving accidents are aware of their rights. If you or a loved one were hurt in a truck accident and now find yourself struggling with injuries, medical bills, and other losses it is important that you reach out to a truck accident specialist at the Law offices of Gerson & Schwartz at (877) 475-2905 to discuss your case.
Types of Truck Accidents
Head-on Collision - The impact of head-on collisions usually causes incapacitating or fatal injuries.
Sideswipes - Tractor trailers have large blind spots on either side and behind the vehicle. Truck drivers may overlook cars riding along in an adjacent lane and try to change lanes, causing a sideswipe accident. Sideswipe accidents also occur when trucks drift out of their lanes.
Runaway truck - When a driver loses the ability to slow down or stop a truck, the momentum and weight of the truck can cause it to barrel down the highway. This commonly happens when a truck is driving downhill but also happen on even ground, as well.
Jackknife - A jackknife accident may occur when a truck driver slams on the brakes, causing the trailer to swing out at an angle to the cab, like a pocket knife folding together. A jackknifing trailer can collide with any cars in the adjacent lane, causing widespread damage and injury.
Rollover - Large trucks have an increased likelihood of a rollover, particularly if the trailer is improperly loaded or if the cargo shifts. Trucks can also rollover due to driving too fast in high winds, over-correcting errors, and performing other sudden driving maneuvers. Trucks that rollover may not only crash onto other vehicles but also cause a blockade in the road that leads to chain-reaction crashes.
Rear End Collision - Rear end collision are among the most common type of collisions involving large trucks, accounting for nearly a quarter of accidents in Large Truck Crash Causation Study. When a truck rear-ends a smaller vehicle, the truck may actually drive onto the back of the car. Sometimes, the truck can even push into the backseat, which is usually deadly for any backseat passenger.
Underride Accidents - An underride can occur when a small car crashes into the back of a truck because the truck suddenly stopped or changed lanes improperly. In such cases, the front of the smaller vehicle can become wedged underneath the truck, often killing motorists in the front seat. Despite trucks having guards to prevent this type of crash, underride collisions still occur.
Bridge Collision - Bridge collisions are caused when a driver who strikes a bridge comes to a sudden halt and precipitates a rear-end collision with the vehicle following behind.
Cargo spill - A cargo spill is where cargo falling out of a trailer or off of a flatbed truck strikes another car or causes cars to crash due to obstacles in the road.
How Miami Dade Lawyer Can Help
Truck collisions litigations tend to be more complex than with other vehicles because companies typically own them. Besides, severe injuries and fatalities are more likely with semi-truck collisions, and insurance company practices and policies will be much more complex than with other vehicles. If you have been injured by a truck operated by a commercial trucking company you can be sure that they will hire lawyers immediately after a truck accident and have them on the scene the same day, if possible. You should do the same. As a result, it would be in your best interest to discuss your matter with a Miami Dade lawyer who has experience in a truck accident litigation. The lawyers at Gerson and Swartz know the importance of preserving all the important pieces of evidence for you in order to support your case.
Discuss Your Situation now With an Experienced Miami Dade Truck Accident Lawyer
The legal team at Gerson & Schwartz, P.A. regularly represents clients in insurance claims and personal injury claims in court following serious accidents and injuries. If you or a family member has been injured, please call the experienced truck accident attorneys at Gerson & Schwartz, P.A. Call now to schedule your free consultation at (877) 475-2905.