Miami Lakes Bicycle Accident Attorney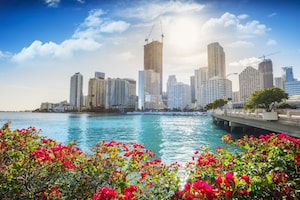 Have you been seriously injured in a Miami Lakes bicycle accident? You are not alone. Florida leads the United States statistics in bicycle deaths. Many of those happen in Miami-Dade County including in Miami Lakes. In fact, for the 30,000 people who live in Miami Lakes, there are more than 100 parks over an area of 6.5 square miles. It also has numerous bike paths and a town center called Main Street. The residents of Miami Lakes also enjoy cycling for fun but also for serious sport. In the early hours you will find bicycle clubs which can include more than 25 riders. With all these options for bicycle riding and cycling in Miami Lakes, it makes sense that accidents will happen. If you or a loved one were severely injured in a bike accident there, then it makes sense that you would seek the best Miami Lakes bicycle accident lawyer for advice.
We invite you and your loved one to call us at the Gerson & Schwartz for help. Senior Partners Philip M. Gerson, Nicholas I. Gerson, and Edward Schwartz, are Miami Lakes Premises liability lawyers and understand what needs to be done. We are here to help investigate how the accident occurred and why. And more importantly, who is responsible. After a bike crash you are likely to have medical bills and expenses, and lost wages. You may even have a wage loss claim or need money to help provide rehabilitative care. That's why you need experienced legal help. Our Miami Lakes bicycle accident lawyers are available for free consultations at (305) 371-6000 or at our offices. We have represented bicycle accident victims in Miami Lakes for more than four decades and we are ready to help you as well. Call us and allow us the opportunity to answer your questions about your Miami Lakes bicycle accident.
Miami Lakes Bicycle Accidents
Here at the Miami personal injury law firm of Gerson & Schwartz, our Miami Lakes bicycle injury lawyers regularly help bicycle accident victims. We have provided personal injury legal representation in these functions:
Miami Lakes Road Rage Motorcycle Bicycle Accident Lawyer
Attorneys for Head-on Collisions with Bicycles in Miami Lakes
Miami Lakes Lyft Driver Bicycle Accident Lawyer
Miami Lakes Uber Bicycle Accidents Attorney
Miami Lakes Left-Turn Bicycle Accident Lawyer
Miami Lakes Bicycle Riders Rear-end Collision Attorney
Lawyer for Miami Lakes Bicycle Accidents Involving Buses
Bicycle Pedestrian Injury Accident Lawyer in Miami Lakes
Miami Lakes T-bone Bicycle Accident and Injury Attorney
Taxi Bicycle Accident Attorneys in Miami Lakes
Miami Lakes Bicycle Accident Wrongful Death Attorney
Miami Lakes Parking Lot Bicycle Accident Lawyer
Drunk Driving Bicycle Accident Attorney in Miami Lakes
Miami Lakes Scooter Bicycle Accident Attorney
Miami Lakes Bicycle Accident Lawyers
Bicycle riders take many forms. Some are just children riding their bikes in the neighborhood. Others can include teens who are not old enough to drive cars. Many people enjoy their bikes at all ages for pleasure or exercise. But most bicyclists know and understand that they must be extremely careful. In fact, vehicle drivers and even pedestrians can be hostile and aggressive towards bicyclists.
Most people understand the rules of the road. Drivers of bikes, vehicles and any other mode of transportation should drive defensively. But there are drivers who fail to treat bicyclists as required under the law. It is no different in Miami Lakes. There are drivers who fail to yield the right-of-way. Others who fail to stay in their lane of traffic and collide with bicyclists in bike lanes. Sometimes, drivers back up without looking for bicyclists or pedestrians. Since bicyclists don't have the benefit and protection of a vehicle, bicycle accidents in Miami Lakes and throughout Miami-Dade County unfortunately result in serious and sometimes fatal injuries.
Our Miami Lakes bicycle accident lawyers at the Gerson & Schwartz Law Firm can help. Let us build a strong case for you and negotiate with the insurance company for the compensation that you deserve. You may be entitled to recover for medical bills, medication and medical devices expenses, lost wages, loss of financial support, funeral costs in case of wrongful death, pain and suffering, and other injury-related expenses depending on the injuries or losses you've suffered. Call us today at (305) 371-6000 and let's see what can be done. In Miami, you can find us at 1980 Coral Way in Miami. We don't ask for fees unless we recover for you.