Miami Lakes Premises Liability Lawyer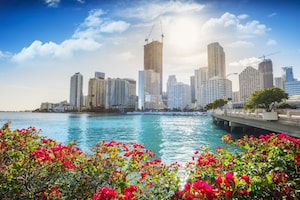 When you spend time in a commercial business such as shopping mall, restaurant, nightclub, convenience store, gas station, hotels, resorts, motels, and others, the last thing that comes to your mind is that in a while you'll end up wounded and in need of medical help. Nevertheless, these things happen and more often than you would ever think. People usually don't see all the accidents occurring around them. But we, as Miami Lakes personal injury lawyers, receive calls by folks injured at premises managed and controlled by someone who had a duty to protect the visitors, but failed to do so. We've been informed about many accidents; hence we are aware of the risks and can advise you on the possible consequences.
But, if you've got injured at someone else's premises in Miami Lakes already, then you should call our Miami Lakes premises liability attorneys at the Miami law firm of Gerson & Schwartz as soon as possible. It is very important to get legal advice right after sustaining your injuries. Injured people who were hurt due to someone else's fault may be entitled to compensation.
Led by Senior Partner Philip M. Gerson, Nicholas I. Gerson, and Edward Schwartz, our Miami Lakes Premises Liability lawyers understand what needs to be done. We are here to help how the accident occurred and why. And more importantly who is responsible. After an accident you are likely to have medical bills and expenses, and lost wages. You may even have a loss of earning capacity or need money to help provide rehabilitative care.
To get the full and fair compensation that you deserve after your accident in Miami Lakes, you'll have to take the right steps from the beginning. That's why you should call us at (305) 371-6000 and have a free consultation with our Miami Lakes premises liability lawyers. Let's see what the circumstances of your case are, if you are entitled to damages recovery, and how to get the compensation you deserve. We never ask for fees until we recover for our clients. Our Miami offices are located at 1980 Coral Way in Miami.
What is Premises Liability and Why is That Important to You?
If you or a loved one has been injured at premises under someone else's control, that's of utmost importance for your personal injury case. You should know that under Florida premises liability laws, premises operators and owners are obliged to provide their visitors reasonably safe environment. That means that they should take all reasonable steps to provide safe premises for them. This includes avoiding foreseeable hazards. However, they sometimes make mistakes. Mostly due to negligence, they breach the duty of care and accidents occur and innocent people are injured. In that case, they may be liable to pay for the damages and injuries sustained due to their mistakes.
It is important to note that not every injury suffered at premises of malls, nightclubs, retail stores, and so on, fall under premises liability and negligence laws. Imagine that you are in a convenience store and you slip and fall on a liquid spilled by you just seconds ago. In that case, you caused the accident and the injuries yourself, so the responsibility is on you. But if you slip and fall on a slippery floor after floor cleaning and there was no warning sign, then the responsibility may fall on the convenience store or the person who controls the premises. Assigning responsibility for an accident usually requires a thorough investigation and an analysis with a top Miami Lakes premises liability lawyer.
Miami Lakes Premises Liability Attorneys
You may be able to recover for any kind of injuries sustained at premises in Miami Lakes. Our attorneys can assist you as:
Miami Lakes slip and fall lawyers
Miami Lakes trip and fall attorneys
Miami Lakes negligent security injury lawyers
Miami Lakes crime victim compensation attorneys
Miami Lakes premises liability injury attorneys
Miami Lakes apartment complex injury lawyers
Miami Lakes gas station injury attorneys
Miami Lakes convenience store injury lawyers
Just call our Miami Lakes premises liability lawyers, and they will help you determine whether the person who controls the premises was liable for your injuries. If they were, we at the Gerson & Schwartz law firm can represent you to seek compensation that you are entitled to receive. Call us now at (305) 371-6000 for free consultations. We can talk on the phone, have a meeting at our office at 1980 Coral Way in Miami, or somewhere else that suits you. We don't ask for fees before recovering for our clients.