Miami Virgin USA Train Accident Lawyer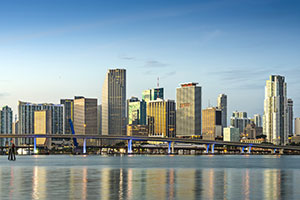 If you or a loved one were the victim of a serious Virgin train accident, call a Miami Virgin train accident lawyer at Gerson & Schwartz P.A. as soon as possible. Our firm has 50 years of experience, and we have represented many individuals injured in transportation accidents involving trains as well as those injured onboard passenger and commuter trains. We have the knowledge, experience, and keen insight you need to pursue fair compensation for your injuries or the loss of a loved one.
Before speaking with an insurance company for the train or railroad company, we recommend talking with an attorney who will explain your rights, your legal options, and the potential value of your claim. You should be fully informed before you participate in the insurance claim process or decide to file a lawsuit.
At Gerson & Schwartz P.A., we ensure there are as few hurdles as possible for you to receive accurate legal information and guidance. You can reach our Virgin train accident attorneys in Miami through our online form or call us at (877) 475-2905 to schedule a free, no-obligation consultation.
Virgin Renames Brightline Trains in South Florida
In March 2019, South Florida's Brightline commuter trains were renamed and rebranded as Virgin Trains USA.
Since 2018, Virgin trains have served downtown Miami, Fort Lauderdale, and West Palm Beach. These cities may see additional stations in the future, such as at Fort Lauderdale-Hollywood International Airport and Port Miami. The plan is for train lines to extend to Orlando, Tampa, and Disney World. There have been additional talks to take Virgin trains to Fort Piece, Sebastian, Stuart, and Vero Beach, Florida.
The high sped rains reach up to 79 miles per hour, allowing commuters to avoid traffic congestion on I-95 and the Florida Turnpike. Commuters can move between Miami and Fort Lauderdale in 35 minutes and from Fort Lauderdale to West Palm Beach in 40 minutes.
The Virgin commuter trains are a boon for the area, but like all modes of transportation, they come with risks. Since the Brightline trains were unveiled, they have been involved in several accidents, including those leading to fatalities. If you were injured or a relative was killed in an accident with a Brightline, now Virgin train, then it is essential they call us to speak with a Miami Virgin train accident attorney.
Virgin Trains Involved in Several Crashes & Fatalities
Virgin Trains, which were originally tested and branded as Brightline, have been up and running since test runs began in summer of 2017. The trains officially launched service in May 2018. Since testing began, the trains have been linked to 15 deaths and at least 10 serious injuries. All of the fatalities for the Virgin Trains were linked to pedestrians, while many of those seriously injured were motorists.
Whether your loved one was a pedestrian and the victim of a deadly train accident, or you were injured in a vehicle-train collision, a Miami Virgin train accident lawyer from Gerson & Schwartz P.A. is here to help.
Common Causes of Train Accidents
Trains, like driving and flying, are relatively safe modes of transportation. However, there are always flaws and dangers. Trains require many employees and others to act carefully and responsibly. When one person is negligent, the risk of a collision, derailment, or other type of accident increases.
Train accidents in Miami and throughout Florida may occur because of:
Conductor distraction
Conductor fatigue
Conductor inexperience or negligent training
Other conductor negligence
Inadequate or defective warning devices
Crossing gate malfunctions
Miscommunication between railroad employees
Improper track maintenance
Broken rails
Defective train equipment
Mechanical or electrical failure
Inappropriate speed
An object, person, or vehicle on the tracks
If you were injured or a loved one passed away due to a Virgin train accident, you are unlikely to know exactly what happened and why. It is important to contact a Virgin train accident lawyer in Miami to investigate the incident. Our train accident lawyers at Gerson & Schwartz P.A. are highly experienced in investigating train accidents and getting to the bottom of what happened.
How Our Virgin Train Accident Attorneys in Miami can Help
Once you contact us regarding your circumstances, we believe in acting promptly. An experienced personal injury and wrongful death lawyer from Gerson & Schwartz P.A. will immediately investigate the cause of the train accident, which includes gathering as much evidence as possible.
We may recommend filing a lawsuit against the owner of the train or tracks right away. Through the litigation process, we have the opportunity to gather additional evidence and information.
As we build you the strongest case possible, we will work with you, your medical providers, and experts to determine the full extent of your physical, psychological, and financial injuries. This enables our Miami Virgin train accident lawyers to calculate the potential value of your claim.
If you were injured in a Virgin train accident in Miami, will pursue the maximum compensation possible for your:
Medical Expenses
Lost Wages
Pain and Suffering
Mental Anguish
Disfigurement
Disability
Inability to Lead a Normal Life
Loss of Earning Capacity
Wrongful Death Compensation for a Fatal Virgin Train Accident
If you lost your parent, spouse, or child, speak with a Miami Virgin train accident attorney about pursuing a wrongful death claim. You may have the right to file a wrongful death lawsuit and seek compensation for the practical, financial, and emotional injuries associated with your loss.
We will fight hard for you to receive compensation for:
Medical Expenses
Funeral and Burial Expenses
Loss of Your Relative's Income
Loss of Future Inheritance
Loss of Your Relative's Services
Loss of Parental Guidance
Loss of Decedent's Companionship and Society
Family Member's Grief, Emotional Distress, and Mental Anguish
Contact Our Miami Virgin Train Accident Lawyers Today
To learn more about pursuing compensation after a dangerous incident involving Virgin Trains in Miami, Florida, contact Gerson & Schwartz P.A. through our online form or call (305) 371-6000.