Nicklaus Hospital Accident Lawyer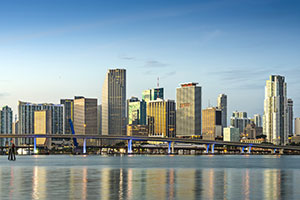 If your child was involved in a serious accident, you want them to receive the best medical care and legal representation possible. To work with a highly skilled and experienced accident lawyer for Nicklaus Hospital, call Gerson & Schwartz P.A. today.
Following an accident, your child may be immediately taken or later transferred to Nicklaus Children's Hospital. The main campus' urgent care center and emergency room are located at 3100 SW 62nd Avenue in Miami, Florida. Another urgent care center is located at 11521 South Dixie Highway, Pinecrest, Florida. Once your child's condition has stabilized, or if your child passes away from their injuries, we recommend you contact our Nicklaus Hospital accident lawyers at Gerson & Schwartz P.A. Our team is comprised of highly experienced and bilingual personal injury and wrongful death attorneys. We will thoroughly investigate the accident, determine who is at fault for your child's injuries, and advise you on your legal options.
In addition to our personal injury and wrongful death experience, we also handle medical malpractice claims. If you believe your child was harmed due to negligent medical care received at Nicklaus Children's Hospital, do not hesitate to call us at (877) 475-2905.
Nicklaus Children's Hospital
Nicklaus Children's Hospital was founded in 1950. It opened its doors as Variety Children's Hospital as the polio epidemic was spreading across the U.S. The hospital soon focused on treating children with polio, and over the years, it services grew. In 1983, the hospital was renamed Miami Children's Hospital. Then, in 2001, the hospital campus was renovated and expanded. In 2015, when the hospital turned 65 years old, it was renamed Nicklaus Children's Hospital after receiving a pledge from the Nicklaus Children's Health Care Foundation.
Now, Nicklaus Hospital has 289 beds, 650 attending physicians, and more than 130 pediatric sub-specialties. The hospital offers primary care, emergency care, and dental care for children throughout Florida. It has been verified as a Level 1 Pediatric Trauma Center by the American College of Surgeons. Each year, it contributes between $16 and $20 million in uncompensated care.
The hospital has been awarded many distinctions over the years. For 2018-19, U.S. News ranked Nicklaus Children's Hospital nationally in six children's specialties: neonatology, pediatric cardiology and heart surgery, pediatric neurology and neurosurgery, pediatric orthopedics, pediatric pulmonology and lung surgery, and pediatric urology.
Is Your Child Being Treated at Nicklaus Children's Hospital?
As experienced Nicklaus Hospital accident and injury attorneys, we often see children brought to Nicklaus Children's Hospital following:
Car Accidents in Miami
Bicycle Accidents in Miami
Pedestrian Accidents in Miami
Other Motor Vehicle Accidents in Miami
Premises Liability Accidents in Miami
Miami Slip and Fall Accidents
Dog Bites or Animal Attacks in Miami
Child Injuries in Miami
Day Care Facility Injures in Miami
Cruise Ship Accidents in Miami
Miami Maritime and Boating Accidents
Child Sexual Abuse Crimes in Miami
If you believe your child's injuries and their need for medical care is someone else's fault, call our accident attorneys for Nicklaus Hospital as soon as you can. We are highly experienced in working with young patients and their doctor's at Nicklaus Hospital.
Nicklaus Children's Hospital is Prepared to Treat all Types of Injuries
Because of another person's carelessness, recklessness, or intentional misconduct, the physicians at Nicklaus Children's Hospital may treat them for:
Broken bones
Lacerations
Soft tissue injuries
Burns
Concussions
Brain injuries
Neck and back injuries
Spinal cord injuries
Nerve damage
Internal injuries
Amputations
Poisoning
Inhalation/respiratory injuries
Eye injuries
Whatever the type and extent of your child's injuries, any time you believe another adult is responsible, call our accident lawyers for Nicklaus Hospital right away. We will get to the bottom of what happened and identify the liable party. We immediately and aggressive pursue independent investigations once a client hires us for their claim.
Do You Believe Your Child was Hurt by Medical Malpractice at Nicklaus Hospital?
Your child may have gone to Nicklaus Children's Hospital for treatment of an injury, medical condition, or disease. While there, you may have seen their condition get worse, or they may have been diagnosed with a new injury or condition. You may believe this was caused by a physician's negligent care. You may believe the physician made an avoidable mistake, which led to a preventable harm.
Under these circumstances, you should talk with a Nicklaus Hospital accident attorney about what is going on and whether there is evidence of medical malpractice. We will carefully review your child's medical records and talk with a medical expert to determine whether your child's medical providers upheld the standard of care. If there is evidence of medical negligence, then we can talk with you about pursuing compensation through a medical malpractice claim.
Our Nicklaus Hospital Accident Law Firm is Here to Help
When your child is hurt, as a parent, you want to do everything you can to make the situation better. You want them to get the best medical care possible, and if someone else is at fault, you want to hold them responsible. Through a personal injury claim or medical malpractice lawsuit, you can pursue compensation for your child's medical expenses, your lost expenses in caring for them, your child's pain and suffering, disfigurement, disability, and other damages.
To talk with an attorney about your child's situation and whether you have the right to pursue compensation through a lawsuit or insurance claim, call Gerson & Schwartz P.A. at (305) 371-6000 or contact us online to schedule a free consultation.