North Bay Village, Florida Motorcycle Accident Lawyers
Experienced Motorcycle Accident Attorneys in North Bay Village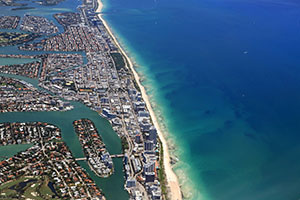 Although North Bay Village is less than one square mile, it is a popular destination for those who are in the Miami, Florida area. Many people will rent a boat to spend the day on the water or enjoy lunch at Rico Sandwich Café. This is a popular area for all sorts of recreation, including a day trip on a motorcycle. Occasionally, North Bay Village motorcycle accidents happen. If you were injured in a motorcycle accident on John F. Kennedy Causeway or another road, you might be worried about your future.
Motorcycle accidents leave victims with devastating injuries and frequently keep them from returning to work. Fortunately, help is available. At Gerson & Schwartz, our North Bay Village motorcycle accident injury lawyers represent accident victims in some of the toughest cases in South Florida, and we are here to help you. We have over forty years of experience working with clients who have been hurt in motorcycle accidents. We offer a free consultation so call us today at (877) 475-2905 or contact us online to set up an appointment.
How Motorcycle Accidents Happen
The North Bay Village motorcycle accident attorneys at Gerson & Schwartz handle serious personal injury claims for clients in all types of motorcycle accidents. Some of the more common causes of motorcycle accidents include the following:
Speeding
Failing to yield
Failing to obey traffic signals
Failing to check blind spots when switching lanes
Distracted driving , texting and driving motorcycle accident
Motorcycle accident due to talking on the phone
Motorcycle crashes for failing to use a turn signal
Drunk driving motorcycle accidents
Driving while intoxicated or under the influence of drugs
However accidents occur, they can cause devastating injuries which injured motorcyclists will have to live with, some for the rest of their lives. Many motorcycle accident victims suffer paralysis, traumatic brain injuries, and spinal cord injuries, not to mention amputated limbs and shattered bones.
How Wearing a Helmet Helps Your Case
Studies have shown that motorcycle helmets help save lives and reduce the risks of injuries. In fact, wearing a helmet reduces the risk of death by 37% and reduces the risk of head injuries by 69%. The best thing you can do is wear a helmet.
Florida law does not require that all motorcyclists wear helmets. Instead, the law creates a rather large exception for those who are at least 21 years old and who carry at least $10,000 in medical insurance coverage.
If you do not wear a helmet, you are hurting yourself in another way. Florida law recognizes that accident victims sometimes contribute to their injuries through their own negligence. For this reason, if you do not wear a helmet, then you might be partially responsible for your injuries, which will reduce the amount of compensation you can receive by your percentage of fault. Someone with injuries worth $100,000 who is 50% responsible, will only receive $50,000.
What a Motorcycle Accident Lawyer in North Bay Village Can do for You
Many motorcycle accidents require extensive investigation to uncover exactly what happened. After a collision, victims might not remember what happened or might be in too much pain to communicate effectively. If your case is contested, you will need high-quality evidence that the driver was responsible for the collision.
At Gerson & Schwartz, we can fully investigate your case by finding the following, if appropriate and available:
Surveillance video. Many businesses have video of their parking lots and adjoining streets. The video might capture how you were injured.
Eyewitness testimony. Someone might have seen the collision and can testify as to what happened.
Medical records. These will show the severity of your injuries and also can identify the point of impact.
Your damaged motorcycle. Your bike's damage can show the point of impact and how fast the driver was travelling.
After filing a lawsuit, we can use discovery techniques to uncover even more information:
We can ask the driver questions under oath, either in written form or in a face-to-face deposition.
We can request documents from the driver.
We can get the driver to admit or deny key facts in the case.
We can request documents from third parties such as the driver's cell phone provider, so that we can check if they were talking on the phone when they hit you.
Speak With a Motorcycle Accident Lawyer in North Bay Village
With our client-centered focus, the North Bay Village motor accident lawyers at Gerson & Schwartz remains committing to reaching the most favorable result for our clients in North Bay, Florida. This can include settling with the driver's insurance company or filing a lawsuit in court. Our attorneys have decades of experience pursuing claims on behalf of injured motorcyclists, and we know how to prove the driver was at fault for your injuries. Reach out to us today by calling (877) 475-2905 or filling out this contact form. We offer free consultations and will only collect legal fees from you if we obtain compensation on your behalf.