North Bay Village, Florida Slip and Fall Lawyers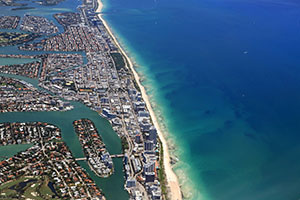 The City of North Bay Village has a year-round population of approximately 8,000 residents, and is a popular spot for vacationers. Surrounded by Biscayne Bay, this small town located just north of downtown Miami, is a beautiful place to spend the afternoon. North Bay Village has many popular bas, restaurants and other business establishments. North Bay Village is also home to many Brazilian nationals. With the sheer number of people who live in and pass through North Bay Village every year, slip and fall accidents are an unfortunate part of life. Slip and falls are preventable and avoidable. They are one of the more common types of accidents in which people can suffer serious injuries. For these reasons slip and fall accident victims need to hire qualified attorneys to obtain compensation.
At Gerson & Schwartz our North Bay Village slip and fall attorneys represent accident victims who have been injured in slip and falls on public or private property. If you have been injured in a slip and fall accident in the North Bay Village, Florida area, or live in the area and were injured in another part of Miami Dade County contact us for help. Our Miami based personal injury law office is ready to help protect and enforce your legal rights. We offer a free initial consultation where we can review the details of your case. Call us today at (305) 371-6000 or toll free at (877) 475-2905 or contact us online.
Common Trip or Slip Hazards in North Bay Village
North Bay Village might be less than one square mile, but many there are many slip-trip- and fall hazards abound. You can slip and fall anywhere, whether in public, at a business, or in a private home. Some of the hazards that commonly cause slip and falls include. Our slip and fall accident attorneys routinely help clients injured clients in North Bay Village in slip and falls due to:
Wet, foreign, or transient substances on the floor, such as liquids or small objects
Freshly mopped or waxed floors that are slick
Uneven floors or sidewalks
Worn carpet
Rickety or rotten steps
Loose handrails
Holes in the floor, sidewalk, or parking lot
Natural debris such as leaves, rain, or sticks
Electrical cords running across floors
Slip and Fall Attorneys Representing Accident Victims in North Bay Village
Furthermore, you might trip because the lighting is so poor that you can't see where you step or because the light is so bright that the glare blinds you. Whatever the reason, you should consult with a slip and fall accident attorney to analyze whether you can hold the property own responsible for your injuries.
Slips and Falls Can Cause Serious Injuries
Slip and falls and cause serious injuries that can take months to recover from. Some of the more serious injuries due to this type of accident include:
Broken bones
Pinched nerves
Cuts, scrapes, and lacerations
Dislocated joints
Sprains
Strains
Knee injuries
Head injuries, including traumatic brain injuries
Compressed vertebrae
Herniated discs
Each of these injuries, and many others, require immediate medical intervention to keep from worsening. For example, a simple cut, if left untreated, can become infected, potentially causing even more serious complications. As soon as possible, get to a nearby hospital or call emergency services.
Trust Our Experience for Your Slip and Fall Accident Claim
Not all lawyers are the same. Some attorneys have experience in only one field of law, such as divorce or estate planning, while other lawyers have only recently begun to practice law. When meeting for a free consultation for a slip, trip or fall, always ask how much experience the lawyer and law firm has in premises liability cases. Find out how much experience the lawyer has handling cases like yours since experience and know-how is essential to recovering full case value.
At Gerson & Schwartz, our personal injury law offices are conveniently located close to North Bay Village. We also bring over 100 years of collective experience to work for our clients. Founded by Philip M Gerson in 1970, Gerson & Schwartz PA lawyer have secured numerous favorable verdicts and settlements for clients injured in slip and fall accidents and other serious personal injury claims in North Bay Village, including: Some recent success stories include:
$700,000 jury verdict for a client who slipped on a cruise ship.
$350,000 settlement for a client who slipped in a residential condominium
$140,000 settlement for a client who slipped and fell on the restaurant floor of a cruise ship.
$200,00 settlement for a client who slipped on a gangway slick from rain. The client needed a total knee replacement.
No two personal injury cases are the same and no ethical attorney can promise a specific result. However, we will fully analyze your claim to see if you qualify for compensation for any of the following:
Past and Future Medical expenses: doctor's visits, hospital stays, surgery, and prescription drugs
Lost wages: any income lost as you recovered from your injuries
Emotional distress: compensation for anger, embarrassment, grief, anxiety, and depression
Pain and suffering: compensation for the pain that accompanies any physical injury
We Only Get Paid if You Get Paid
Many of our clients feared picking up the phone because they believed they could never afford our services. Gerson & Schwartz's slip and fall accident lawyers assist client injured in North Bay Village. We also handle all personal injury cases on a contingency, meaning we only get paid if we reach a favorable resolution to your case, such as a jury verdict or settlement. At that point, we will take a percentage of the amount, and you will go home with the rest.
Call Gerson & Schwartz PA Slip and Fall Accident Attorneys Serving Client's Injured North Bay Village, Florida
If you have injured yourself in a fall in North Bay Village, time is of the essence. You generally only have four years from the date of your fall to bring a lawsuit for compensation. At Gerson & Schwartz, we will protect your legal rights by fully investigating your claim and aggressively seeking to maximize the amount of compensation available. Contact us today by calling (305) 371-6000 or (877) 475-2905 or by filling out our online contact form.