North Bay Village Truck Accident Attorney
Truck Accidents in North Bay Village Representing the Rights of Victims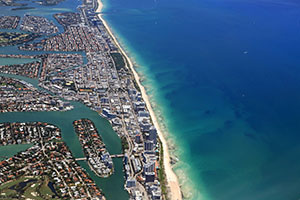 The two leading factors attributed to the high rate of accidents involving trucks are driver fatigue and reckless motorist. As reported by the Federal Motor Carrier Safety Administration (FMCSA) 480,000 large commercial vehicles were involved in accidents in a single year in the United States. According to the Fatality Analysis Reporting System (FARS), there are approximately 35,000 fatal crashes every year in the US, with eight percent of these involving big rigs or other large truck.
What Should I do Immediately After an Accident
Hire a lawyer right away. While you are recovering from your injuries, the truck companies are investigating the accident and setting up their defense. Time is of the essence in these matters so do not delay.
Do not give out any statement regarding the accident.
Do not sign any releases for medical records or employment records (these releases allow adjusters to talk to your doctors and employment without you being present)
Truck Federal Insurance Requirements
The Federal Motor Carrier Safety Regulation requires commercial vehicles traveling in interstate commerce to carry $750,000 of insurance for bodily injury and property damage resulting from trucking accidents. According to Florida Highway Safety and Motor Vehicles, commercial trucks are required to carry a minimum of $10,000 of Personal Injury Protection (PIP) and $10,000 of property damage liability (PDL).
Do I Have a Claim?
If you are injured or if you have a loved one who has been killed in a trucking accident you may sue for your injury or death case. In a truck collision case, you may be able to bring a claim against a myriad of people such as the other driver, the employer of the driver, the manufacturer of a product that caused the crash, and a government entity. Because of the complexities involved with deciding the proper defendant and possible causes of action, it is important to hire experienced counsel. In a truck collision accident, time is of the essence, so it is important that you hire a lawyer as soon as you are injured to help preserve the evidence, as the truck company will most likely be on the scene the same day.
How North Bay Village Accident Attorney Can Help
If you have been injured by a truck operated by a company you should be assured that they will hire lawyers immediately after a truck accident and have them on the scene the same day, if possible. You should do the same. As a result, it would be in your best interest to discuss your matter with a North Bay Village lawyer experience in truck accident litigation. The experienced lawyers at Gerson and Swartz know the importance of preserving all the critical pieces of evidence for you, taking the necessary statements and photographs to support your case. Our truck accident lawyers in North Bay Village represent injured victims due to:
Rear End Collisions
Failure to Yield Truck Accidents
Side Impact Truck Collisions
Head on Truck Accidents
DUI Truck Accidents
Distracted Driving Truck Accidents
Motorcycle Crashes
Uber v. Truck Accidents
Accidents and Commercial vehicles
Bicycle Accidents
Pedestrian Accidents with Truck Drivers
What Should You Expect From Your North Bay Valley Lawyer?
At Gerson & Schwartz P.A we put our clients needs as our top priority. With over 50 years of experience working with truck accident victims, we have extensive knowledge on this process. We will start by scheduling an initial evaluation to talk about the details of your case. In this first meeting, we might ask some of the following questions:
What medical costs have you incured and what are your expected future medical costs?
Who should be held liable for the accident?
Has your personal life been impacted by the accident?
Are there other contributing causes to the harms and losses?
What are the long-term physical and emotional effects on the injury victim and the family members?
Discuss Your Situation With an Experienced North Bay Valley Truck Accident Lawyer now
The legal team at Gerson & Schwartz, P.A. regularly represents clients in insurance claims and personal injury claims in court following serious accidents and injuries. If you or a family member has been injured, please call Gerson & Schwartz, P.A. a North Bay village truck accident attorney at (877) 475-2905 or contact us online to schedule your free consultation.