North Miami Bicycle Accident Lawyer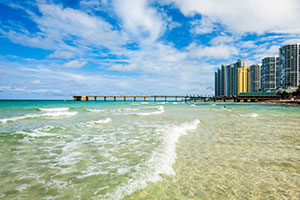 North Miami weather is perfect for moving around on bicycles, but its streets were not made for that. The poor infrastructure design and the terrible driving habits of Floridians and tourists lead to many bicycle accidents. Despite the many known benefits of cycling, motor vehicle drivers still behave as if the cyclists have no place on the same road with them. That's a very sad truth that contributes to many injuries. Cyclists are being hit all the time, and sometimes even lose their lives. They are protected only by their helmet, but that's not enough in more serious accidents. Hence, cyclist injured in North Miami can suffer from spinal injuries, head injuries, broken bones, and other serious injuries. Those injured in North Miami bike accidents may be entitled to damages compensation for pain and suffering, medical costs, lost income, and other injury-related damages.
If you need to determine whether you should pursue financial compensation for your North Miami bicycle accident, then call the bilingual North Miami bicycle accident lawyers at Gerson and Schwartz. We have helped injured victims of negligence recover damages for the last four decades. Contact us at (305) 371-6000 for free consultations, and we will explain your compensation options to the best of our knowledge.
We handle cases on a contingency basis, which means that we charge fees only and when we get compensation for our clients. Until then, you pay nothing.
North Miami Bicycle Accidents
North Miami is a city of 62,000 people in the north of Miami-Dade County. It has a large African-American population as well as the second-largest Haitian population in the US. The city is governed by a council-manager system. The mayor is being elected at large, while the four North Miami districts elect the members of the council. This city is located east of I-95, south of North Miami Beach and north of Biscayne Park. The other cities on their borders include Westview, Sunny Isles Beach, Golden Glades, Pinewood, and Opa-Locka.
Over 20 bicycle crashes per year occur in North Miami. If you are seriously injured in a North Miami bike accident, our North Miami accident attorneys can help you in these capacities:
Intersection Bicycle Accident Lawyer in North Miami
Head-on Collisions with Bicycles Attorneys in North Miami
Sideswipe and Merging Bicycle Accident Lawyer in North Miami
Injury Lawyer for North Miami Bicycle Accident with Uber Drivers
Accident Attorney for Bicycle Accidents with Lyft Drivers in North Miami
Left-Turn Bicycle Accident Attorney in North Miami
North Miami Road Rage Motorcycle Bicycle Accident Lawyer
Lawyer for Wrongful Death Claims Due to Bicycle Accidents in North Miami
Attorney for Drunk Driving Bicycle Accidents in North Miami
North Miami Bicycle Accident Law Firm Involving Uber or Lyft Drivers
Bicycle Pedestrian Injury Accident Attorney in North Miami
Lawyer for Delivery Driver Bicycle Accidents in North Miami
Attorney for North Miami Bus Accidents with Bicycle Riders
Personal Injury Lawyer for Rear-end Collision Accidents with Bicycle Riders in North Miami
North Miami Bicycle Accident Attorney
At Gerson & Schwartz, we have practiced personal injury law for more than 50 years. Based on our experience, we know that a good North Miami accident lawyer can make the difference between a successful and unsuccessful bike accident compensation case.
If you are reluctant to hire a North Miami bicycle accident attorney yet, you can start with your free initial consultation with our North Miami personal injury attorneys at Gerson and Schwartz. Tell us about your case, and we will tell you about your options free of charge. Then you'll know if you should pursue compensation with a lawyer or not. Reach us at (305) 371-6000. We don't ask for fees until we recover damages for our clients.