North Miami Motorcycle Accident Lawyer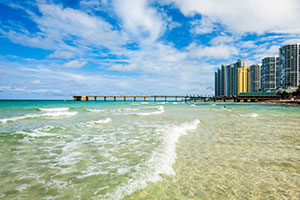 The North Miami motorcycle accident lawyers at Gerson & Schwartz, P.A have over 43 years of experience protecting the rights of injury victims in the Miami area. We are skilled in handling the unique needs of motorcyclists and work hard to ensure that the motorcycle accident victims we represent obtain the maximum compensation available under Florida law.
North Miami, Florida, started as a farming community. It survived the Depression and World War II years and was rewarded with rapid population growth by the returning servicemen and their families. Today, North Miami is home to many families and children. It has an extensive system of schools, public libraries, and a free bus system that serves nearly 200,000 riders each year. North Miami is also home to many motorcycles … including a police fleet of Harley-Davidsons.
Why Are Motorcycles So Dangerous?
Many state, federal, and private agencies (including the National Highway Transit Safety Association, the Governors Highway Safety Association, the Insurance Institute for Highway Safety) have studied the safety risks associated with motorcycle riding. Some of the most commons risks include:
Lack of helmet use. Research has demonstrated that states with mandatory helmet laws consistently report fewer motorcycle deaths.
Lack of rider education. A disturbing number of motorcycle accidents are causes by riders who do not have a proper motorcycle operator's license.
Excessive speed. As with cars and trucks, speed is a contributing factor in a large percentage of motorcycle accidents.
Motorcycles are more difficult for other drivers to see on the road. This is particularly dangerous at night and in inclement weather.
Physics! When two vehicles collide, the smaller vehicle sustains greater force from the impact. Thus motorcycles are usually at the disadvantage in collisions with cars, passenger trucks, commercial trucks, and virtually any other motor vehicle on the road.
What Can North Miami Motorcycle Riders to do Stay Safe on the Road?
Fortunately, there are steps that motorcyclists can take to reduce their risk of involvement in a serious accident. Some of these include the following:
Use extra caution during rainy weather – especially during hurricane season. This usually occurs between June and November.
Never drink alcohol and ride your motorcycle
Make sure that you practice regular motorcycle maintenance
Choose a motorcycle that is appropriate for your experience and skill level
Use signals, and wear reflective clothing to help other drivers spot you more easily. Give other drivers extra time to see your vehicle and react to your lane changes.
Watch out for other motorcycle riders on the road – including the North Miami Police Department's motorcycle fleet.
How a North Miami Motorcycle Accident Lawyer Can Help You
If you are involved in an accident, you should contact a motorcycle accident lawyer in North Miami as soon as you can. Some of the ways that a lawyer can help you after you have been injured in an accident include the following:
Evaluate the way in which your motorcycle accident occurred and determine whether you have a legal claim
Communicate with the insurance company handling your case on your behalf in order to ensure that you do not say or do anything that could indicate that you were at fault
Determine the value of your claim and attempt to negotiate a settlement arrangement that adequately compensates you for your losses
File a lawsuit on your behalf
Represent you in court
Schedule Your Free Consultation with the North Miami Motorcycle Accident Lawyers of Gerson & Schwartz, P.A.
The North Miami motorcycle accident attorneys of Gerson & Schwartz, P.A. can help protect your interests after a motorcycle accident. We take all of our motorcycle accidents cases on a contingent fee basis, which means that you will owe nothing in legal fees unless we successfully recover compensation on your behalf. Call our office today at 877-475-2905 to schedule your free consultation. You can also email our office through our online contact form.