North Miami Pedestrian Accident Lawyer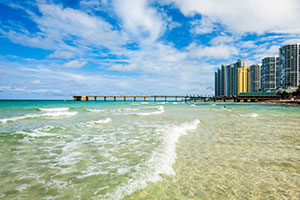 Walking around North Miami can be dangerous with so many reckless drivers around. North Miami has been poorly designed; therefore, many people get injured or lose their lives just by walking around the city. Moreover, many children's and elderly's lives are constantly in danger. Florida leads the list with most pedestrian deaths in the US and North Miami just adds to the bad reputation. Are you or a loved one among the injured pedestrians in North Miami? Then you should talk to the best North Miami accident attorney you can call to help you investigate the accident circumstances and determine if you are entitled to damages recovery.
Pedestrians can seek compensation in most cases. If you were walking on a crosswalk, a sidewalk, or any other area intended for pedestrians, drivers should have been careful and ensure that you were safe. If they weren't and caused you to suffer serious personal injuries as a result, you may be entitled to compensation for your medical costs, medication and medical devices costs, lost income, pain and suffering, scarring, permanent disabilities, as well as other damages.
For consultations on this matter, contact the North Miami pedestrian injury lawyers of Gerson and Schwartz at 305-371-6000. Consultations with our bilingual North Miami pedestrian accident lawyers are free. You'll pay when and only we recover damages for you.
North Miami Pedestrian Accidents
North Miami is a city in Miami-Dade County and the Miami metropolitan area. As the name suggests, it is in the northern part of the county, next to North Miami Beach, Pinewood, Sunny Isles Beach, Opa-Locka, Westview, Bay Harbor Islands, and Golden Glades. The zip codes are 33161, 33162, 33167, 33168, 33169, 33181. Over 62,000 people live in North Miami.
The city has been incorporated in 1926 when a total of less than 100 voters voted in favor of incorporation. Very soon the little town saw its first disaster when a hurricane destroyed it. North Miami saw growth again in 1950's in a real estate boom that attracted many people to move into the area.
Nevertheless, it seems that the city hasn't been designed sufficiently and safely for pedestrians. Over 50 people get hit by motor vehicles in North Miami per year. That means that every week someone is in danger of sustaining a severe injury that might cause him or her to be disabled for life or even lose their life. A North Miami pedestrian accident can be tragic and life-changing. One minute you are walking across a street and then a reckless driver runs a red light and hits you. If you survive, there is a good chance your injuries will be devastating. Our injury lawyers for North Miami pedestrian accidents understand the impact such an accident can have on a family.
At Gerson and Schwartz, our North Miami personal injury lawyers offer legal services and representation as:
North Miami attorney for pedestrian accidents on parking lots
Attorneys for pedestrian accidents with Lyft driver in North Miami
Crosswalk accident lawyer in North Miami
North Miami lawyer for pedestrian accident with motorcycles
Attorney for pedestrian accidents with Uber drivers in North Miami
Lawyers for pedestrian accident with automobiles in North Miami
North Miami lawyer for pedestrian accident with bicyclist
Pedestrian injury attorney for accident in North Miami with trucks
Pedestrian accident lawyer for injuries on sidewalks in North Miami
North Miami injury attorney for pedestrian injuries in parking garages
North Miami Pedestrian Accident Attorneys
Whatever accident you or your loved ones have been injured in, the North Miami pedestrian accident attorneys at Gerson and Schwartz are available to help. Phillip M. Gerson, the founder of the law firm, has practiced personal injury law in Miami for more than 40 years. Our consultations are free. Call us at 305-371-6000 and let's talk about your case. We don't ask for fees until we get you compensated.