North Miami Slip & Fall Lawyer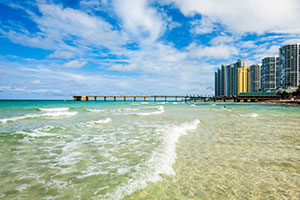 If you've experienced a North Miami slip and fall accident, the experienced attorneys at Gerson & Schwartz, P.A can protect your right to recovery. We offer free consultations to best determine how to represent your interests after a slip and fall accident and are committed to making sure that every client we represent obtains the full and fair value of their claim.
North Miami, Florida, is a family-friendly area which is home to many stores, restaurants, schools, public libraries, beaches, and even a free local bus system. As wonderful as these amenities are, it is an unfortunate fact that they pose the risk of a slip and fall accident. If you or a loved one suffers a slip and fall accident in the North Miami area, it is important to find an experienced North Miami slip and fall accident lawyer to represent your legal rights and ensure that you obtain the compensation to which you are entitled.
Some Places in North Miami to Watch for Slip and Fall Dangers
Aquatic centers and private pools. Pool decks (like any wet surface) pose a safety hazard.
Coolers or freezers in stores. These machines sometimes leak, which can result in an unexpected puddle.
The produce section. Yes, it's true – people really can slip on banana peels. Unfortunately, the injury it causes is not so funny.
Athletic fields and courts. If these grounds are not properly maintained, it can be easy to trip on athletic equipment or stray balls.
Restaurants. Dropped food, stray napkins, and a host of other debris can lead to unseen dangers. This makes restaurants a common area for slip and fall accidents to occur.
Stairs. The handrails and step surfaces of many staircases are not always maintained in the best condition. Use particular caution on older stairs, in poorly-lit stairwells, and on any staircase near a source of water (such as the beach).
Boats. While fun, and particularly popular in North Miami, boats are a prime hazard zone for slip and fall accidents. The proximity to water and rocking foundation can be a dangerous combination.
Breweries. The greater Miami area is the source of many tasty micro and craft brews. While a cold drink can be a nice respite from the Florida humidity, spilled beer poses another risk for a slip and fall accident. Watch your step!
Aquariums and sea parks. With so much water, there is always the chance of slipping in an unexpected puddle.
Beaches, aviaries, trees, and any other spot where birds congregate. As any car owner knows, birds tend to leave liquids wherever they please. This is an especially disgusting fall to experience.
Shops and walkways near the beach. The beach means sand, but sand doesn't stay on the beach. Watch out for sand that's been tracked onto roadways, bike paths, and sidewalks.
Historical sites. While educational, these older premises are more likely to experience disrepair and pose safety hazards.
The Everglades. Marshy walkways are difficult to navigate. Fan boats and other modes of transportation are also likely to become wet and slippery.
In spite of this, North Miami is a diverse place with many amenities to explore! Be safe when you are out enjoying Florida, and use caution when you are on slippery or uneven surfaces. If you do suffer a slip and fall injury, consult with a slip and fall accident lawyer in North Miami to make sure that your legal right to compensation is protected.
Call Gerson & Schwartz, P.A. Today to Schedule a Consultation With a North Miami Slip and Fall Accident Attorney
The North Miami slip and fall accident lawyers of Gerson & Schwartz, P.A. have over 50 years of experience protecting the rights of accident victims. Our staff provides the personal attention necessary to help you through this difficult process. Call our office today at (877) 475-2905 to schedule your free consultation with an attorney, or email us through our online contact form.