North Miami Uber Accident Lawyer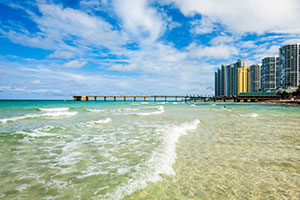 Uber is here to stay, but so are the Uber accidents. Have you been injured in a North Miami Uber accident? If yes, you should speak to a Miami personal injury attorney as soon as possible. There are two reasons for that. First, you may be entitled to damages compensation for your injury-related losses and expenses, such as medical expenses, visits to hospital, lost wages, pain and suffering, scarring, permanent or temporary disability, and others depending on your case. Second, Uber has up to $1 million insurance coverage, but if you want to get compensated by their insurance company, you'll have to prove that the accident was caused by an Uber driver while on duty going to or delivering a rider. But proving the Uber driver was on the clock may prove difficult because the Uber driver may deny it, at least initially, because the accident may lead to a loss of ratings or even suspension of Uber driving privileges.
With everything at stake after an Uber car accident, you should call the North Miami Uber accident attorneys at Gerson and Schwartz. We can advise you as to what insurance coverages may or may not be available to compensate you for your Uber accident injuries. We have served North Miami injury victims for more than 40 years and we are ready to help you too. Just call us at 305-371-6000 for your personal and free consultation. You can explain to us what happened, and we will tell you what to do next and what your options are for the future. We won't ask you for any fees until we recover compensation for you.
North Miami Uber Accidents
Uber accidents are happening all around North Miami. Wherever there is traffic, there are potential Uber accident spots. Uber drivers fight for more customers by providing fast service and sometimes that could mean reckless driving and accidents. The intersections of NE 125th Street, I-95, US 1 (Biscayne Boulevard), and the SR 909 are particularly dangerous, but small streets are not an exception either. No matter where the accident happened, as North Miami Uber personal injury lawyers, we can assist you in the capacity of:
Lawyer for North Miami sideswipe and merging accidents with Uber drivers
Injury attorney for automobile accidents involving Uber drivers in North Miami
North Miami Uber road rage car accident lawyer
Uber T-bone car accident and injury attorney in North Miami
North Miami Uber pedestrian car accident lawyer
North Miami Uber head-on collision injury attorney
North Miami Uber bicyclist car accident lawyer
Accident lawyer for North Miami lane change car accidents during Uber rides
Injury attorney for North Miami Car accidents due to distracted driving by Uber driver
Personal injury law firm for accidents between Uber and buses in North Miami
Accident attorney for North Miami car accidents with Uber and taxis
North Miami Uber truck accident lawyer
Accident attorney for Uber accidents with motorcyclists in North Miami
North Miami Uber 18-wheeler accident attorney
North Miami construction zone Uber car crash lawyer
North Miami personal injury attorney for rear-end car accidents and injuries with Uber drivers in North Miami
North Miami UberEATS accident attorney
North Miami Uber Accident Attorneys
North Miami is a city of 62,000 people in north Miami-Dade. It is not a small city; thus, a car may be necessary to move around the city or to the neighboring Westview, Opa-Locka, North Miami Beach, Pinewood, and Golden Glades, which brings Uber in the equation.
It is never easy to recover damages from an Uber driver, but we can help with that. Our bilingual North Miami Uber accident lawyers at Gerson and Schwartz are available for assistance for all the good people who got injured or lost a loved one in a North Miami Uber accident. If we think that you don't stand a chance for compensation, we will let you know that free of charge. If we think that you should pursue damages recovery and you choose us to represent you, we will fight until you get the compensation you deserve. You'll pay only when you are compensated.