North Miami Uber Car Accident Lawyer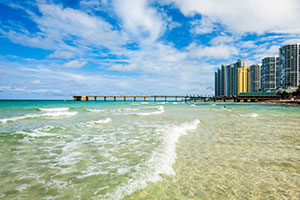 North Miami is a mid-sized city in Miami-Dade County. With a population of more than 62,000 people, there are a lot of people getting around each day. Most adults are consistently driving back and forth from work or school. And on weekend nights, people enjoy going out. They may stay close to home or head a little farther away to North Miami Beach. For all of these occasions, many people drive themselves. However, in recent years, it is become common to call an Uber. If your car is in the shop, Uber can get you to work on time. If you do not want to leave your car at the airport, you take an Uber. If you want to go out and have a few drinks, at the end of the night, an Uber gets you home safely.
However, Uber is not an inherently safe mode of transportation. Uber drivers are just like you—they have an ordinary driver's license. They are at risk for causing accidents, and Ubers are at risk for being hit by other vehicles. If you were injured in an Uber accident, whether you were the driver, a passenger, or in another car, do not hesitate to call our North Miami Uber lawyers at Gerson & Schwartz P.A. at (877) 475-2905.
Common Causes of Uber Accidents
Uber drivers are not professional drivers in the sense that they do not receive any additional training or qualifications. All it takes to drive Uber is a suitable vehicle and a clean driving record. This means Uber drivers are just as susceptible to accidents as other drivers.
Some of the most common reasons for Uber crashes are:
Speeding
Distracted Driving
Drowsy Driving
Reckless Driving
Aggressive Driving
Road Rage
Drunk Driving
Drugged Driving
Failure to Yield the Right of Way
Running Stop Signs or Stop Lights
Improper Lane Changes
Failure to Maintain Vehicle
Vehicle Defects
Work Zones
If you were injured in an accident, and you need to find out what happened, call our North Miami Uber attorneys as soon as possible. We are highly experienced in investigating collisions and gathering evidence to determine fault and liability.
If You Were a Passenger in the Uber Vehicle
If you suffered car accident injuries while riding in an Uber, call an experienced personal injury lawyer right away. The insurance claim process after an Uber accident can be complicated. To begin with, you will need a lawyer to determine who was responsible for the accident. This determines whose auto insurance should primarily cover your physical, psychological, and financial injuries.
You may think that if you are an Uber passenger at the time of the accident, then you can automatically file a claim against Uber's insurance. However, this is not the case. When another vehicle hit your Uber, then you may need to pursue compensation from the other driver's insurance policy. If the Uber driver was not negligent, Uber's insurance may not cover the crash.
If your Uber driver caused the accident, you may need to file a claim against the driver's personal policy and then Uber's insurance coverage. Uber's insurance may only be secondary coverage.
In any of these instances, you should have one of our Uber lawyers for North Miami guide you through the insurance process.
Uber's Insurance Coverage
Uber does provide auto insurance for its driver's and passengers. However, the coverage can be confusing—and there are gaps. The type of insurance policy available and the policy limit depend, mostly, on where the driver is in a ride.
When an Uber driver is not signed into the app and working, only their personal auto insurance applies. If you were hit by a vehicle with an Uber sticker on the windshield, do not assume Uber's insurance will be relevant to the crash. That Uber driver may have been off duty.
If the Uber driver is signed into the app and waiting on a ride request, then Uber provides coverage for third parties the driver may injure in a crash. The coverage includes $50,000 per person and $100,000 per accident for bodily injuries and $25,000 per accident for property damage.
Once an Uber driver has accepted a ride request, then there is additional auto insurance coverage. The third-party liability coverage increases to $1 million per accident, and Uber adds uninsured and underinsured motorist coverage for bodily injuries. If you were an Uber accident passenger, or you were hit by an Uber that had a passenger in the vehicle, call our Uber attorneys for North Miami to discuss pursuing appropriate compensation.
If the driver carries collision or comprehensive coverage in their personal auto insurance, then Uber also provides additional collision and comprehensive coverage with a deductible of $1,000. This ensures the Uber driver can have their vehicle repaired or replaced after an accident.
Let Our North Miami Uber Accident Lawyers Help You
If you have been injured in an accident involving an Uber or other rideshare vehicle, do not hesitate to call us at Gerson & Schwartz P.A. at (305) 371-6000.