North Miami Wrongful Death Lawyer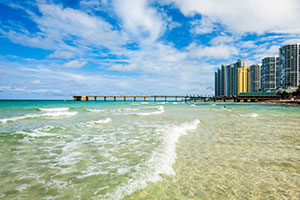 Located between Miami and Fort Lauderdale, North Miami is known as a great place to call home. More than 62,000 individuals choose to live, work, and go to school in the area. Visitors can enjoy the Oleta River State Park, the Miami Auto Museum, the Museum of Contemporary Art, and beautiful beaches. Yet this tranquil suburb is no stranger to accidents that cause injuries and fatalities.
If you lost a loved one in an accident in Miami-Dade County, do not hesitate to ask for help. Our North Miami wrongful death lawyers at Gerson & Schwartz P.A. are here to listen to your story. We will carefully review what happened and analyze whether your family has a valid wrongful death claim.
Our bilingual attorneys at Gerson & Schwartz P.A. have decades of experience helping accident and crime victims in South Florida. We have the knowledge, skills, and experience you need to successfully pursue compensation for your injuries. You may hesitate to call an attorney. We offer free consultations so there is no risk in scheduling a time to meet with us. You can contact us online or call (877) 475-2905.
Accidents That may Lead to Wrongful Death Claims
Our personal injury and wrongful death attorneys handle claims arising from all types of accidents and crimes. Whatever situation your loved one was involved in, we can help.
Car accident
Truck accident
Pedestrian accident
Bicycle accident
Motorcycle accident
Airplane accident
Boating accident
Train accident
Work-related accident
Construction accident
Defective product incident
Dangerous property incident
Slip and fall
Exposure to hazardous chemicals
Medical malpractice
Violent crimes
Maritime accident
Cruise ship incident
If your loved one was killed in any of these types of incidents or another kind, do not hesitate to call a wrongful death lawyer for North Miami. If another person or business was at fault for the accident and your loved one's death, then you may have a claim for compensation.
Florida's Wrongful Death Act
In order to obtain compensation after your loved one was killed in an accident or during a crime, you must adhere to Florida's Wrongful Death Act (Florida Statute 768.16 – 768.26). Every state has its own wrongful death law that determines when there is a valid wrongful death claim, who may file a lawsuit, and which family members may receive compensation.
In Florida, a wrongful death claim arises when a person's death was caused by another individual's wrongful act, negligence, default, or breach of contract or warranty. In other words, if the individual was careless, reckless, or acted with intentional misconduct. If the person had lived, they would have had a legal claim for personal injury damages.
Some states allow family members to file this type of lawsuit. However, Florida requires the personal representative of the decedent's estate to file the claim. In many cases, this is a relative, such as the surviving parent, spouse, or sibling. However, it could also be an attorney, family friend, or romantic partner acting as the personal representative.
If you have any questions regarding whether your family has a wrongful death claim and who may file, call our wrongful death attorneys in North Miami right away.
Wrongful Death Compensation in Florida
Although the personal representative files the wrongful death claim, and can seek specific compensation for the estate, the wrongful death claim also leads to compensation for certain beneficiaries.
The Florida statute says the "survivors" may obtain benefits. This is not as broad of a category as you may suppose. Survivors, under Statute 768.18, means the decedent's spouse, children, and parents. It can also include any blood relatives or adopted siblings who were party or entirely dependent on the decedent for support or services.
The survivors may obtain compensation for:
Medical expenses
Funerial and burial expenses
Loss of support and services
Loss of companionship with a spouse
Loss of parental guidance for children
Family members' emotional distress
Call a North Miami Wrongful Death Attorney Today
If you believe your loved one's death was another person's fault, do not hesitate to contact a lawyer. The only way to determine if your family has a legal claim is by having an experienced attorney review your loved one's death and the liability for the accident.
It is best to call an attorney as soon as possible. Florida's statute of limitations for a wrongful death claim is two years. After two years from the date of your loved one's death, you can no longer ask the court to intervene. If you file a lawsuit too late, it will be dismissed. The sooner you call a lawyer, the sooner they can investigate the accident, gather evidence, and file a lawsuit in the appropriate court.
At Gerson & Schwartz P.A., we waste no time on these types of cases. The sooner we can act, the better. We will file a lawsuit and enter into settlement negotiations as soon is appropriate.
To learn more about how we can help, call our Miami-Dade Office at (305) 371-6000.