Palmetto Bay Motorcycle Accident Lawyer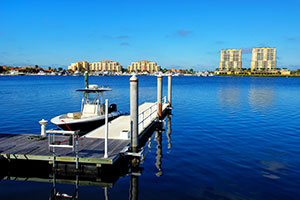 Recovering from injuries sustained in Palmetto Bay motorcycle accidents is not easy. Motorcycle riders are not protected with vehicle chassis, so if you are involved in a motorcycle accident, the injuries are usually quite severe. Motorcycle injuries may include, but are not limited to, broken bones, spine injuries, brain injuries, scars, disfigurement, broken limbs, and other serious injuries. If you or a loved one has been injured in such an accident and the injuries require urgent medical help, make sure you get treatment as soon as possible. After that, the wisest thing to do is call a Palmetto Bay motorcycle accident lawyer. They can help you understand your options to be compensated for your accident-related injuries and damages. You'll likely have significant expenses and financial losses due to the Palmetto Bay motorcycle accident, so do whatever you can to find and consult with the best Palmetto Bay motorcycle lawyer that you can find.
Here at Gerson & Schwartz Law Firm, we have represented motorcycle accident victims in Palmetto Bay and throughout Miami for the last 40 plus years. Led by Senior Partner Philip M. Gerson, Nicholas I. Gerson, and Edward Schwartz, our Palmetto Bay motorcycle accident lawyers understand what needs to be done to help you get the compensation that you deserve. After a motorcycle accident you are likely to be inundated with medical bills and expenses, lost wages, loss of earning capacity, and rehabilitative care. Call us now for a free case consultation at 305-371-6000 to find out how we can help. We are standing by to answer your questions so don't hesitate to call.
Palmetto Bay Motorcycle Accidents
Palmetto Bay located near Biscayne Bay, Cutler Bay, and Kendall. It is officially a village as opposed to a city. It was incorporated in September of 2002 and absorbed portions of Cutler and East Perrine. Its population exceeds 23,000. It has three zip codes: 33176, 33157 and 33158. The surrounding areas provides a great opportunity for enjoyable motorcycle ride, but that means a risk for motorcycle accidents as well.
Drivers and pedestrians, as traffic participants, have a duty to respect certain safety rules aimed to protect everyone. However, you know that people don't always respect these rules. Motorcycle accidents are very common on Florida roads. The Sunshine State leads the national statistics in motorcycle accident fatalities.
Our Palmetto Bay motorcycle accident lawyers have served clients as:
Palmetto Bay T-bone Motorcycle Accident Attorney
Palmetto Bay Motorcycle Accident Wrongful Death Lawyer
Palmetto Bay Lyft Driver Motorcycle Accident Attorney
Attorney for Sideswipe and Merging Motorcycle Accidents in Palmetto Bay
Lawyer for Rollover Motorcycle Accidents in Palmetto Bay
Palmetto Bay Left-Turn Motorcycle Accident Attorney
Attorney for Palmetto Bay Motorcycle Accidents with Uber Drivers
Palmetto Bay Motorcycle Head-on Collision Lawyer
Lawyer for Drunk Driving Motorcycle Accident in Palmetto Bay
Palmetto Bay Motorcyclists Rear-end Collision Attorney
Lawyer for Motorcycle Pedestrian Injury Accidents in Palmetto Bay
Palmetto Bay Road Rage Motorcycle Accident Attorney
Attorney for Palmetto Bay Motorcycle Accidents Involving Uber or Lyft Drivers
If you are injured in another type of accident, it doesn't mean that you are not eligible for recovery. Call us, and we will determine your chances for damages recovery for your specific case.
Palmetto Bay Motorcycle Accident Lawyers
We can't stress enough the importance of talking to a lawyer as soon as you get involved in a motorcycle accident. There are two main reasons for that. First, there are certain things that you'll need to do right after the accident to secure enough evidence to prove that the accident was someone else's fault. Second, you may be approached by the liable person or an insurance company with a settlement offer. Have in mind that they'll count on your lack of information, so they'll offer less than you deserve for your damages. You simply can't afford to go through this without legal help. Just call us at the Gerson & Schwartz for free consultations at 305-371-6000. Our Palmetto Bay motorcycle accident lawyers will provide you with sound advice about your options. We won't ask you for fees until we recover for you.